Another great day full of information from Angela. So much to digest! I really appreciate how these speakers and presenters are from all over the world. Please share about this great congress by sharing these posts on twitter, facebook, and linking to your blogs. The more we spread the word about traditional families the better!
Report on World Congress of Families – Day 2 (Part 1 of 2)
Plenary Opening Session – Main Auditorium *Packed to capacity, standing room only = exciting!
Patrick Parkinson (Family Law Attorney, Consultant to Family Law – London). Speech: The Economic Rationale for Governments to Invest in Family Stability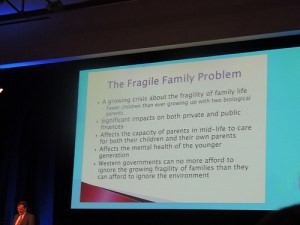 There is a rapid increase in the fragility of families around the Western world. There is a tipping point in which it is likely too late to reverse the trends. Unfortunately, social calamity is the result of the collapse of the natural family. There are intergenerational impacts such as poverty, diminished educational opportunities, downward mobility in socioeconomic status. This is all manifested in a rise in parental stress, neglect, abuse, poor mental health and so forth. Ultimately, the public costs for fragile families is very high.
There is a growing crises in mental health with adolescents and the trend is correlated with divorce in all cases (the data proves it). There is an alarming crisis in particular with teenage girls of divorced, broken homes. Of all the girls ages 12-14, ¼ have some serious mental disorder and attempt self harm and binge drink, at a rate of SIX times greater than boys. There is a 90% increase in the rate of self harm for girls aged 10+. Reasons: Fragile families have serious impacts on children's wellbeing.
Implications: How much family instability can we cope with before we finally get serious about reversing the trend? It is an inconvenient truth, but it needs to be addressed.
Peter Meurs, Area Seventy, distinguished businessman. Speech: The Impact of Work on the Family
The LDS Church is a tremendous part of the World Congress of Families and always has been.
There is a shift and change of even the most basic values in society. This was illustrated in a personal experience he had. He shared story of a business dinner he was at with a group of colleagues. His phone rang and it was his daughter's boyfriend calling to ask for her hand in marriage. Elder Meurs returned to his business dinner and shared the conversation he had just had with his colleagues. These men (who considered themselves family men) were utterly SHOCKED at 1) the young man asking for his daughter's hand in marriage; 2) his daughter wasn't already living with her boyfriend; and 3) they were actually going to get married. This story illustrates the change in our culture.
Elder Meurs shared the stories of his company working to employ the Aboriginee people of Australia and showcased the incredible changes that hard work and family values made in their lives. Pulling people out of poverty and getting them to work rather than be on welfare is key.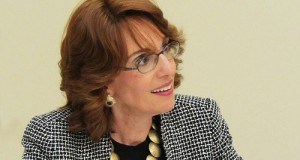 Dr. Miriam Grossman, Psychiatrist, author and UN Status on Commission of Women. Speech: A Brief History of Sex Education: Where Today's Madness Comes From.
Sex education used to be about the facts of sex and something more special and bigger: the relationship between husbands and wives. Things have changed. Now we have sexuality education which involves complex issues such as gender identity, sex, abortion, non-discrimination policies, gay sex and children are taught that they are sexual as soon as they are born. The terms "husband and wife" are never used. They also teach that gender is a complicated matter and to them, a boy might turn into a man or he might turn into a woman, or something else.
http://www.youtube.com/watch?v=wvlCx3w_tss Alarming video clip from Planned Parenthood
Childhood innocence? Forget about it with the current and trending sex education lessons. They are providing websites and resources for children which include astonishing, bizarre and disgusting behaviors. You wouldn't believe it if I told you what recommended websites are teaching children.
So where did all of this stem from? Info found in the book "The History of Sex Education" by Dr. Grossman. To sum it up, modern sex ed began in the 1960's. A deeply disturbed psychologist named Alfred Kinsey believed that anything goes when it came to sexuality. His biography documents his horrible beliefs, including "traditional morality and religion is destructive and damaging." His research wanted to prove the way he lived was normal. SECUS is the group behind sex ed and they aggressively promote teaching guidelines around the world based on Dr. Kinsey.
Another disturbing sex ed promoter was Mary Caldrone. She went on a crusade to change morals and society and felt there were too many rules in sex ed. She wanted to teach that children are sexual beings. The book she authored, "Talking with Your Child About Sex" (1982) was unbelievable. Modern sex ed is all about breaking boundaries.
In 1955, John Money, PhD started the false premise that being male and female is just a feeling and we are born "gender-neutral" and society conditions us to determine if we are male or female. He was a pedophile who believed incest was normal love.
These people used fraudulent data and their personal ideas to succeed in transforming Western society's sex education. It quite literally came from disturbed individuals who wanted sex ed's end goal to have children open to any and all sexual experimentation. Change society one child at a time.
How does this continue to remain unchecked? SIECUS, Planned Parenthood, etc. are incredibly strong voices. Where is the accountability?
Sometimes it appears as though this situation is like David and Goliath. However, the secret weapon is biology and scientific truth, which refute all of the aforementioned people's false premises. The battle is uphill, but think of David and Goliath: Who won that battle?
Faith, Family and Civilization: Page Patterson USA and Rabbi Shimone Cowen, Australia
We've heard about much of the darkness that has invaded our civilization. But it is very important to not focus on the evils but it is important that we bring to the floor the light that can transform society. We reflect on the sources of our values. Let's tap into that light and make it more conscious to all of humanity.
There are eternal values found within the human spirit. We need to begin again and discuss the human spirit. This is part of the Charter for the World Congress of Families. There is a moral template for society here.
The values of the Abrahamic religions are fundamental principles for governing the relationship between God and man. If we can reveal the human spirit, these values will return and resonate with people.
Current moral libertarianism is only one voice. Over and over again, they say to leave religion aside. They deny that we have a spirit. They only go for reason. The key is to uncover the human spirit and soul, and there we will find that morality isn't an imposition but a realization.
There is freedom in being good, freedom in choosing the right. Human beings were created for a divine mission and this is perpetuated in future generations with the union of a man and a woman with God.