American Mothers is an organization dedicated to honoring, educating and serving mothers at home, at work and in the world. Though it officially began in 1935 its roots go all the way to the Civil War when Anna Reeves Jarvis sought to heal the wounds created by the conflict by gathering mothers from both sides to forge bonds of friendship and love. The values of American Mothers include:
An abiding respect for mothers and their role in society.
A desire for collaboration between mothers in service for the common good.
A heart of compassion for issues and challenges facing mothers around the globe.
An acknowledgement of diversity among mothers and their individual choices.
A recognition of the power of a mother's inner strength.
A commitment to honor mothers for their leadership and service at home, at work and in the world.
While there are thousands of organizations that support women there are very few that support and honor just mothers. By virtue of its name you know American Mothers not only honors mothers but also honors the choice of motherhood. I love that!
The American Mother, Inc. (AMI) 2013 convention was held in New York City at the famed Waldorf Astoria. Talk about a fancy place! I had to laugh every time I walked through the lobby with my stroller we just seemed so out of place. The first day, Thursday, all the Mothers of the Year (MOY) and Young Mothers of the Year (YMOY) from the various states met together for a formal meeting where we introduced ourselves. There was a less formal "meet and greet" afterward where we also met spouses, sisters, mothers, and other guests that had come to celebrate with us.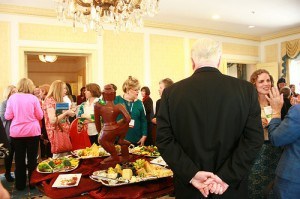 To the left of the chocolate statue is Tamara Passey from Arizona speaking to Kendi Chase from North Dakota. To the right of the gentlemen is Rachel Crane from Florida.
Friday morning was the most nerve wracking. It was time for the Young Mothers to give their three minute speeches! We sat in alphabetical order according to the state we were representing. Here I am next to Liz Shotkoski from Nebraska. She is darling!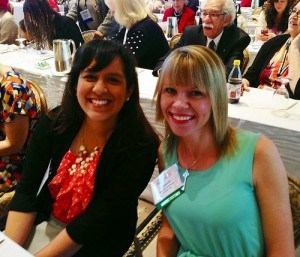 As you can imagine it can get long with that many people giving speeches so there was a warning system in place to let us know when our time was almost up or over. A couple of women sat in our line of view and would hold up a yellow card when there was 30 seconds left and a red card when our three minutes was up. We weren't cut off if we went over. It was just to help us try to keep it short. What can you say in just three minutes? Actually you can say a lot! Next week when I start introducing you to these wonderful mothers we'll also be sharing their speeches. Each one was terrific. I
shared my speech
last week. Here's a recording of me giving my speech my daughter made with her i-pod.
The Power of Mothers and Babies from Montserrat Wadsworth on Vimeo.
After the YMOY speeches we had a luncheon to honor the National Mothers of Achievement
Gail Rost
,
Becky Andrews
, and Kathie Lee Gifford who was also the featured speaker. You can read a great synopsis here,
Throw Your Stone
.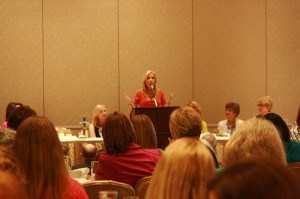 Friday afternoon it was the Mothers of the Year turn to give their speeches. I don't have any pictures because I went sight seeing with my parents and daughter instead. 🙂
The crowning event, the American Mothers Gala, was held in the evening. A special video presentation was shown with each State Young Mother and Mother of the Year sharing advice on how to be a great mom. You can watch all those videos here. My short snippet is below. They surprised us with the timing of recording our videos so I had no chance of freshening up. Oopsie!
Nevada from AmericanMothers on Vimeo.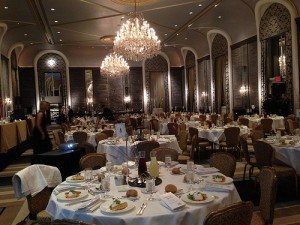 Tables ready for the gala!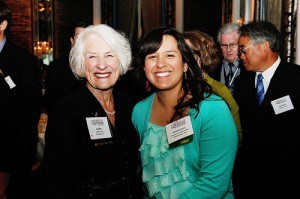 Judy Cook – National Mother of the Year and Me
The 2013 National Young Mother and Mother of the Year were announced with great fanfare. This year's National Young Mother is Tara Trobaugh from Georgia. Tara is spunky, vivacious, and will bring a breeze of fresh air and southern charm to her duties. The National Mother of the Year is Judy Cook from Utah. Judy is knowledgeable, steady, and perfectly lovely.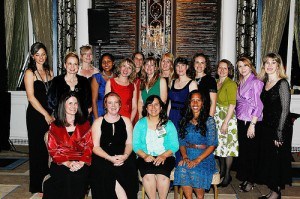 The 2013 State Young Mothers of the Year. Tara Trobaugh sitting next to me in the black dress is the National Young Mother of the Year
I consider it a blessing to have been able to meet all these mothers, hear their stories, and recognize all the good they are doing in their families and communities.
If you would like to learn more about American Mothers visit www.americanmothers.org. American Mothers embraces all faiths and recognizes the important role and contribution of mothers in the home, the community, the nation, and the world. AMI is recognized by the United Nations as a non-governmental organization and currently works as consultative status with the Economic and Social Council of the United Nations.