It seems that I am not cut out for the sophisticated somber life. Unless it is a really important setting, like in the temple or a spiritual church meeting, I just can't keep a straight face for long. It makes life fun! But some people take it the wrong way and assume I don't take things very seriously. It can be a delicate balancing act and some times I drop the ball.
Sometimes I open my mouth thinking I will be funny when in reality its hurtful.
Sometimes I forget it is okay to be still. Silence can be calming and doesn't need to be filled.
Humor can be taken too far.
☺
☺
☺
Humor is also a very good thing to have while in the throws of motherhood. It helps me keep my cool instead of exploding.
I walked into my bedroom to find a couple of children playing with my camera.
So I photo bombed them! It was much better than telling them off for playing with mom's expensive camera. Plus look at that hole in his mouth! How can you be mad with a grin like that?
When the almost two year old pushes the piano bench over, throws down a toy tractor, and screams just because, it's helpful to scoop him up in your lap, call him a little rascal, kiss his nose, and tell him to say "cheese" as you hold up the camera. The screams turn to giggles as you both make silly faces. And when he turns and pats your cheek and says, "Mom" – it's priceless to realize it very well could have gone terribly wrong if I had lost my temper instead of trying to find some humor in the situation.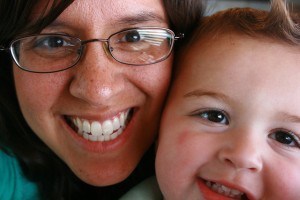 I don't always react this way. There are many times – too many – where the mess, the noise, the mistakes are all I notice. I fail to see the child who is just learning, just growing, just living.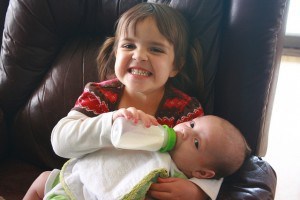 I just love how Junior Mint has this look of "Mom, put the camera down and save me!"