One more month and the platform I've been using to keep track of blogs that I follow will no longer be available. The end of Google Reader is coming July 1st. What?? Now what do I do?!
I remember when I first learned about RSS readers. I was amazed. I can know when my favorite blogs have posted something new without having to check each blog? Yes, please! It saves so much time and the blogs I follow are filed into folders for better organization. And, now I have to change my feed reader. Blech.
I have known for three months that Google Reader was closing but have put off doing anything about it. I finally had some time this weekend to check a few other RSS readers out. Thankfully, there are other options out there like NewsGator, Bloglines, Netvibes, Page Flakes, and Feedly to name a few.
For now I'm going with super simple and easy. I've switched to Bloglovin'. It was painless. Seriously! I created an account, hit the import my feeds button, and BAM! there they all were in their tidy folders and everything. I'm loving the format of how the feeds are displayed.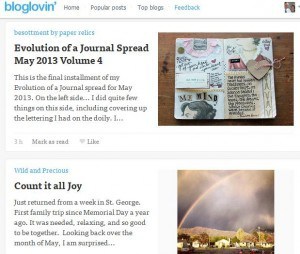 Another plus….I can't see the whole post which means I actually click over to read the entire post on your blog and am more apt to leave comments. Yup, I'm guilty of reading the entire post in my Google Reader then moving on. Shame on me, right?
The only problem with Bloglovin so far is it isn't listed as part of Feedburner so I've included a Follow Me on Bloglovin' button below the feedburner button on my sidebar. Hopefully this will help any of you who also find themselves having to switch feed readers by July, which according to my Feedburner info means 2,400 of you also follow this blog using Google Reader. Better get to switiching!