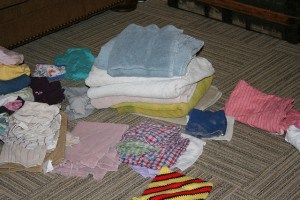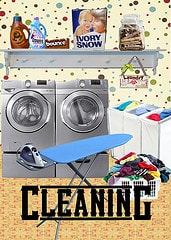 Gardening, watering, playing in the sprinklers, driving toy tractors in the dirt, helping dad fix broken down pivots, farming hay – all that times the number of people in our family and we've got a whole heck of a lot of laundry to do!
Throughout my motherhood experience I've tried several different approaches to tackling the laundry dilemma: doing laundry once a week, three times a week, assigning someone to do it all, having everyone do their own, etc.
Currently our laundry plan looks like this:
1 person is assigned the laundry for one month.
They are in charge of keeping it rotated every day.
They only have to do bath towels, tablecloths, and kitchen towels.
Everyone six and older is in charge of washing their own clothes and bed linens on their assigned day.
Each person is in charge of folding their own clothes and putting it away.
This plan has been in place for several years because it works for us. It's been interesting to see the differences in my children's approach to tackling the laundry even though they are following the same plan. Some kids love to dry all the laundry on a clothesline.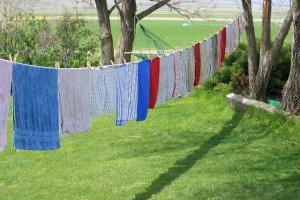 Some will rotate and fold as soon as the dryer is done. Others will wait and fold all the baskets of clean laundry at the end of the day or in the afternoon when they can turn on a movie to watch while the laundry is being folded. Some children don't even bother to fold their clean clothes but keep them in a basket in their room and dig through it each day looking for something to wear.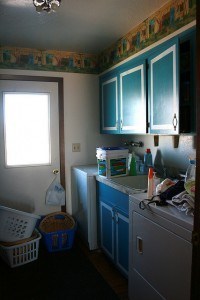 I had to capture the rare moment when laundry was completely done!
If we aren't caught up on laundry our laundry room turns into a disaster area. It is a small space 8×8 ft. There is only enough space to hold one three bag laundry sorter and an extra hamper.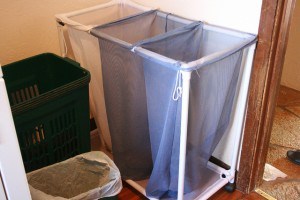 See! No clothes in the hampers!!
Baskets of laundry are usually spilling out into the hallway waiting to be folded. I dream of the day when we have a larger laundry room with cabinets to hold all the baskets and a counter top to fold clothes on. Until then we are making due with what we have.
How do you do laundry at your house? Do you only wash once a week? Are you in charge? Do your kids wash their own? Do you have a big enough laundry room?