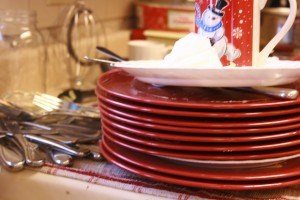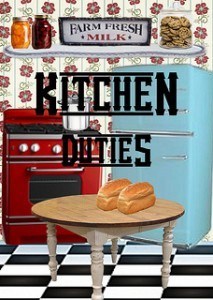 Ours used to all match. Now our plates and bowls are mixed from a red set and a white set. Our cups are glass mason jars with handles all
etched with our names
. These are great! Except for when we have company. I need to make some that say guests or friends. We use glass everything except for a plastic plate, bowl and cups for the almost two-year-old. I have yet to find plastic that I like for the rest of the family.
We have china that we used to eat on every Sunday. Now our family is too big for the set we have. And I don't like it enough to buy more. I'm thinking of selling what I do have and buying a HUGE set of something I truly like. China really isn't that important to have but we sure enjoyed pulling it out and feeling "special" once a week.
The utensils we have do all match and will for a very long time. When we found a set we liked we bought what we thought would last for years. It did but then found our spoons were going missing. The kids were taking them out to dig in the dirt because, you know, the spades and shovels just weren't cutting it. A few were found in the burn barrel after the trash had been burned. It seems the younger ones got confused between the sink and the trash. So I ordered more and there was a very good sale going so I bought four boxes or enough for 48 people. I'm hoping that will last for at least another decade. We bought these for those that truly want to know.
We use so many dishes that we run on average 5 loads in the dishwasher each day. When we had our Bosch dishwasher we didn't have to rinse before loading it. I loved that thing! It was so quiet and only took an hour for a load. It finally died on us after 8 years of hard use. We were desperate for a new one and didn't have time to wait to order a Bosch so we bought one that was in stock. I hate it! It takes two hours and is so noisy and we have to rinse everything in order for the dishes to come out clean. Next time I going back to my Bosch. We only hand wash when the dishwasher has kicked the bucket or if someone needs some disciplining. 🙂 We do hand wash all our pots and pans though.
What do you use to eat on? Are you a family with lots of littles that like to use plastic plates and bowls and cups? Do you use glass for the teens and adults? What about fine china? Do you have some, do you use it regularly? Do all your dishes match or they a hodge podge collection? Do you have a dishwasher or do you wash by hand? If you have a dishwasher are you a rinser or do you put the dishes in without rinsing food off first?
Did you catch last week's Establish a House topic of laundry? The conversation is still going on!