Summer. The word used to mean swimming at the neighbor's pool, chasing fireflies, red Georgia mud squishing between my toes. Now I associate summer with swimming in the redneck pool, crazy farm work hours, and in the early summer stories of fawns and baby antelope being accidentally mown up.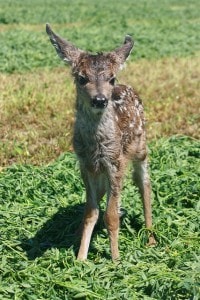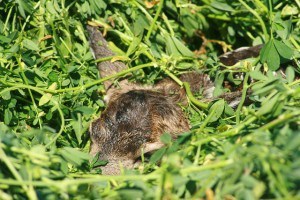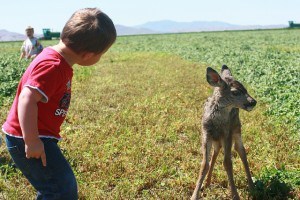 Ganache was telling the fawn hello.
But not these little guys! They were seen before the swathers could do their damage. Some are not so lucky. They hide so far down in the hay you can't see them until it is too late.
Our summer started with this full moon rising over the farm on Memorial Day weekend.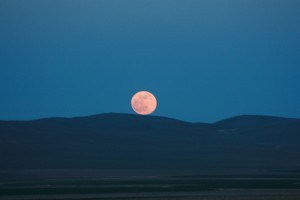 This week we'll finish cutting first crop. Another week or so to get it raked, baled, and stacked. And then we get to do it all over again . . . and again . . . and hopefully again for four crops of hay this year. We'll see what the weather brings!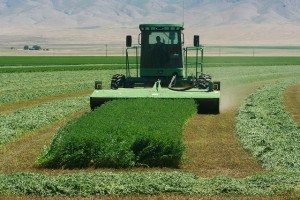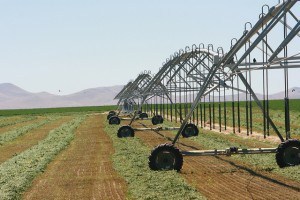 It's not ALL work. There is some play, at least for the kids. 🙂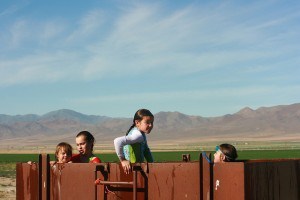 We tried to get a video on my daughter's i-pod to show a little bit of the swathing. And that's all it is – a little bit – as the memory on her i-pod was full. We will try to take videos of each step of the process this week to post next week.
How's your summer going so far?
And I just had to add this picture because Ganache is so cute. He got tired of waiting for me to take pictures. Get used to it buddy!