The organist for our church was gone fighting fires in Oregon yesterday so I substituted at the last minute. I was particularly pleased during the intermediate hymn as I played the prelude thinking, "I am doing pretty good for not having played this hymn for a while." Two measures into the hymn I realized I was the only one singing, looked up to see a confused look on the chorister's face, glanced at the hymn I was playing and stopped.
"Oops! I am totally playing the wrong hymn! I am so sorry!" I laughed as did everyone in the congregation. There were intermittent bouts of laughter and giggles throughout the hymn as various members could.not.stop.laughing including Mr. Ferrero Rocher who, I was told, had the reddest face because he was trying not to laugh out loud.
So much for reverence at church! After reading about my cousin, Allison's, experience at church yesterday at least I know it runs in the family! She said she thought about the line from Pride and Prejudice,"For what do we live, but to make sport for our neighbors, and laugh at them in our turn?" Too true.

Mr. Ferrero Rocher's family gathered for a family photo a couple of weeks ago. While a big family photo isn't available yet (they are photoshoppping in a brother-in-law and niece who couldn't be there) our personal family photo is along with the one below of Mr. Ferrero Rocher with his parents and siblings.

Remember the old family bible that came into our possession? I have finally made some progress in finding descendants!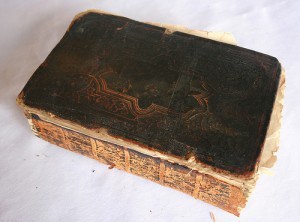 After typing up all the information I've gathered and fixing the photos I've taken of the hair locks and writing inside the bible I will be contacting them later this week or next depending on how long it takes.
I cannot wait to make the phone call! This person has been actively involved in doing her genealogy and is a direct descendant so I am excited. I'll let you know how it goes.