A thunderstorm raging outside, a cozy spot to curl up, a big bag of peanut M&Ms, and a good book to read – those elements created a perfect day in my childhood. I love to read! I can thank both my parents for passing that love of reading on to my siblings and me. So who am I to discourage my own children from spending an afternoon or, more accurately, an evening lasting until 2 am with a good book in their grasp?
My grandmother, Yaya, who recently passed away, enjoyed giving books as gifts. She would read the book first then give it to you saying, "This was a good book. You should read it!" I scour ebay for old hardcovers of my favorite children's book, Just David written by Eleanor H. Porter, to give away as gifts. They are held in reserve for those who I know love reading as much as I do.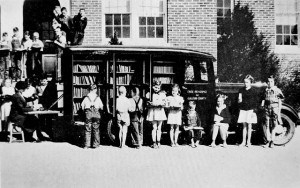 Every two weeks we have the privilege of receiving a visit from the bookmobile. Who else has a library coming straight to their doorstep? Ginny, our bookmobile librarian, is wonderful! The children love her. I know they will have fond memories of looking out the window for any sign of dust on the road waiting for the bookmobile to come, then climbing its steps and browsing the books Ginny selected to stock the shelves.
We also have our own private collection of books. We never seem to have enough bookshelves! Occasionally we will go through and purge out a few but because we are so discerning about what comes into our home to begin with there are just a scattering of books that are kicked out.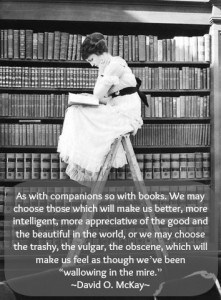 If ever there comes a time where I become really sick or die and people come over to either help clean or go through my belongings I want what is on my bookshelves and piled by my bed to represent the good and beautiful and what I love in life.
Reading is the crux of a good education. When a new homeschooler asks my advice it is always, always teach them to read and to love reading first. Don't worry about any of the other stuff math, science, history until they have reading down. Read books to them and with them until it becomes a natural part of their day.
In her book Heaven is Here, Stephanie Nielsen shares that physically she couldn't mother her children as much as she wanted to (she had been burned over 80% of her body when the plane she was flying in crashed) so she looked for other ways to reestablish her connection with her children. She found one way by reading aloud to them as they all snuggled up on the same couch surrounding her to see the pictures. There is just something about going on an adventure, visiting some far off land, or learning the story of another who has lived.
In honor of National Book Lover's Day why don't you find a few moments to read a book or, better yet, read a book with a child.
What books have you discovered lately? I'm always on the lookout for more!