Sunday is the start of this year's Family Proclamation Celebration!! Have you liked our facebook page yet? Are you gathering and scanning a few ancestor photos for Instagram Great Gram Day which is on Sunday? Did you know you DO NOT have to have an Instagram account to participate? I am not on instagram so please don't feel left out! We want you to share your ancestor photos on whatever social media outlet you can.
What do I do on September 15? Post your ancestor's picture onto Facebook, Twitter, Instagram or on your blog.
In your status, caption, or tweet, include with the picture:
– The person's name
– How you're related
– A brief blurb on their life if you know it
– This link: www.familysearch.org/photos/
– And a fun little hash tag like #IGGday, #grateful, #Ancestor, or #FamilySearch
For example, I might share this pic and status-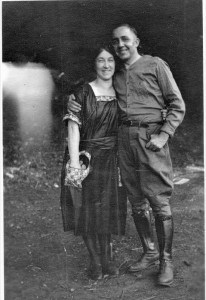 My great-grandparents Florence Emma Ashton and Charles Worthen Gibbs in typical 1920s fashion.
www.familysearch.org/photos
/ #IGGday #grateful #Ancestor #FamilySearch
See how easy it is? Get scanning those photos!