This is part of a series introducing you to all the 2013 State Young Mothers of the Year from American Mothers, Inc. Read more of the series here.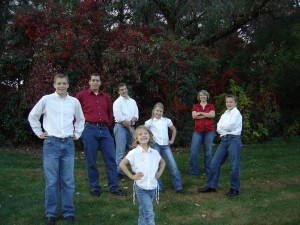 In a lot of ways Kendi is at the same stage of motherhood I am. Our oldest children are both leaving the nest for the first time this fall – mine to college, Kendi's to serve a two year mission in Brazil for The Church of Jesus Christ of Latter-day Saints. Both of our husbands are also serving as the Bishop of our church congregations.
To begin with tell us a little bit about yourself and your family.
I have been blessed to be married for almost 19 years to a man I continue to fall more in love with everyday. I married at the tender age of 19 and little did I know then just how well I had scored when I married my hubs. Together we have had five children, three boys and two girls. Our three boys came within three years and looking back at those years, I don't know how I did all that I did, but it was good that I was young and had the strength and energy that youth brings. I love spending time with my family. One of my most favorite things is to sit around with my children and husband and visit. As our children have grown older, this has become a favorite past time of ours. Moans and groans come when we it is time to go to bed because we love talking so much. I enjoy running but due to an injury earlier this year have had to be happy with walking but the running thing is soon to begin in my life again, which I am excited for (though dreading the weeks of conditioning!) I love hiking too and enjoy being in the mountains. Some of my free time is spent giving service in my church, The Church of Jesus Christ of Latter-Day Saints. Reading happens during the rare moments of free time and I am currently trying to finish Emma, by Jane Austen (which has been a difficult book for me to get through!).
Why is motherhood important to you? Did you always want to be a mother?
As a young child I was blessed to be surrounded by women who were excellent mothers. I was a very perceptive child and seemed to record in my memory and in my journal the things I noticed in mothers that I wanted to personify as a mother. My mother began early teaching me about the importance of being a mother, probably when I was born! She taught me that my most important calling as a woman would be to become a mother. I remember when I was probably about 10, I started noticing that some girls had especially skinny legs and mine were not, especially in the thigh area. I was complaining to my mom about how it wasn't fair that my thighs were not super skinny. My mom was so wise and gave me a response that I have never forgotten. She said, "Kendi, your legs are designed to hold and nurture babies. Heavenly Father created you to be a mom." It was enough to help me make it through that time and since that comment, I have never looked at my legs the same way. [Editor's note: Kendi doesn't tell you that she has also run a marathon with those strong legs!]
I have always wanted to be a mom! I have been blessed to recognize that what I do as a mother matters. Am I perfect at it? Absolutely not! But, when I mess up, I pick myself up and I keep going. Too much depends on what I do and do not do!
What is the biggest lesson your children have taught you?
Time goes so quickly, so enjoy each and every minute! When I had those three boys, all in diapers, I used to wonder when this season of my life would end. Runny noses, dirty diapers, tantrums, night feedings, all of these seemed to drain a good portion of my energy but those days were also filled with first discoveries, tickles and baby laughs, the sweet snuggles that come from a young child that loves you more than anything else! I was counseled as a young mother to enjoy each moment because the time goes by so fast. I didn't truly believe that counsel. Now, here I am, preparing to send my oldest on a two year mission for our church and my youngest is the only child who remains in elementary school. I've learned time is precious and that it must be enjoyed.
What has given you the most joy as a mother?
How can I really put my joy into one moment when the joy comes again and again? I experience it when I see my children doing what is right….kneeling by their beds saying their prayers, reading the scriptures on their own, helping someone in need. I feel it very strongly when I see them working towards a goal and accomplishing that goal. I always feel it during their band concerts, athletic games, or other activity that they are a part of. It doesn't take much for me to feel joyful over my children. They have made being a mother a truly joyful experience!
Do you have any family traditions? Which one is your absolute favorite?
I am a believer in traditions! There is no hiding we are a family of traditions. Our traditions can be described as simple; and yet, what riots would occur within my household if we were to neglect any one of them, except perhaps the weekly assigned dishes night. Most of our traditions have come due to our vision as parents for what we envisioned for our family now and in the future. One of my all time favorite traditions began when my oldest son was six years old.
Twice a year my husband and sons attend a special meeting for men in our church who are twelve years and older. When my children were young, I would gather them and together we would make donuts to enjoy when their Dad returned home. During these moments I would speak with my sons about that future day when they too would leave for this meeting and return to the wonderful treat made for our family. I will never forget the first time my husband took our sons to the meeting and I was at home with our daughters. Here was the moment I had anticipated for years. Side by side, my daughters and I enjoyed this special time as we took part in our tradition.
Not too long ago I was walking my daughters to school and during our walk my youngest daughter questioned me as to when we were going to make the donuts. It happened to be within a few weeks and to my complete surprise, she jumped in the air and responded, "Yes! I love making donuts!" Her enthusiasm for something so simple bore witness to my soul that what my husband and I had planned and hoped for, for so many years, was indeed happening. From something so simple, our sons are coming to see the value and importance of fulfilling their responsibilities as men and our daughters are coming to recognize the great importance that we as women have in supporting the men in our lives.
What is/was your favorite book to read to your children?
We love The Great Brain Series!!
We know kids can say or do the funniest things. What are some 'funnies' your kids have said or done?
My youngest has definitely been the one to say some of the funniest things to me. I will share two.
Each of these took place prior to her attending school and so she was probably about four.
One day we were in the grocery store and she really wanted to have candy that was at the check-out. She begged to have the candy, I held firm in my "no candy!" She stopped begging and got this a-ha look on her face. She looked up at me with her big eyes and sweetly said, "Mom? If a mother REALLY loved her daughter, she would buy her candy!" I burst out laughing and squeezed her tight. I told her, "I do REALLY love you, but you still can't have the candy."
The next also happened in the grocery store (of course!) and Macie wanted a donut. I tried to think of a response that was not a direct no but that would discourage her from wanting the donut. I came up with, "Macie, if we eat a lot of donuts, our bums will grow bigger than we want them to." Macie looked at me and in all seriousness said, "Wow Mom. You must have eaten A LOT of donuts when you were younger!" I guess I deserved that!!
North Dakota from AmericanMothers on Vimeo.
Kendi's speech was one of the most memorable for me – maybe because she had a visual – but mostly because the parable she shared is beautiful. Here is the speech she gave at the American Mothers convention.
"I have lived the majority of my life in Arizona. One of my favorite trees is the mesquite. I love it because amid the brown desert landscape, this tree provides beautiful green foliage. But, this tree also has a danger that I do not love, and that danger lines its branches. As you can see, it is lined with very long, sharp thorns.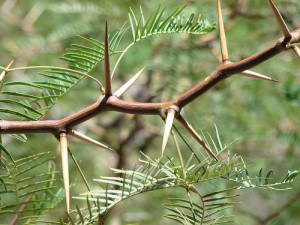 "Years ago my husband discovered a branch that had been broken off of a mesquite tree. The branch happened to have a nest amongst the thorns. My good husband saw in this branch something very special and brought it home to share with me. Unfortunately my reaction to the branch being brought into our tiny apartment was not the one my husband had anticipated. For some reason I could not see what he had seen, but with his help I discovered a treasure. Let me share with you what I saw in that nest that has inspired and guided me, and more than anything given me hope in the power of being an intentional, careful mother.

"The nest was completely encircled with twigs, grasses, and mud. The walls were thick and the entrance was but a small opening. The entire interior was lined with tiny down feathers, which probably came from the builders of this nest. Here in such a tiny, simple form was a representation of the type of home created for safety. One that was strong, secure, protected, and comfortable.
"Just as that nest had been placed among dangerous thorns, we live in difficult times! But let us not waste precious energy being overwhelmed by "the thorns" that surround us, rather let us learn from the builders of that nest. The truth is, safe places can be created, even among harsh environments! The builders of that nest were intentional, determined, and strong in creating a place of safety to raise their children. We must do the same. Our homes can and must be refuges from the storms that surround us! Each one of us must never forget that our work as a mother is our life's most important work. Boyd K. Packer said, "There is something about the ordinary, everyday influence of a mother that is more powerful than the spectacular events that capture the interest of the world." Those profound words are about you and me. I am ordinary but I recognize that my life as a mother matters. It matters because I have five precious children who are depending on me to protect them and teach them before they leave my nest. And just as mine are counting on me, yours are counting on you! It is my hope and prayer that we can be found building homes that are strong and secure from the thorns of our world! We can do it, I know we can."