It was a quiet afternoon. Cam was in his crib, taking a much-needed nap. Lilly was contentedly playing in her room with her Fisher Price dollhouse. Though it was chilly outside, golden sunlight was streaming through my windows. It felt warm and cozy in my (momentarily) peaceful house.
I went into Lilly's room to check on her, and was met with a big grin and an exuberant: "Mom! Come look!"
"What is it, Lilly?," I asked, curious as to what my smart and witty kid had been "up to."
"I was playing with my dollhouse and the family, and I figured out their places. I put everyone where they're supposed to be," she answered. Then my Lilly-Girl asked, "Would you like to see?"
OH BOY, WOULD I!?! I sat down next to Lilly and said, "Show me!"
First, she pointed to the small, plastic baby in the cradle.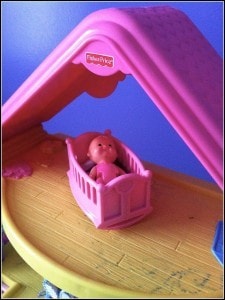 "I put the baby in her room. In her cradle. She's napping, because babies sleep a lot."
"Very good, Lil. That's exactly right," I replied.
Next, she pointed to the dad with the nerdy hair (ha) and the worn-down nose.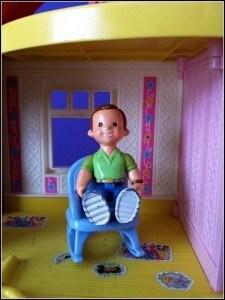 "He's in his favorite chair. He's watching sports on TV."
I laughed jovially and in between gasps for breath, said, "That's perfect, Lilly! That is where YOUR dad would be!"
She smiled at me and said, "But wait! There is another place for the daddy." She moved him to the kitchen and plopped him down at the table. "A daddy's place is in the kitchen, too! Eating all the food," she said, happily.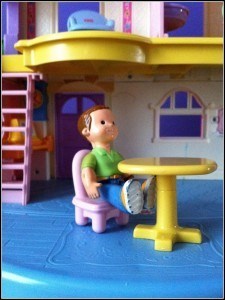 I clapped and exclaimed, "Excellent! You are right!"
There was only one Fisher Price doll left. One quintessential piece to the "family whole." Now was the moment I had been breathlessly anticipating since the beginning of Lilly's "show and tell"–the placement of the mother. Would she be up on the roof, like a wise and wonderful queen, gazing down on her loyal (albeit noisy) kingdom?! Where-oh-where did my daughter put the toy mom?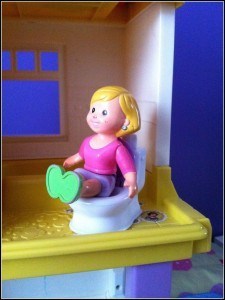 Answer: ON THE TOILET!!!!!!
"Lilly!," I gasped, "the mother's place in on the toilet!?!"
She grinned at me, pointed her little finger, and said, "You got it!"
But here's the thing I realized as I thought about the "mom on the toilet" throughout the remainder of the day: It doesn't matter where the place is–bathrooms or rooftops. The point is I HAVE a place. I have a place in my family. I have important, sacred obligations in my home. I have a key part to play in Heavenly Father's great plan for my life. I am a mother, "responsible for the nurture of my children." Despite long days, sticky floors, and temper-tantrums, I matter to them.
In "The Family: A Proclamation to the World," it states, "All human beings—male and female—are created in the image of God. Each is a beloved spirit son or daughter of heavenly parents, and, as such, each has a divine nature and destiny." A divine nature and destiny. What a beautiful, awe-inspiring principle; a universal truth that offers great comfort and peace…
You have a place.
You matter.
I have to admit I laughed when Aleisha first sent me this post. The bathroom is exactly where I go to hide! Head on over to A Well Behaved Mormon Woman or Mormon Mommy Blogs and see what they have to say during our Family Proclamation Celebration!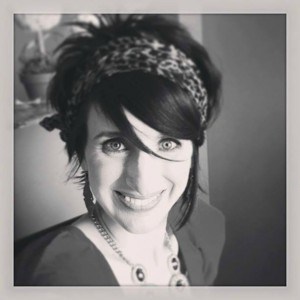 Aleisha is a lover of cookies, wearer of lipstick, and shopper of shoes! She is an avid reader and Diet Coke drinker! She is an advocate of motherhood and a believer in strengthening and supporting women. She is a mother of three, a wife, a blogger, and a writer.
Aleisha has always loved to write. Her passion for writing led her to pursue an English degree from Utah State University. Her beloved blog, "She Calls Me Mama Leisha", began as a way for her to document her life as a busy mother. She writes about the humorous, the quirky, and the meaningful moments in the every day. Her short story, "Mom Song", won first place in a national literature competition, sponsored by American Mothers, Inc. She has written for the Time Out For Women website, AmericanMothers.org, The Wood Connection, and various other businesses.
Aleisha is the lifestyle blogger at, "What's Cooking With Ruthie," and was voted one of Circle Of Mom's, "Top 25 Moms with Style." She auditioned for and then made the cast of Northern Utah's "Listen To Your Mother" show–a national movement that celebrates motherhood via short essay. She has appeared on KSL's Browser 5.0 (local news) as the "Blogger of the Week," ABC 4 news, and has taped a couple of segments for shows airing on My Craft Channel.
She feels most blessed to be, "Mama Leisha," and recognizes it as her greatest accomplishment. Visit her at www.callmemamaleisha.com.