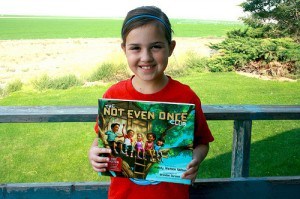 "Not even once!" That's the secret password for a special club, a club Tyler wants to join. Before he can, he has to pass the test. Will he make the right choice? Written by Wendy Watson Nelson with delightful illustrations by Brandon Dorman,
The Not Even Once Club
is a fun and engaging way for parents to help teach their children the importance of keeping the commandments.
When my copy came in the mail I laid it on the kitchen table with the rest of the letters and packages. Several days later I asked if anyone knew where the book went. "Oh!" replied Truffle, "I'll get it. We've been reading it." Perfect! To help with my review I asked three of my daughters to tell me about The Not Even Once Club.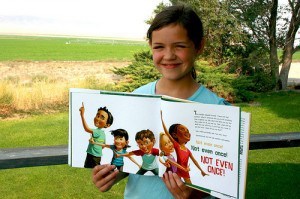 Fudge's favorite illustration
Fudge (10): "My favorite part of the story was how the kids kept their promise to keep the Word of Wisdom, dress modestly, not watch bad tv or read bad books. I like how if someone asked them to do drugs or drink alcohol the kids knew to answer, "Not even once!"
Cookie (8): "I like the whole book because it teaches us to not even once lie, cheat, steal, break the Word of Wisdom, or bully others. I learned if someone asks me to do something bad I can respond with 'Not even once!' and walk away."
Truffle (12): "In the book Tyler is tested when a menu is passed around. He picks the lemonade over the alcohol, coffee, and tea that is offered before he hears any of the other kids answer 'Not even once!' When Tyler was riding his bike he also found a package of cigarettes and threw them in the trash. He was alone and could have made a different choice but even then he chose to 'not even once' try the cigarettes."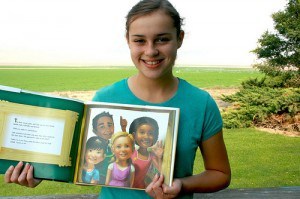 Truffle likes this picture the best.
Tyler is new and anxious to make friends so he is excited when the kids from his church class ask him to be a member of their club. He does pass the test and signs his name to the Not Even Once pledge:
From this moment on:
I will never break the Word of Wisdom,
lie, cheat, steal, do drugs, bully,
dress immodestly, or
break the law of chastity.
I will never intentionally look at
anything pornographic
on TV, the Internet, a cell phone,
billboards, magazines, or movies.
Not. Even. Once.
Not only does this book teach children about keeping high moral standards, it also teaches that you don't have to be alone in keeping the commandments. When you surround yourself with good friends you help one another stay true to your commitment.
I really appreciate the suggestions for parents in the back of the book on how to discuss some of the harder topics of pornography and modesty especially with children 3-7 years of age. For questions to discuss with older children you can find links at the product description of The Not Even Once Club as well as more suggested reading to help them learn more about the topics covered in the N.E.O. pledge.
I've printed off the N.E.O. poster for my own children who want to start their own Not Even Once Club. It will be a great way to kick off our school year this week!
About the Author
Wendy Watson Nelson holds a Ph.D. in family therapy and gerontology. Prior to her marriage to Elder Russell M. Nelson, she was a professor of marriage and family therapy for twenty-five years. Sister Nelson has served as a stake Relief Society president, stake Primary president, and chaired the BYUWomen's Conference. Currently, she is an institute instructor and visiting teacher. Sister Nelson was born in Raymond, Alberta, Canada, to Leonard David and Laura Byrde McLean Watson.
Illustrator
Brandon Dorman is the illustrator of the #1 New York Times bestseller The Wizard. He graduated from Brigham Young University-Idaho, where he studied fine art and illustration. He and his wife, Emily, have three children and live in Washington, where he enjoys working as a freelance illustrator. His work has appeared in children's books and on numerous covers, including Pingo, The Candy Shop War, and the Fablehaven series.
Disclaimer: I was given free copy of The Not Even Once Club by Deseret Book to review. All opinions are my own.