Today's guest writers are sisters, April and Arianne, whose lives and goodness have touched my own. They each are in the throes of motherhood, raising families who can stay strong in whatever trials they may face in this mortal life. Today they share with us how extended family has helped them weather some of those trials.
April: I am the oldest of ten children, and that means that I did a lot of things first. I was the first to learn how to ride a bike and was the first to go to school. I was first to go on a date and the first to move out. I didn't expect to be the first one in my family to bury their child.
I found out early in my third pregnancy that our baby boy would have severe disabilities. As the prenatal testing continued we soon discovered that our son, Caleb, was missing one of his eyes.
Growing up my family of ten siblings, we had a secret way to say "I love you, I believe in you, I am here for you." We would wink. As I explained to my own sons that their baby brother would only have one eye, they were so worried about what that would mean. "Don't worry," I would say. "He will just wink at us every day!"
When Caleb was born we quickly discovered that not only was he missing one of his eyes, but he was largely missing his brain. Caleb was never able to say I love you with words, but he told us every day with his wink. Doctors told us we would likely have weeks or months before Caleb passed away. He passed away a year and a half ago, shortly after his seventh birthday.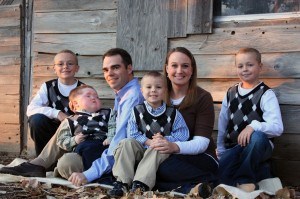 Throughout our seven year journey we experienced many miracles. One of those miracles was feeling the power of extended family. Their prayers and concern buoyed us up. Some lived close while others lived across the country, but their love knew no boundaries. Some could be there when we spent time in the hospital, others could listen on the phone while I cried. Some could take care of my other children, while others put sweet letters in the mail. Though no one in my family could trade places with us, each of them chose to walk with us.
When we buried our sweet Caleb it was a first in my family. I embarked on a journey that even my parents had not experienced. The concern of my family continued as we prepared for Caleb's funeral. My parents were there to quietly be a part of those sacred moments as we picked out a casket, dressed Caleb and brought our children to see him one last time. Brothers and sisters helped me find something to wear, took photographs, brought in meals, wrote letters, listened, took my children on special outings and created works of art for us remember our sweet son. As they continued to walk beside me they cradled my broken heart in quiet and tender ways.
On the year anniversary of Caleb's death we were also celebrating my sixteen year old brother's birthday. He asked our whole family to join him for cake and ice cream. When we all arrived he asked us to gather together to watch a brief movie. When the movie began tears flowed as I realized he had created this movie for me. He had filmed each of my siblings and their spouses sharing what they loved and remembered about Caleb.
Even though I was first, I wasn't alone. My family continues to wink to say " I Love you, I believe in you, I am here for you… and I remember."
Arianne: The recession hit our little town of Cedar City, Utah like a bomb four years ago. We lost two jobs in one year, the first six weeks after buying our first home. The second layoff came the week before Christmas. I remember crying in the shower, shaking with fear. The future seemed like a black pit, and we were on its edge. Some force from behind pressed menacingly, determined to push us in.
We visited my family over the holidays. My parents have never lost a job. Not one of my nine siblings had ever lost a job. I felt ashamed and alienated as we gathered for the festivities.
I sat in the corner at my parent's house listening to my sister and brother chatting about choosing granite counter tops for their kitchens. My brother-in-law discussed his investments with my dad. The cousins showed my children their expensive store-bought gifts. It seemed they were all living in another world–a shinier world.
Our Christmas had been one-hundred-percent handmade. The candy in my children's stockings came from a five-dollar coupon we cut out of the newspaper and redeemed at the local drug store. I'd used old curtains to stuff their hand-sewn toys because I couldn't afford stuffing. It had been a meager Christmas, but it was full of simple magic, rich with the things that really matter.
But now, surrounded by my prosperous family, I felt less certain.
A blessing was offered on the holiday dinner. I waited for everyone else to file into the kitchen while I sat, brooding. Finally I stood up. My dad met me in the doorway. He took my head in his large hands and held it firmly and gently.
"You are not alone," he said simply. Then he repeated himself, more slowly this time. "You. Are. Not. Alone." His eyes looked deeply into mine, communicating even more than his words. I knew he loved me. I knew he'd do anything for me. A feeling of peace washed over me.
It was just the beginning. Before we went home their were secret gifts slipped into our car. Secret envelopes slipped in our pockets. Words of encouragement whispered in our ears.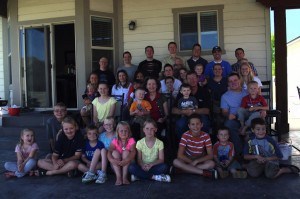 Baadsgaard Reunion 2013
Instead of leaving for home feeling scared and alone, I felt uplifted and supported. Our trials hadn't been taken away, but the rocky path before us had been smoothed by the hands of our extended family. It didn't matter that they didn't know from experience what we were going through. What mattered is that they cared.
I often think of the holiday meal we shared that year. Everyone brought something to the table. Some dishes were elaborate, the ingredients expensive. Mine was made from items in our food storage. But put all together it made a nourishing, lovely feast.
Extended families at their best are like great meals. When everyone brings their best to the table, everyone is blessed. Everyone is filled. There is enough and to spare. No one leaves hungry. And no one eats alone.
Can you see what a wonderful blessing extended family can be in our lives? Thank you so much April & Arianne for sharing your experiences with us. More importantly, thank you for sharing your goodness with the world.
 
Head on over to A Well Behaved Mormon Woman or Mormon Mommy Blogs and see what they have to say during our Family Proclamation Celebration!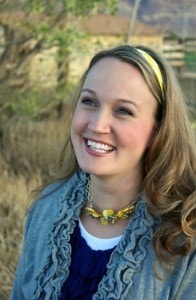 April
I am the mother to 4 wiggly and wonderful boys. This means I am an expert bug finder, stain get-er out-er and tickler. We call our third son, Caleb, our "Wink from Heaven."  I graduated from BYU in elementary education and currently teach preschool 3 mornings a week.  Although most hours in my day are spent taking care of my boys, I also love going to the library, putting on my fuzzy socks and curling up with my latest find in juvenile literature. I love Gerber daisies, chap stick and warm chocolate chip cookies. I enjoy music, being outside, having adventures, laughing, and spending time with my family. My idea of the perfect day is being surrounded by the people I love. I get excited for BYU sports, and I get fluttery when I hear my husband come home from work. My favorite word is joy. My favorite smell is sunshine, and I believe in miracles. [Editor's note: April didn't send this as part of her bio but April's husband, Dallan, gave a BYU devotional last year "What Happens When Life Gets One Degree Colder." It is a faith-filled read that will inspire your day!]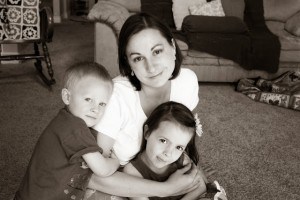 Arianne Cope is an award-winning novelist, journalist, and photographer. She spends her days learning and exploring alongside her five young children. Their adventures are chronicled on the popular blog Stillparenting. [Editor's note: Arianne didn't say this either (they are both so humble) but she is very creative, sharing simple wonderful ways to engage children in learning about the world around them. I love what she says in her profile on her blog, "Mothering is my great work of art. Every day I work at my great masterpiece–giving my children roots and wings."]