Since you can't visit Yellowstone right now, I thought I'd share photos of our visit there. I realize they aren't spectacular in any way and there aren't a ton of the actual scenery. I was too busy being in the moment to worry about capturing it with my camera. Plus, I'm afraid of heights so the part where we are hiking up and down Uncle Tom's Trail I was trying my hardest to stop my thoughts and fears from creating an anxiety attack. 🙂
We traveled in a motorhome which was really nice. The kids were able to move around a bit, use the bathroom without us having to stop for breaks, we cooked our own food, and didn't have to stay in motels. Instead we got to spend one night at the Wal-mart parking lot in Burley, ID! My older girls were super funny saying they could cross sleeping in the Wal-mart parking lot off their bucket lists.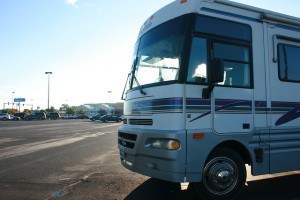 We entered Yellowstone through the west entrance and almost immediately pulled over because Mr. FR was extremely tired of driving. While he took a little nap the kids and I walked a trail to the Madison River. They kicked their feet in the water and threw rocks. What is it about rocks splashing that is so satisfying, especially to little boys?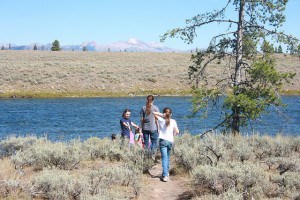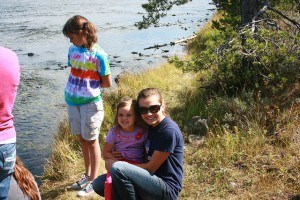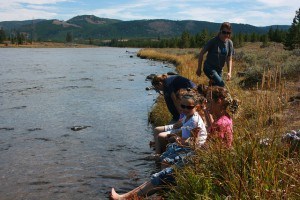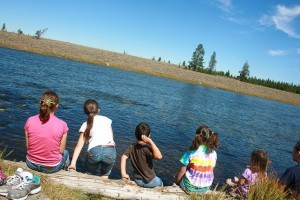 You would think that two weeks into September the number of visitors to Yellowstone would be diminished a bit. It was crowded! And cars kept parking in spaces that were supposed to be for RVs so there were a lot of sights we wanted to see that we didn't get to see because there was no where to park. We finally found a spot at the top of Uncle Tom's Trail. We walked to see the view of the Upper Falls and decided we'd walk down to the Lower Falls and see the beginning of the Grand Canyon of Yellowstone.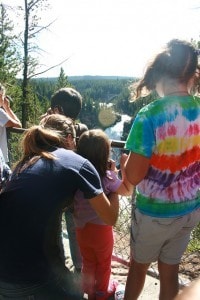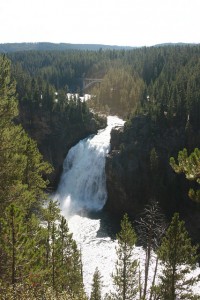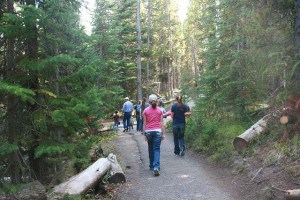 I think it's a good thing we didn't know what type of trail we would have to go on because it probably would have discouraged us from going. Uncle Tom's Trail is a series of 326 steps leading 500 feet down the canyon. Not a big deal going down unless you are afraid of heights because those stupid steps, though metal, are not solid metal, just a mesh so you can see straight down to the bottom of the canyon. ***shudder*** I carried Junior Mint in a front facing baby carrier while Mr. Ferrero Rocher carried Ganache on his shoulders. Another thing that made me shudder thinking about what could happen if Ganache tumbled off and over the edge….moving on.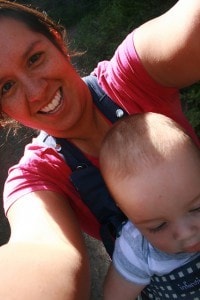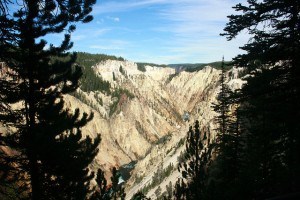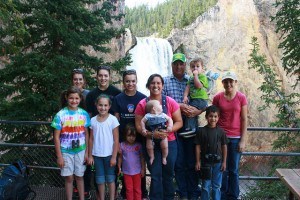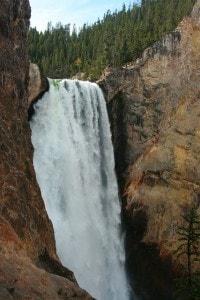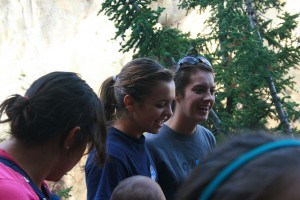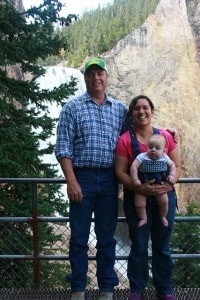 Hiking down to the Lower Falls I asked Mr. FR if it worried him that everyone we passed coming up was huffing and puffing because some of those people sure didn't look like they were out of shape. It was funny to hear similar comments about us as we were going up, lots of "Do you hear them panting?" and several, "Whoa, she's doing this with a baby?" Thankfully there were a lot of platforms to stop and rest.
The kids really wanted to see Old Faithful so we obliged though I really don't think it's that spectacular. While we waited 40 minutes for it to start we walked a bit around the Visitor's Center. On the way back out Ganache stopped to watch two women in their 20s from China taking pictures. One noticed him watching so she ran over and knelt down next to him and motioned for the other woman to take their photo. He saw the camera and said, "Cheese!" while smiling really big. The other woman wanted her picture taken with him too. Too bad someone else had our camera and was ahead of us or I would have taken a picture of them taking a picture of my son, the tourist attraction. He was super cute, shook their hands, and waved, "Bye!" when they left.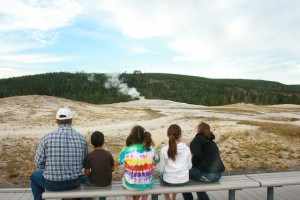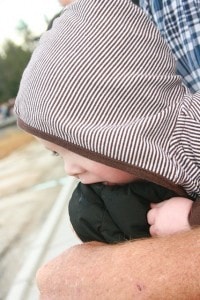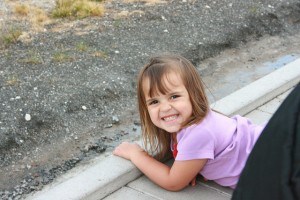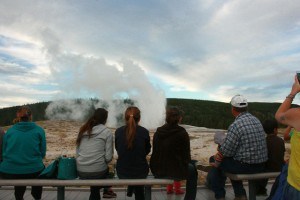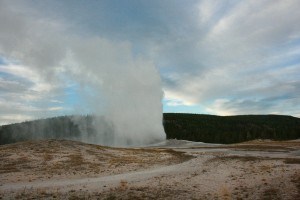 We had a wonderful time! Tomorrow I'll share some of the photos the younger kids took with the disposable cameras I purchased for them to use.