This could also have been titled "How NOT to Have Pity Party." There is some great advice in today's guest post!
We've all heard the old Roosevelt "Comparison is the thief of joy" quote. Well . . . maybe we haven't all heard it (though it makes us sound like a fancy bunch – perfectly versed in our presidential quotes and all).
Perhaps I should have started more honestly. Something like this: Any of us who have been on Pinterest in the last year or so have likely seen – all circled in flowers, or written in bold lettering – the Roosevelt quote: "Comparison is the thief of joy." Maybe we've even pinned it because, well, we know it's true.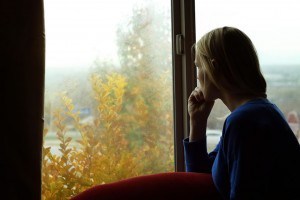 Only, knowing it doesn't always stop us from stealing away our own joys. Knowing it is part of the battle, but it isn't always enough to make us fully quit robbing ourselves of happiness because . . .
Life is pretty good. We are happy. Things are bright . . . . Only, suddenly, our best friend loses 20 lbs. And then? Clearly our life is no longer good. How can it be good 20 lbs heavier than someone else?
Or . . .
We have a small, but cozy little house. All our own. Where books are read, and little ones are tucked in bed, and our family feels safe and loved. . . . Only, our cousin has a house with hardwood floors, and grand windows! Double ovens, amazing decorating, and nary a bit of clutter. And then? Our life is kind of meaningless. We have nothing to celebrate.
On and on it goes.
We love to run, but someone else is running faster; we love to write, but someone else is getting published or collecting more followers; we love to throw parties, but others are making cuter decorations and better party favors; we have an amazing husband, but a friend is pregnant and gets to have a baby.
If we aren't careful, we can, quite easily, dig our hole deeper and deeper – creating a nice sand-castle of misery and discontent as we go – while our talents, and gifts, and joys sit forlorn and forgotten off to the side.
There is an antidote of course. It's gratitude: a complete awareness and thankfulness for the beauty and joy that surrounds each of our lives.
Most of us will battle with the monster that is "comparison" here and there through our lives – it seems to be one of the struggles that come with this whole "being-a-human" package; but there is nothing I have found to wipe those thoughts from my mind and absolutely bolster both my joy, and, strangely, my confidence like true gratitude.
Each of us have so much. So much good that is there just waiting for us to simply recognize it – so that we can claim all the happiness it wants to give us.
We need to find a ways to appreciate the beauty, and good, and pure wonder of both the big, as well as the small, day-to-day aspects of our lives. It's the answer. Plain and simple.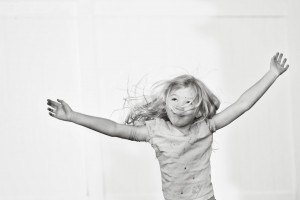 There are multiple ways to do this – some do nightly gratitude journals; others search out the tiny details of happiness in their lives and try to capture them in blog posts or pictures.
I will tell you something that works miracles for me and my happiness: mini (and constant) prayers of gratitude. I began doing this years ago when I read a quote from one of the prophets about never receiving the full joy something has to offer us if we aren't grateful for it.
Obvious, I suppose. We know how much happiness a warm shower gives after a week of camping, or a healthy body is after a day of sickness, but we don't appreciate those joys much when we don't think about them.
Still, obvious as it is, I'd never truly seen the truth of it 'til that moment.
We were living in an old 1970's home at the time – renting the basement out to another family so we could make our payments. I was slightly discontent as our ward members mostly lived in charming little new homes. So, I began whispering little "thank you" prayers up to the heavens every time I thought about any aspect of my house I liked. Before long, I fell madly in love with my home. Sure it was old and small, but it had those three amazing Spanish-style windows! It had an entire acre of property behind it! How could I have ever felt lacking to be there?
I soon began the same thing with my husband – even out running, I'd mentally offer tiny prayers of thanks. Thanks for a husband who scraped my windshield that morning. Thanks for a husband who gave me the nicer cell-phone, etc. Maybe he didn't notice a sink full of dishes or ever hear a crying kid in the night, but I fell in love all over again — overwhelmed by the amazingly good traits I'd taken for granted in this man.
It works for anything — realizing the blessing of a physical body (even with acne in your 30s, cellulite, or thin hair), appreciating a ward, enjoying our material blessings (however meager they may seem).
Now a-days I employ it most often in recognizing the wonder of being a mother to small children. All day long there are little moments of sending up a quick thank you for "that little blonde boy spilling more cereal down his front than he gets in his mouth" or "letting me have little girls with hair to braid every day" or "that little mischief maker with chocolate all over his face."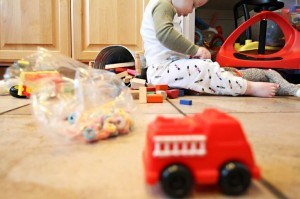 I don't know what it is about these prayers – partly I think it is the constant acknowledging of God's goodness that gives me such happiness; but, also, I think it forces me to actively and constantly note the small moments of joy in my life.
And actively and constantly noting those moments – and acknowledging them as something worth having – makes life feel . . . incredible. Which, truly, it is.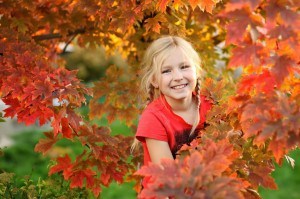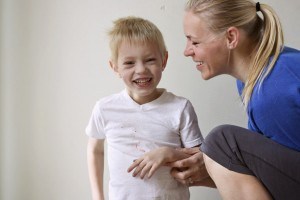 The daughter of an English professor and a drama teacher, Nancy Harris was surprised to find her own passion lying more in the sciences. Still, she tries to embrace her "art" genes through writing about and photographing her life with six small kids. Read more at A Chicken in the Window Well.
Thanks so much, Nancy, for the advice on acknowledging our blessings immediately with little prayers of gratitude. I especially love the part about specific prayers of gratitude – not just general ones – for your children and husband!