Guess what I got to do Thursday evening?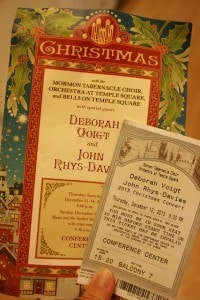 Mr. Ferrero Rocher drove me 11 hours round trip to go see the Mormon Tabernacle Choir Christmas Concert featuring Deborah Voigt and John Rhys-Davies!!! Seriously, it is like winning the lottery to get tickets to their annual concert. In October when registration for tickets was open I decided to give it a try. In November I got an e-mail saying my name had been randomly selected. Late November I received 4 tickets in the mail.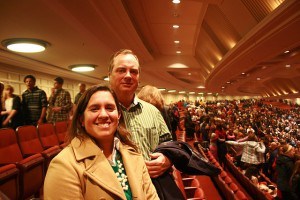 I mailed the tickets to my parents in Utah in case we couldn't go for whatever reason someone would still be able to use the tickets. In the end the weather was clear, the roads good, and the older girls told us they'd watch the kids. Our anniversary is next week so we took the overnight trip to celebrate. My parents came with us (they share the same wedding anniversary)!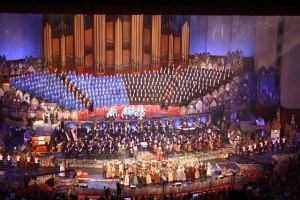 (The view from our seats)
It was wonderful! Deborah Voigt sang beautifully. "The Twelve Days After Christmas" was absolutely hilarious. And when she and the choir sang renditions of Bach's "Magnficat" and "Et exsultavit spiritus meus" ….breathtaking.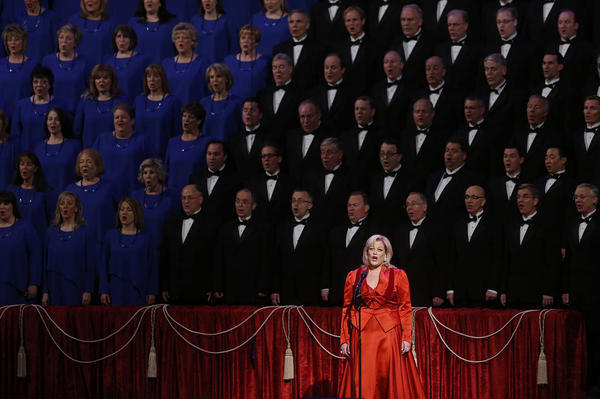 (photo by Ravel Call, Deseret News)
Actor John Rhys-Davies (he played Gimli in Lord of the Rings) has a wonderful stage presence. His telling of A Dickens' Christmas was very well-done. The audience received quite the surprise when he donned a wreath atop his head and became the Christmas Spirit flying over the heads of those on the lowest level!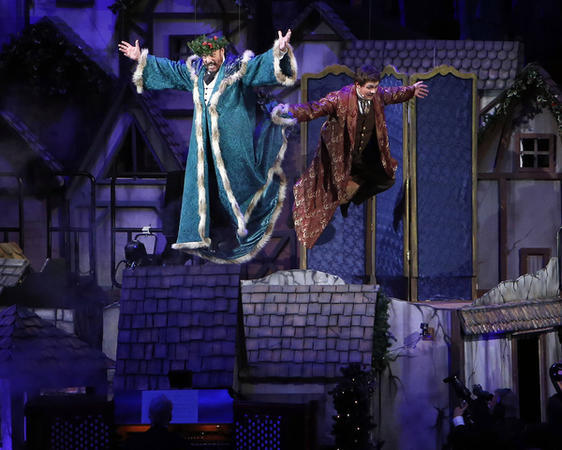 (photo by Ravel Call, Deseret News)
The dancing was lovely and the Bells on Temple Square really added to some of the songs. Being a piano player though, my absolute favorite part of the concert was Richard Elliot's solo on the organ, "God Rest Ye, Merry Gentlemen." He was absolutely phenomenal! Seriously, he played a portion of "Flight of the Bumblebee" WITH HIS FEET while playing something completely different with his hands. He is truly a master.
I am so glad I was able to go with Mr. Ferrero Rocher and my parents and enjoy a delightful evening. My older girls deserve a big thank you for watching the kids overnight!
You can read more about the concert and see other photos in this article at Deseret News.

Winner of the Home for the Holidays CD is: Candace Elder!
Winner of the Home for the Holidays DVD is: Carolyn!
Please e-mail at chocolateonmycranium@live.com to claim your prizes.