'Tis the season of gift giving
And all about town
Folks are out searching
Some sporting a frown
It's hard you see
to find the perfect gift
The one that can bring
A smile and a lift
But here's a secret
as plain as can be
Just use your local grocer
and gift cards, you see!
to choose for your friend
Paired with some goodies
It's the perfect gift to send!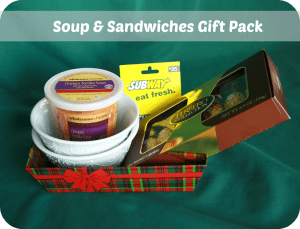 Who doesn't like sandwiches
and some delicious soup?
Add a few pretty bowls,
You've got it! Whoop, whoop!
For dessert add chocolate
The kind wrapped in foil
Your friend will think
They are really quite spoiled.
Each item that's pictured
Get it while you grocery shop
What more could you ask for?
This is just one idea
One way to share the love
I know there are more
What pairings can you think of?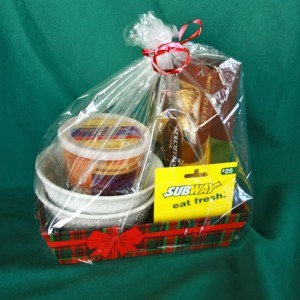 Yay! You've made it past my silly poem! Some people love gift cards, others not so much. One reason they get a bad reputation is because gift cards can seem so impersonal. But pair it with a few other goodies and the ever versatile gift card becomes a thoughtful gift. It is also less likely to get lost. Please tell me I'm not the only one who has ever lost a gift card!
Have you ever received or given a gift package containing a gift card? Leave your ideas in the comments and help each other out this final week before Christmas.
This post is part of a campaign with Smith's to show how gift cards (Smith's offers a variety) can be paired with other items found right in the store for an easy gift for those you love. I was compensated with gift cards of my own.