Last week while Mr. Ferrero Rocher and I traveled to and from Utah I brought along Pres. Boyd K. Packer's new book, In Wisdom and Order, to read aloud. It's a collection of speeches and addresses he's made in the past half century. Anyway, I'd just open the book to a random chapter and start reading.
Upon reading The Touch of the Master's Hand, a general conference address given back in 2001, Pres. Packer quoted a poem I haven't read or heard in over 5 years at least. I'd quite forgotten about it actually. But for some reason reading it again this time, maybe because of this Christmas season, it really made an impression on me.
Twas battered and scarred, and the auctioneer
Thought it scarcely worth his while
To waste much time on the old violin,
But held it up with a smile:
"What am I bidden, good folks," he cried,
"Who'll start the bidding for me?"
"A dollar, a dollar"; then, "Two!" "Only two?
Two dollars, and who'll make it three?
Three dollars, once; three dollars, twice;
Going for three—" But no,
From the room, far back, a gray-haired man
Came forward and picked up the bow;
Then, wiping the dust from the old violin,
And tightening the loose strings,
He played a melody pure and sweet
As a caroling angel sings.

The music ceased, and the auctioneer,
With a voice that was quiet and low,
Said, "What am I bid for the old violin?"
And he held it up with the bow.
"A thousand dollars, and who'll make it two?
Two thousand! And who'll make it three?
Three thousand, once, three thousand, twice,
And going, and gone!" said he.
The people cheered, but some of them cried,
"We do not quite understand
What changed its worth." Swift came the reply:
"The touch of a master's hand."

And many a man with life out of tune,
And battered and scarred with sin,
Is auctioned cheap to the thoughtless crowd,
Much like the old violin.
A "mess of pottage," a glass of wine,
A game—and he travels on.
He's "going" once, and "going" twice,
He's "going" and almost "gone."
But the Master comes, and the foolish crowd
Never can quite understand
The worth of a soul and the change that's wrought
By the touch of the Master's hand.
(Myra Brooks Welch, "The Touch of the Master's Hand," The Gospel Messenger, Brethren Press, 26 Feb. 1921)
Several phrases meshed with the Christmas music we had been listening to. "A caroling angel sings" – how many songs speak of the angel bringing good tidings to the shepherds, and the heavenly hosts praising God? All at the birth of a baby born in a lowly manger.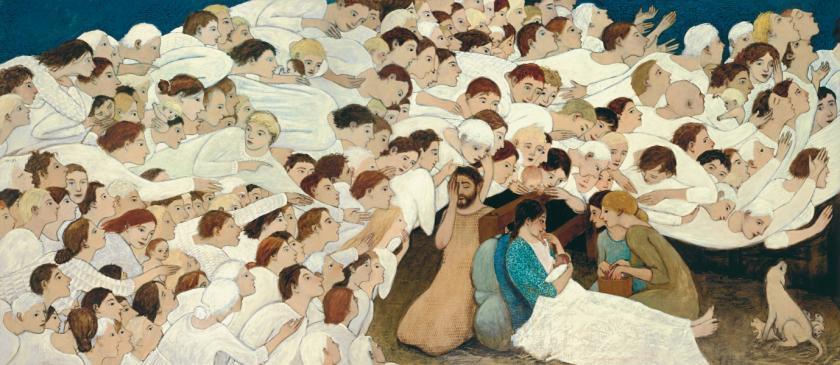 The Nativity by Brian Kershisnik
"The worth of a soul" brought to mind the line from O Holy Night "Long lay the world in sin and error pining till he appeared, and the soul felt its worth."
We celebrate Christmas, the miraculous birth of Jesus Christ, because of what he did for us at the end of his life. It is His touch that heals, His sacrifice that reclaims, His love that redeems. We celebrate the hope that He brought at His birth. The hope that we, under His guidance and grace, are good enough to save.
What is man, that thou art mindful of him? and the son of man, that thou visitest him?
For thou hast made him a little lower than the angels, and hast crowned him with glory and honour.
May your Christmas celebration be full of joy and hope and love.
I am taking a two week hiatus from online social media to spend more time with my family. See you after the new year!