We expected Bon Bon to come home this past Tuesday to spend Thanksgiving with us. She surprised us by coming home four days earlier! It was a treat to have her and her roommate here for a whole week as we celebrated Thanksgiving and decorated the house for Christmas.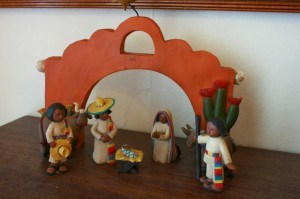 There are Nativity scenes here and there, our advent calendar, wrapped Christmas children's books in the corner of the living room and trees. This year we have four trees up in various parts of the house: a "nice" one in the living room, one the little kids decorated downstairs, a white one on the landing, and a smaller 3 foot tree decorated with our Names of Christ ornaments. It is lovely to see these symbols and reminders of the season wherever I walk throughout the house.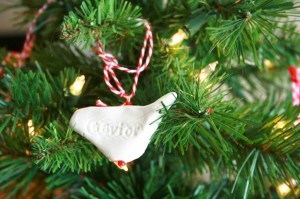 This year our advent calendar will include small acts of service to do that day. It is another reminder for us why we celebrate Christmas and to keep us focused on what Christ would have us do.
Need help thinking of service ideas to do each day? Here are some great lists to help you:
24 Days of Giving from Daily Closer to Christ
The 24 Days of Service Advent Calendar from Dukes & Duchesses
Good Deed Advent from I Am Momma Hear Me Roar
Christmas Service Advent from Timmons Family Lemonade
An Advent Calendar of Kindness from Minnesota Homeschoolers Alliance
My Service Christmas Countdown from Sugardoodle