Have you ever had the experience of being the last one on a crowded elevator? How about be the last one and then have nothing happen after the doors close, only to then have a warning blast over the speakers, "Weight overload. There is too much weight on this elevator. Weight overload." Embarrassing, right?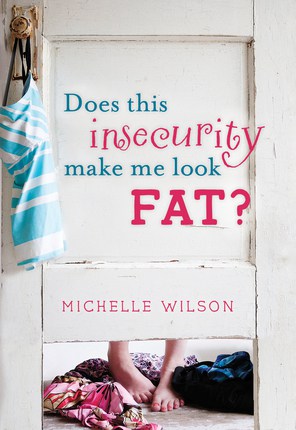 Michelle Wilson uses personal stories (oh yes, that happened to her!) in her new book, Does This Insecurity Make Me Look Fat?, to help illustrate the limitations women place on themselves either through self-doubt or insecurity. This book is about helping us look at our insecurities, why we have them to begin with, and how to lose them by replacing them with confidence.
"Every day women are bombarded with temptations, demands, and decisions on the outside and troubled by unrealistic expectations, doubt, and fear on the inside. We are given the opportunity to chose what we will do, but all too often we second-guess those choices, allowing guilt, worry, and even shame to haunt us." (Michelle Wilson, Does This Insecurity Make Me Look Fat?, pg. 1)
Sounds like me! Does it sound like you too?
The book is divided into two parts. In Part One Learn to See, Michelle teaches about the importance of perspective and having the right one to guide us, God's Perspective. Very often we compare ourselves to others around us. We do this by either putting ourselves down or putting others down. Michelle writes, "No matter where we are or who we are standing next to, we are still the same person – only our surroundings have changed. This is where Perspective enters in. We need to remind ourselves that when we stand before the Savior at the final judgment, we will not be standing next to our peers. We will face Him alone, and I don't think He will care what we drove, how rich we were, what kind of highlights were in our hair, or how expensive our clothes were. He won't ask how we compared to our friends or neighbors. He will want to know how close we are to being like Him." (pg. 33)
In Part Two Choose to Be, Michelle discusses choosing to be who you want to be – or more precisely, who God knows and wants you to be. "When we struggle with our confidence and self-perception, we often feel as though we don't have many choices, that our options are limited. The truth of the matter is that the only thing that is limited is our perspective. When we gain God's Perspective, we begin to see the bounty of opportunities before us." (pg. 115)
While I don't typically reach for books like this (I'm not much of a pep talk, self help kind of reader) I have to admit I rather enjoyed reading it. It was much more than I thought it would be! Michelle includes scriptures and teachings from our prophets and apostles. Those weaved with her humorous and insightful experiences make for a delightful read that really does push you to make some changes and try to improve, to dust off that confidence hiding in the corner and leave those insecurities right there on the floor. Oh, and a little humor along the way can really, really help.
Disclaimer: I received a copy of Does This Insecurity Make Me Look Fat? from Deseret Book to review. All thoughts and opinions are mine.
P.S. Michelle also wrote a guest post, I Know Who I Am, I Know God's Plan, for The Family Proclamation Celebration last year.