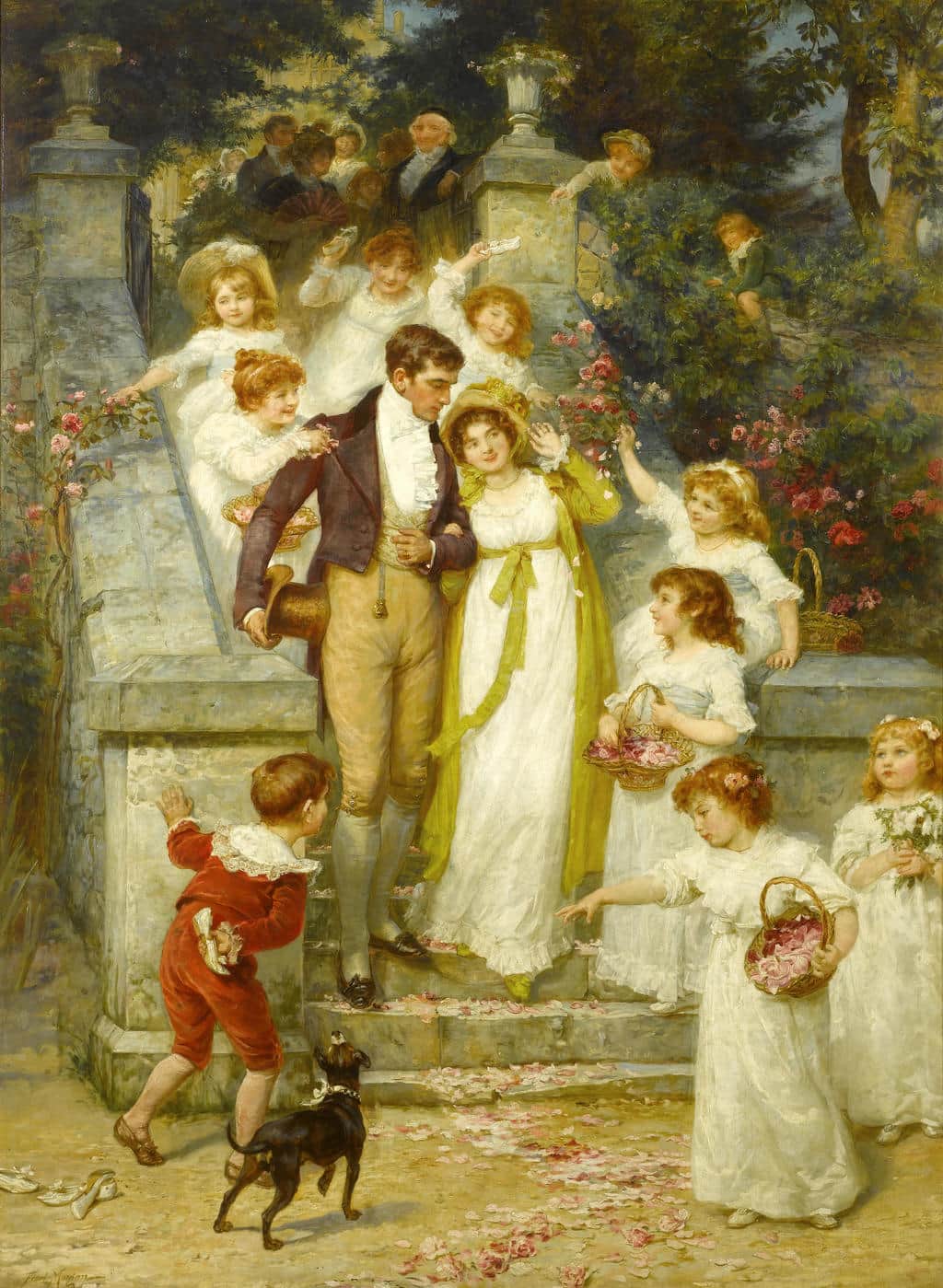 (Frederick Morgan, Off for the Honeymoon)
Over the Christmas break there were some major happenings in Utah about same-sex marriage. One judge – one – overturned the voters in Utah to legalize same-sex marriage. That judge refused a stay on the order as did a circuit court. The Supreme Court did issue a stay. Now the matter will be under review of an appellate court. And while it is under review the law reverts back to what the voters decided – marriage is to be between one man and one woman.
I am a huge supporter of traditional marriage! I believe, and research has shown, (links to studies at the end of this post) they make the strongest families and give children the best opportunities for a successful life. My support of traditional marriage comes as no surprise to my blog followers as I have held a celebration for the past four years on The Family: A Proclamation to the World. This document was divinely inspired! Given back in 1995 before gay marriage was even an issue it has been a guide and help to members of our church.
I am also thankful for words of our modern day prophets and apostles, whom I support and sustain as called of God, who continue to teach about God's law vs. man's law. Here are a couple of quotes from this past General Conference held in October 2013.
"Civil governments are heavily influenced by social trends and secular philosophies as they write, rewrite, and enforce laws. Regardless of what civil legislation may be enacted, the doctrine of the Lord regarding marriage and morality cannot be changed. Remember: sin, even if legalized by man, is still sin in the eyes of God!" (Elder Russell M. Nelson, Decisions for Eternity, Oct 2013 General Conference)
"Our twelfth article of faith states our belief in being subject to civil authority and "in obeying, honoring, and sustaining the law." But man's laws cannot make moral what God has declared immoral. Commitment to our highest priority—to love and serve God—requires that we look to His law for our standard of behavior. Laws legalizing so-called "same-sex marriage" do not change God's law of marriage or His commandments and our standards concerning it. We remain under covenant to love God and keep His commandments and to refrain from serving other gods and priorities—even those becoming popular in our particular time and place." (Elder Dallin H. Oaks, No Other Gods, Oct 2013 General Conference)
After everything that has taken place in Utah, our church has issued a statement regarding our stance on the matter. I'll only quote a couple of paragraphs but please read the entirety of the statement.
"Changes in the civil law do not, indeed cannot, change the moral law that God has established. God expects us to uphold and keep His commandments regardless of divergent opinions or trends in society. His law of chastity is clear: sexual relations are proper only between a man and a woman who are legally and lawfully wedded as husband and wife. We urge you to review and teach Church members the doctrine contained in "The Family: A Proclamation to the World."

"Just as those who promote same-sex marriage are entitled to civility, the same is true for those who oppose it. The Church insists on its leaders' and members' constitutionally protected right to express and advocate religious convictions on marriage, family, and morality free from retaliation or retribution. The Church is also entitled to maintain its standards of moral conduct and good standing for members."
In all these statements an emphasis has been placed on following the moral law God has established. Even when man changes law to suit their fancy or whims if it is against God's law it is still immoral even though it may be 'legal.' Abortion is one such law that comes to mind.
As a mother I am also thankful for my constitutionally protected right to practice my religion, to teach my children God's morals no matter what the philosophies of man may say, and to stand firm in my beliefs.
"No matter how the wind may howl, the mountain cannot bow to it." – Emperor, Mulan
Part of those beliefs are to love everyone, yes! And we do! But loving does not mean condoning that which is morally wrong. I will continue to do all I can to support and defend traditional marriage and family. Is that old-fashioned? You bet.

Studies about the effects of Homosexual Marriage or partnerships on children:
New Family Structure Studies
Review of the Economics of a Household (Canada)
Homosexual Parenting: Is it time for change?
More of my thoughts about traditional marriage and families:
Sharing the Family Proclamation
Never Check Your Religion at the Door – Defend the Family!
Defending Marriage
Gender is Essential
I Support Traditional Marriage