It started the day my oldest returned for Christmas break. We laid out a tablecloth, placed bowls brimming with candy down the middle of the table, gave each child a bag of pure white royal icing, and let them build a house.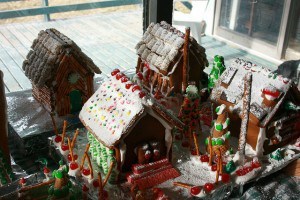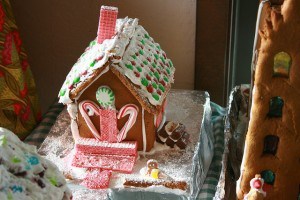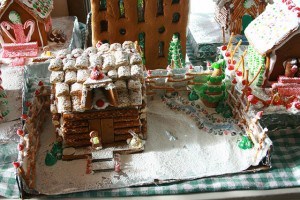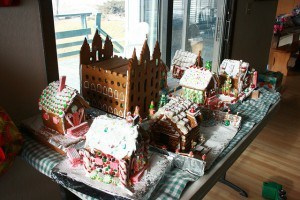 With each squeezing and glopping of frosting, each licking and crunching of candy, each glee filled giggled and oohing and aahing little moments were born.
And a house was built.
And souls were made light.
Two days before Christmas a little girl stood by my bedside, "Momma, I threwed up in my bed. I threwed up because Ganache threw up." I strip sheets off beds, start loads of laundry, and bath the sick ones. After getting them settled on couches I slipped in to my room and gently shook Mr. Ferrero Rocher's shoulder to tell him I was sleeping in the living room with the sickies. He gave me a confused look then started laughing. "The first thing that came to mind when you woke me up was 'It's time to go to the hospital to have another baby."
Obviously he has been woken up more for that then for sick kids! (and no I'm not pregnant!) That comment alone kept me laughing, even when three more kids become sick within the next hour. All five youngest down-and-out for the count. All crying for Mom, all day long.
With every coughing and gagging, each wiping of the brow, each whispered "thank you" little moments were filed away.
And a home was built.
By evening the worst was over, baths were given again, and I glanced out the window to see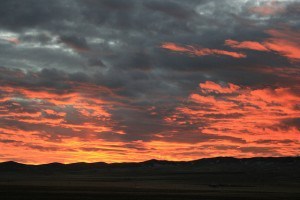 an orange and red tapestry of sunbeams bouncing off clouds. And my own soul was made light.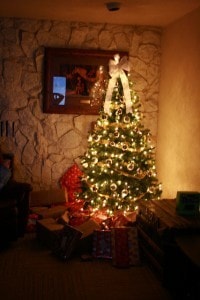 Christmas morning dawned with anticipation. The gifts were under the tree ready to be unwrapped. But before the string was taken from the brown paper packaging,
as per tradition
we recited about
The Gift
given for all. With each thrilling declaration of His life, each miracle wrought, each truth taught, each word spoken of His atoning sacrifice little moments were Spirit touched.
And a home was filled.
And souls were renewed.