Right around Thanksgiving I ordered DNA tests from 23andMe for both Mr. Ferrero Rocher and I. We were just curious to see what our genetic make-up was and, in my case, to see how diverse it is. It's no secret we both love our ancestors and as much as possible tell our children their stories. We thought knowing some ancestral DNA would make our family tree even more fun. Take a look at my ancestral DNA breakdown below.
This first graph shows my global resolution – the basic areas of the world where my DNA comes from.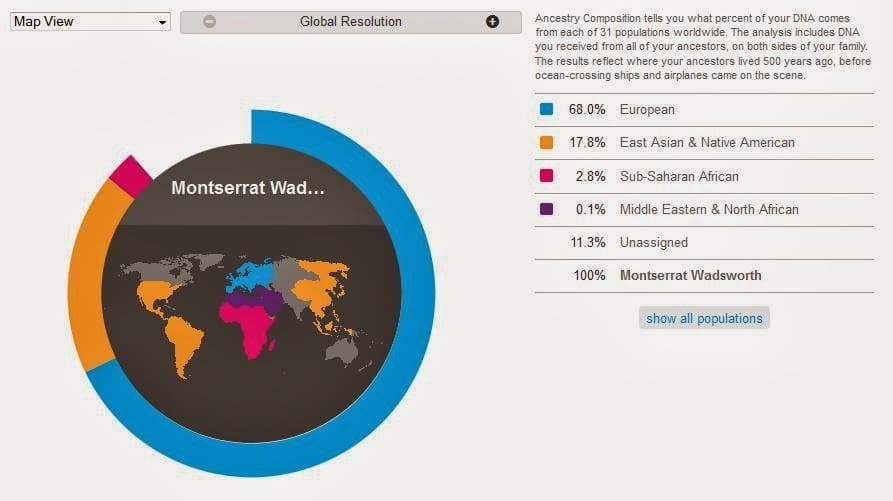 On the right you can see the basic percentage of my DNA make-up, mostly European but there is a much higher Native American than I thought! In researching more I learned it is not uncommon for Latinos to have a high Native American DNA percentage. When I change the view to Regional Resolution I get a more detailed breakdown of my ancestral DNA.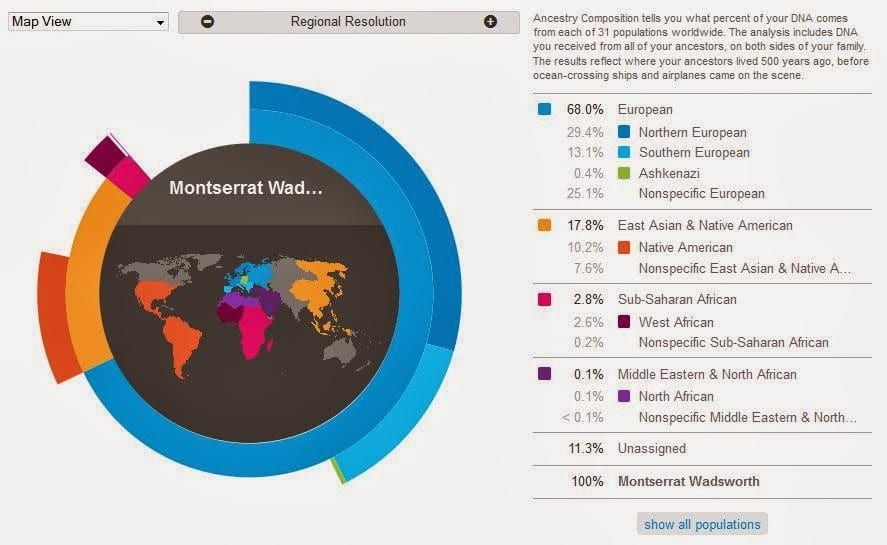 Now I can see most of my European DNA comes from Northern Europe with a tiny fraction of Ashkenazi Jew. The nonspecific means that the DNA comes from Europe but isn't specific to any one region. Same thing with the East Asian & Native American. 10.2% is specifically Native American the rest is common in both peoples.
The 2.8% Sub-Saharan African is also very interesting. We were guessing I would have some African in my DNA mostly because the Moors would travel across the Mediterranean Sea and try to invade Spain or kidnap slaves and take them back to Africa. Also there is a good chance I have Sephardic Jews in my ancestry and they would have settled there and maybe migrated back to Spain after it was safe to move back again. Something to dig deeper into for sure!
I can further see which European countries my ancestral DNA comes from when I look at the Sub-Regional Resolution. I already knew I have British ancestors and of course my paternal grandfather is from Spain or the Iberian Peninsula, where Spain and Portugal are.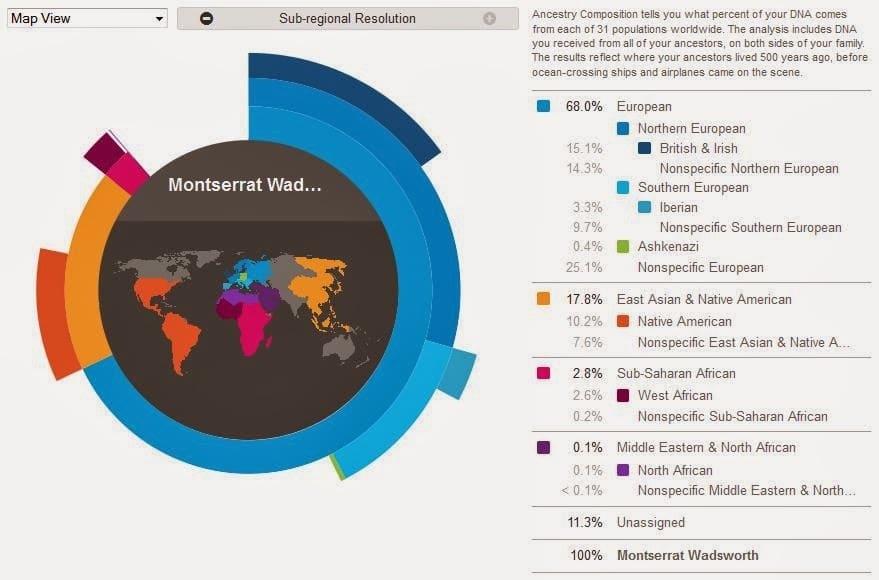 Instead of a world map view I can look at my chromosomes and see which ones contain DNA from the various parts of the world. Chromosomes 3 and 4 contain the highest of the West African DNA while Chromosomes 2, 6, 11 and 16 had quite a bit of Native American DNA. Isn't that cool to see?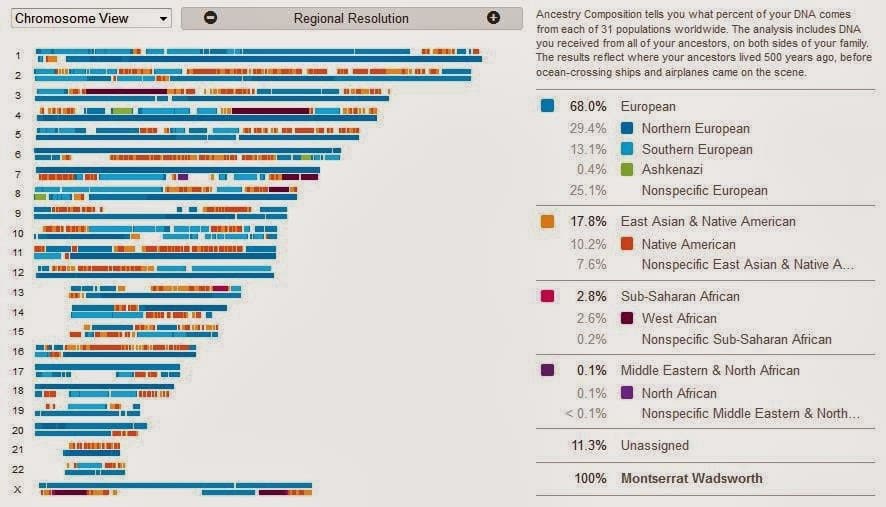 One of the neatest aspects of all of this is my maternal mitochondrial DNA. Go ahead and click on that link to learn about my specific haplogroup. No matter who my daughters marry or what their spouses' ancestry are my daughters will pass on this mtDNA to their daughters, and their daughters will pass it on to their daughters just as I have inherited it from my mother, who received it from her mother, and so on.
I want to know more about the Native American composition. Actually, I think Mr. Ferrero Rocher is even more curious than I am, if that's possible. Can it be traced to a specific tribe? I know that Family Tree DNA can show more specific results so we are contemplating getting that DNA test as well.
Mr. FR's results weren't as flavorful. ☺ He is 99.9% European with 0.1% unassigned. Most of his ancestral DNA is British & Irish with a tiny fraction of Scandinavian, French, and German.
Using DNA is becoming more and more popular among genealogists. It can give clues to one's ancestry when you become stuck. It is also helpful for those who are adopted to find out more about their ancestral roots. I have a friend who is using ancestral DNA to help her adopted Chinese daughters find out more about where they come from. With 23andMe you are also able to connect with distant relatives 2nd – 5th cousins to learn more about different branches of your family tree.
Have you gotten a DNA test? Were you surprised by an of the results?
P.S. This is not a paid endorsement for 23andMe. It is the company we used and were so happy with the results I couldn't help but blog about it!