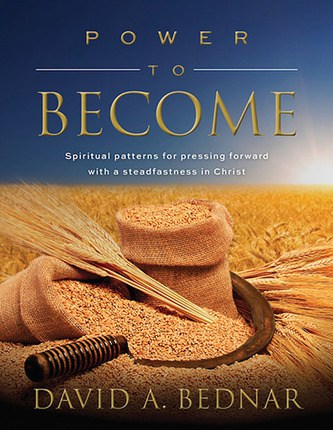 Power to Become: Spiritual Patterns for Pressing Forward with a Steadfastness in Christ by David A. Bednar has guided me to learn more about my own journey to become more like the Savior. Elder Bednar doesn't provide answers, rather he provides insights to help you look for and receive your own answers for your own life. The chapters cover topics such as the Atonement, obedience, priesthood power, personal peace, and enduring. The margins are extra wide providing room for you to write impressions or thoughts that come as you are reading. I love that! One of my favorite things to do is read a book after my father-in-law has read it because he writes different thoughts in the margins. I'm hoping someday when my children read through this book (and others) they will see the thought processes I had and learn more about me.
Obedience to God's commandments is something we can all work on. I love how Elder Bednar teaches about the different levels of obedience. As I read through the description that follows I realized I am at varying levels of obedience with different commandments. Some are easier for me to keep than others.
"A series of comparisons illustrates how obedience operates at different levels.

It is one thing to obey in order to qualify for and receive blessings; it is quite another thing to obey as a preparation to give and serve more effectively.

It is one thing to merely and perhaps mechanically comply with God's commandments; it is quite another thing to obey and thereby fully submit and subject oneself to the will and timetable of the Lord.

It is a good thing to obey out of a sense of duty; but it is an even greater thing, a more spiritually demanding thing, to obey through love.

It is one thing to reluctantly or grudgingly conform to commandments; it is a different thing to joyfully "obey and observe to perform every word of command with exactness" (Alma 57:21; emphasis added) and to cheerfully "observe strictly to keep the commandments of God" (Helaman 13:1; emphasis added).

It is one thing to perform the outward actions of obedience; it is quite a different thing to become inwardly what the commandments are intended to help us become.

It is one thing to obey the institutional, public, and shared commandments associated with the Lord's kingdom on earth – commandments such as the law of chastity, the law of tithing, and Word of Wisdom; it is an even greater thing to receive and respond to the individual, private, and personally revealed commandments that result from continual and faithful obedience.

Ultimately, we obey willingly because we love the Lord and are striving to obtain the blessings and power to become more like Him." (David A. Bednar, Power to Become, pgs. 86-87)
I particularly love this line, "It is one thing to perform the outward actions of obedience; it is quite a different thing to become inwardly what the commandments are intended to help us become." There are so many examples of people in the scriptures who learned this lesson.
As with all of Elder Bednar's books there are videos available online to further enhance your study.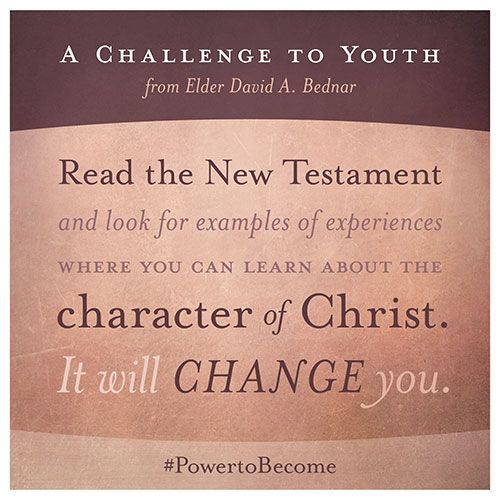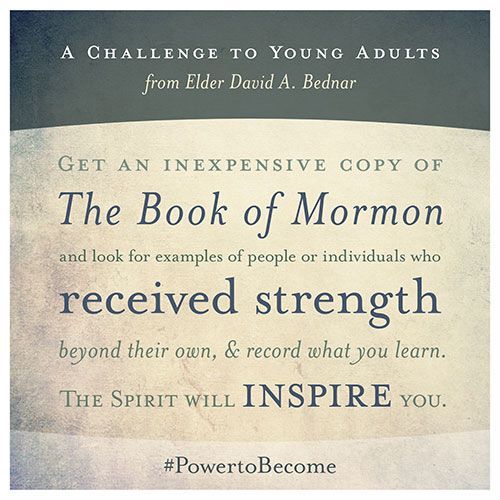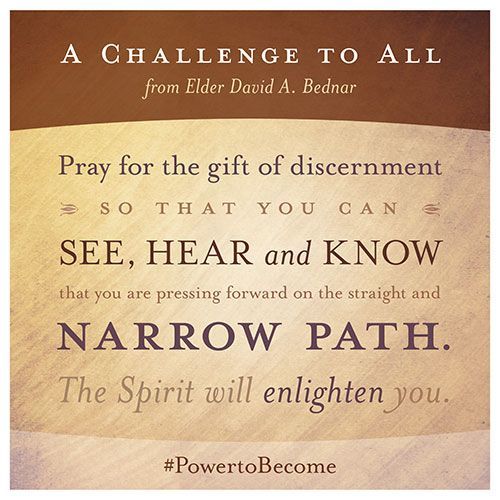 There are videos for youth, couples, single members, women, etc. He tries to address concerns specific to those groups but they are great videos for everyone to watch, regardless of your situation.


I have a copy of Power to Become to give away today!

Winner will be chosen from comments made here and on the facebook status for this giveaway. Leave a comment on both for extra chances to win! Giveaway ends on Sunday, March 23, at 7pm PST. Leave a comment telling a story from the scriptures that has helped you learn to be a better person.
Congrats to the winner of the giveaway!
for me, my favorite scripture story of the vision of the tree of life…i am reminded that sometimes we might all be visiting the great & spacious building no matter what our intent…the choice is to not become a permanent resident
Disclaimer: I received a free copy of Power to Become from Deseret Book to review. All opinions are my own.