About a month or so ago my friend, Stephanie, shared this talk, Even As I Am, by Mark E. Petersen given at General Conference back in 1982. Elder Petersen was addressing the women of the church and showing through many examples how Christ honors womanhood. The talk is also a call to action!
"We worship Him, the Son of God.

We obey Him, our Savior and Redeemer.

We love Him, our gracious Friend.

But He has work for us to do. He is not satisfied with worship alone. He is not content merely with adoration. He asks us for service—day-to-day service in His church and kingdom."
As I studied the talk I was reminded again of
avodah
, a Hebrew word used in the Bible whose root has three distinct yet intertwined meanings: work, worship, and service. In the original Hebrew text of the Bible, God used one word,
avodah
, to describe all areas of a life. And so it is in all areas of my life that I can show service and devotion to Christ. When I am mothering my children, doing the mundane tasks of housekeeping, working at building a home I am performing that day-to-day service Elder Petersen was talking about.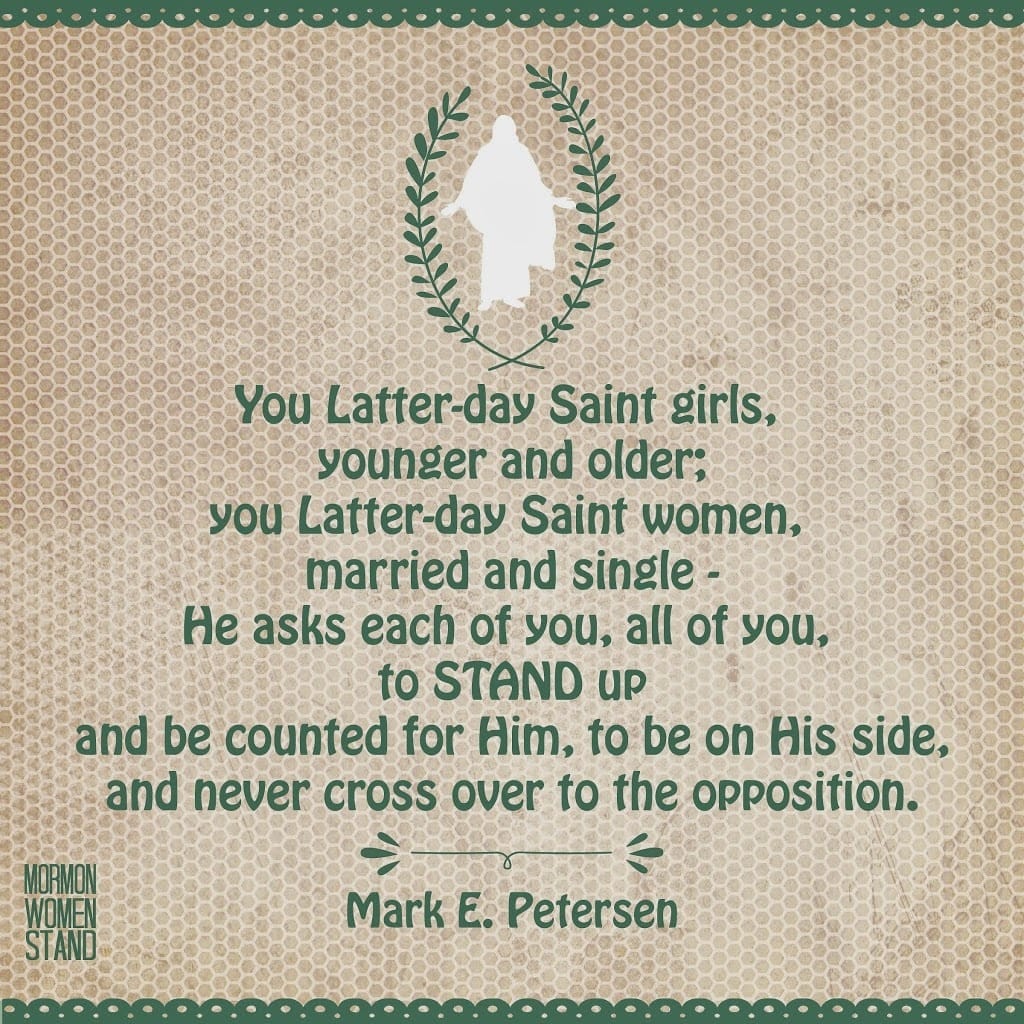 It was a woman who received of His mercy when through her repentance she was told to go her way and sin no more. (See

John 8:11

.)

It was to a sick and suffering woman that He said, "Thy faith hath made thee whole." (

Matt. 9:22

.)

It was a woman who begged Him to heal her daughter and in her pleading even likened herself to one eating crumbs under the table. His divine approbation distilled upon her, and He said: "O woman, great is thy faith: be it unto thee even as thou wilt." (

Matt. 15:28

.)

It was out of compassion for a grieving widow that He raised her son from death. (See

Luke 7:12–15

.) It was another widow whom He praised when her two mites were cast into the temple treasury. (See

Mark 12:42–44

.)

Devoted women stood with His mother at the foot of the cross on Calvary during His agony. She was His great concern in the midst of His suffering, which suffering, He said, "caused myself, even God, the greatest of all, to tremble because of pain." (

D&C 19:18

.) In the midst of all that, His concern was for His mother. (See

John 19:25–27

.)

Then is righteous womanhood near to the heart of the Savior? Are girls who grow up to become good women? He needs all of you in His fold to aid Him in His ministry.

Suffer the children—suffer the girls, both the younger ones and the older ones; suffer the women, married and single; suffer the men and the boys; suffer those who have gone astray but repent and come back—suffer all to come unto Him, for righteous and repentant souls are what the kingdom of heaven is made of.

You Latter-day Saints girls, younger and older; you Latter-day Saint women, married and single—He asks each of you, all of you, to stand up and be counted for Him, to be on His side, and never cross over to the opposition.
Oh, there are so many wonderful nuggets of wisdom in this talk! I encourage you to listen some time today or go and read the talk,
Even as I Am
. We will be discussing it tonight on facebook at
Mormon Women Stand
from 6-8pm MST. Stephanie will be helping to lead the discussion!
"Sunday Evening Classics" will be a regular feature not only here but over at Mormon Women Stand as well. Mormon Women Stand is a collaborative effort (I am one of the admins for the group) to gather women online who whole-heartedly sustain our living prophet and apostles, defend the principles and doctrine found in The Family: A Proclamation to the World, and love our divine roles as covenant women of Christ. You can find out more on the website or at our facebook page.