You know how sometimes (many times?) dinnertime rolls around and you just don't know what to cook? Or, if like me, you plan meals in advance but are always looking for new ideas or combinations of foods? Or what you planned just doesn't sound good so you go looking for something else to cook for dinner?
A Year With Six Sisters' Stuff can help with all of that! It is filled with over 150 recipes included in 52 meal plans. Yup, meal plans all ready gathered together! Most of the plans include a main dish, side dish, and a dessert. If you are a slow cooker, crockpot kind of gal there are plenty of recipes in the book utilizing what is, in my opinion, one of the best kitchen inventions ever. We had the Slow Cooker Sunday Dinner Pot Roast this past Sunday. It's been a while since we had pot roast. Man was it good!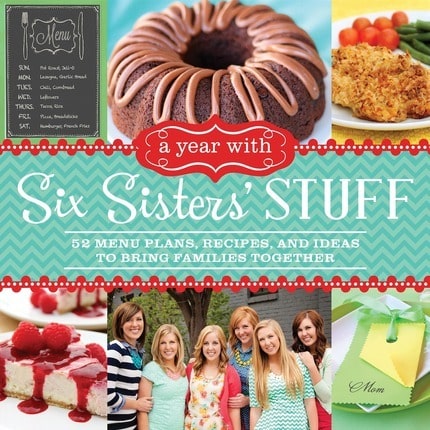 We love this book! At first my girls were intrigued because, hello, we have seven sisters in our family. Then as we started browsing through it we saw some of the recipes are familiar tried and true recipes our own family likes to make such as 5-minute Jello Salad which we call Pinkalicious or Orangelicious depending on the jello flavor and fruit used.
Can you guess the very first recipe we tried? Yes, it has something to do with chocolate. 🙂 My daughter, Semisweet whipped up the One Bowl Chocolate Cake for a quick dessert after lunch one day. Of course it was delicious.
When it was my week to cook I took advantage of the pre-made meal plans provided. It was so easy! One thing I noticed is all of these recipes are really simple. No super fancy ingredients, just things you normally have in your pantry or you can easily find at the store and most are not prepackaged. Hooray for good homemade food!
Sprinkled throughout the book are craft ideas and family traditions the Six Sisters have done. There is also a list of pantry staples, a food storage plan for beginners, and 52 dinner conversation starters.
About the Authors
The Six Sisters—Camille, Kristen, Elyse, Stephanie, Lauren, and Kendra—grew up in Utah, but a few of them have lived in other parts of the country since moving out of the house. Between them there are five nieces and three nephews, and all of the sisters love playing "aunt." The sisters started the blog in February 2011 to keep in touch while they were apart, but it has since gained popularity, garnering more than 9 million viewers per month and more than 307,000 followers on Pinterest.

Now you have a chance to win one of 10 copies of A Year With Sis Sisters' Stuff! Enter using the Rafflecopter below. They will contact the winners directly.
Thanks to everyone for entering! Good luck!