I'm only sharing a snippet of today's reading. For the whole portion read the section A House of Learning here.
It seems to me that two things are necessary to joyful motherhood: preparation and excellence.

Before a house can be built, a great deal of preparation must be made. Builders must learn certain skills. Plans must be prepared based on knowledge of the building site, the type of home desired, the building materials available, the climate, and the desires of the eventual inhabitants. A mother (and a father too) must prepare in order to be successful.

Mothers-to-be would be wise to learn every possible homemaking, budgeting, interior decorating, and childcare skill they possibly can. As mothers, we need to continue to learn these things and improve our abilities as we go along. The woman who fails to learn these things before marriage will have to do some heavy on-the-job cramming in order to run a successful home. In the Lord's pattern for his house in section 88 of the Doctrine and Covenants, one of the keys is a house of order. Homemaking skills can ensure that we do have an orderly house.

But it is not enough to have just an orderly house; the Lord also commands us to prepare ourselves to have houses of learning. This kind of preparation is a lifelong pursuit. We set the tone in our homes. We are like springs from which our families drink; we must be full and generous, or they will perish. Our preparation must give us a reservoir of learning and faith. We refill our reservoir through prayer, fasting, and attending the temple, and in many other ways unique to each individual. . .

I like the idea of having both a vocation and an avocation—a trade and a love. For women, homemaking must be at least our vocation (for some, it might be an avocation as well). We might also prepare for another vocation, but in addition, we should cultivate as many avocations as we would like. Women who have an avocation of music seem to be particularly blessed, and their families are blessed, too. I have seen women enrich their families with their abilities in art, science, mathematics, gardening, sewing, cooking, interior decorating, carpentry, sports, shopping, nursing—there are as many possibilities as there are women. . .

All this worldly learning is of no value to our families if we neglect the spiritual preparation. The Lord described a house of faith, prayer, and fasting—as well as one of order and learning. We need to cultivate our testimonies as well as our talents, and to study the scriptures as well as our textbooks. . .
(Petrea Kelly, The Joys of Motherhood)
Growing up I was of the rare breed that cried when school let out for the summer. I enjoyed school so much I hated to see it end! My love of learning hasn't changed, in fact, it has become quite a passion. There are so many wonderful things to learn about and every single one can be used by mothers. In any given day we need to summons our knowledge of medicine, chemistry, accounting, psychology, and judiciary practices and the list goes on and on.
With all of the technology we have at our fingertips there is no excuse for not learning something new each day. Whether you take college classes, or online workshops, or ask a neighbor to teach you, or even borrow books from the library, the opportunities we are given to learn are endless.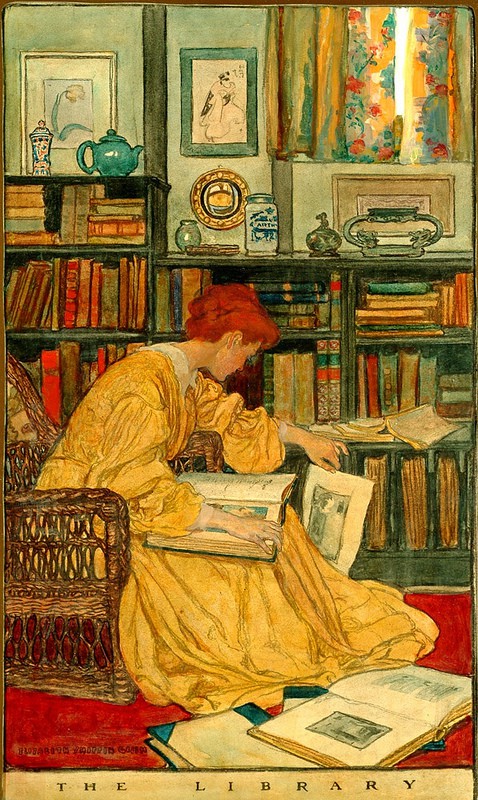 Illustration by Elizabeth Shippen Green
Shortly after I was married I visited with an elderly neighbor down the street. Laying across the tops of her couches and draped along the backs of chairs were beautiful lace doilies. I was too shy to ask her if she would teach me how to crochet so I went to the library and checked out several beginner books. I taught myself how to crochet and have used that skill to make not only doilies (is that old-fashioned?), but useful hot pads, cute baby hats, adorable baby slippers, and even a baby blessing dress. It has been a pleasure to create gift for others using a skill I didn't learn at school.
Isn't that the case with most everything we do? How much of what we learned at school or in college do we actually use during any given day? Does that mean school and college aren't important? NOT AT ALL!
In speaking specifically to young women President Gordon B. Hinckley said, "In this day and time, a girl needs an education. She needs the means and skills by which to earn a living should she find herself in a situation where it becomes necessary to do so.
"The whole gamut of human endeavor is now open to women. There is not anything that you cannot do if you will set your mind to it. I am grateful that women today are afforded the same opportunity to study for science, for the professions, and for every other facet of human knowledge. You are as entitled as are men to the Spirit of Christ, which enlightens every man and woman who comes into the world (see D&C 84:46).
"You can include in the dream of the woman you would like to be a picture of one qualified to serve society and make a significant contribution to the world of which she will be a part. Set your priorities in terms of marriage and family, but also pursue educational programs which will lead to satisfying work and productive employment in case you do not marry, or to a sense of security and fulfillment in the event you do marry. Education will increase your appreciation and refine your talent."
Pres. Hinckley's sweet wife also said, "How blessed will your children be if you develop some intellectual curiosity. And you will never be bored."
In the book Glimpses into the Life and Heart of Marjorie Pay Hinckley
her granddaughter tells this story, "At my wedding shower Grandma gave me an iron with a card that read, "Happy ironing! The most enjoyable of all household duties. Love, Grandma H." It reminded me of when I was trying to decide on a major in college. Grandma told me to study something other than home economics so that when I was at home doing the ironing I would have something interesting to think about. Now, when I pull my old iron off the shelf and run it over a wrinkled blouse, I think of sonnets and Shakespeare . . . and I think of Grandma and smile." Don't you just love that story? I do!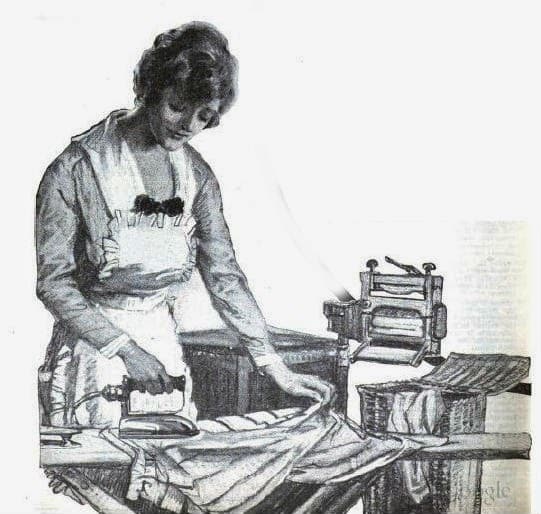 To be balanced we should pay just as much attention to spiritual growth and learning as we do the secular, and not only for ourselves but our children too. I have loved my early morning study time before the rest of the house awakens. It is my time to read and ponder and pray and learn and listen. Inevitably something I studied recently will be relevant in a conversation with a friend or my child, or I find I have been spiritually prepared for a particular trial. Find a time that works for you but make the time.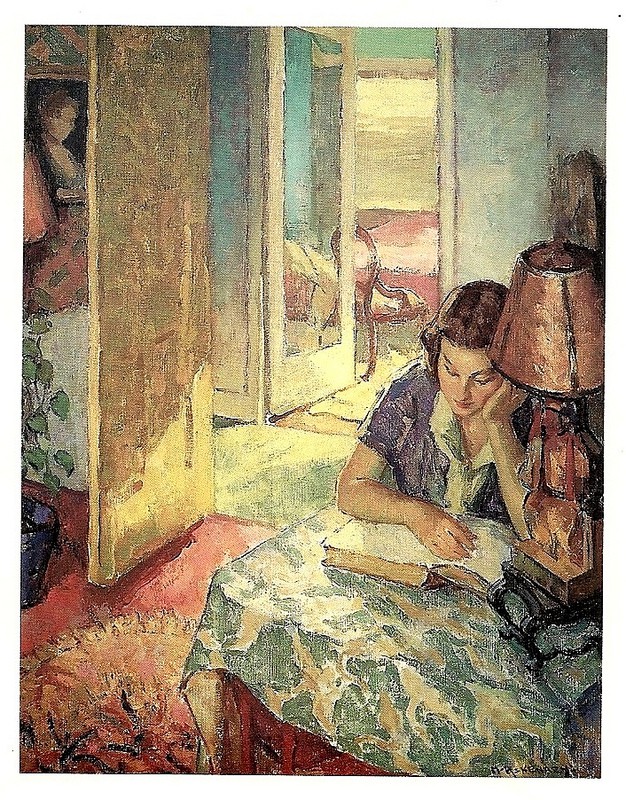 One of my fondest memories as a child was waking to find my mother studying her scriptures at the kitchen table.Without preaching anything I knew the scriptures were important to her because she read them faithfully every day. Even now when we go and visit, if I wake up early enough I will usually find her in a recliner reading her scriptures.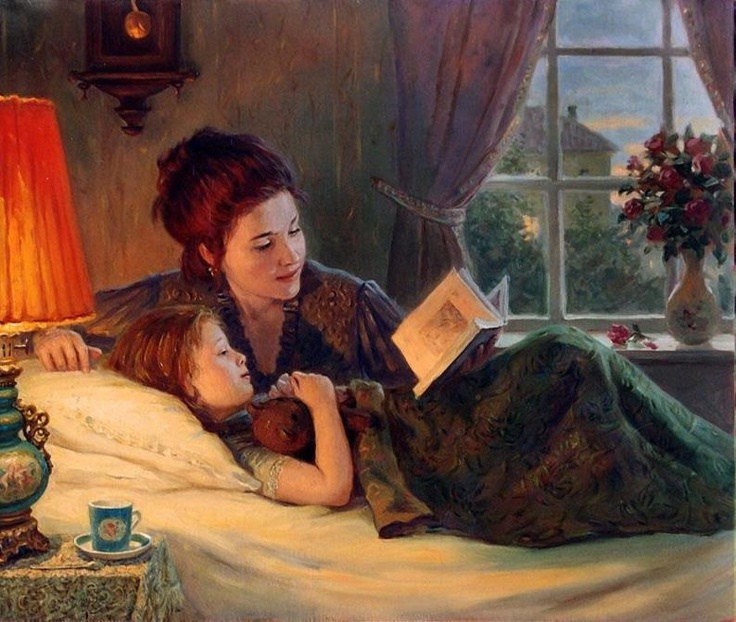 Create spaces in each room where a person can comfortably sit and read. I guarantee they will get used! Fill your bookshelves with wonderful things to read, science picture books, globes, maps, etc. Having such things accessible makes it inviting. Instead of turning on the TV in the evening try reading a book aloud to the whole family or learn something together or go on a walk and observe nature. Show your children how fun it can be to gain an education!