This week as I've been thinking about motherhood and creating a home I've also had the pleasure of reading a collection of biographies of some great women. Volume three in the Women of Faith in the Latter Days series covers women born between 1846-1870. These women were each amazing as they recognized their individuals strengths, developed them, and used them to serve those around them.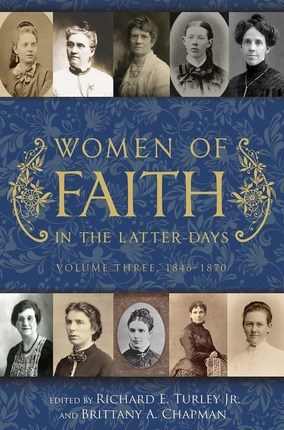 Take for instance, Ellis Reynolds Shipp (pictured in the middle on the lower row of pictures), who seeing a need for knowledge that would save mothers and babies in the frontier towns of Utah, left her family and children to attend school in Philadelphia for two years. She was then able to help establish the LDS Hospital and the School of Nursing and Obstetrics. She taught obstetrics and practiced medicine for over fifty years, graduating over five hundred nurses and delivering over 6,000 babies! In her own autobiography Ellis wrote, "For more than six thousand times have I felt the exquisite bliss of seeing the mother's smile when for the first time she clasped her treasure in her arms." The initial sacrifice to leave her family turned into a huge blessing for so many mothers and babies.
Mere Mete Whaanga was a Maori who joined the church with her husband Hirini in November of 1884. Within two weeks more than two hundred of their tribe were also baptized. Mere and Hirini were well respected not only by their people but also by the missionaries. Mere made sure her home was clean and ready and welcome for the traveling elders. Later in life she and Hirini moved to Utah so they could do temple work for their ancestors. After the death of her husband in 1905 Mere served a mission amongst the Maori people back in New Zealand. She served so faithfully. Her mission president reported, "Sister Mere Whaanga did much good among her people in the north of New Zealand. They see in Mere Whaanga what the gospel will do for them if they live it faithfully, and her very presence among them is a sermon."
One story turned up a nice surprise for me! Emily S. Richards and her husband, Franklin S. Richards moved to Washington D.C. where he was sent to lobby for Utah statehood. While there Emily was also encouraged to meet with national suffrage leaders. She gained prominence in both Utah and national suffrage activities and formed friendships with such leaders as Susan B. Anthony, Anna Howard Shaw, and Carrie Chapman Catt. The surprise for me was in one of the photos included with her biography.
Back row: George Francis Gibbs, L. John Nuttall, Charles W. Penrose Front row: John T. Caine, Margaret Nightengale Caine, Joseph F. Smith, Emily S. Richards, Franklin S. Richards.
In a photo I have never seen before I found my great-great-grandfather George Francis Gibbs! He is standing at left. I was pleasantly surprised to learn he was also in Washington DC lobbying for Utah Statehood. What company he kept! He later served as secretary to Lorenzo Snow.
In all twenty three different women are highlighted in this volume. Each with a unique story but all with the commonality of being faithful to the gospel. I loved reading and learning about each one. Some of the other women highlighted are Anna Karine Gaarden Widstoe, Cohn Shoshonitz Zundel, Ruth May Fox, Susa Young Gates, and Tsune Ishida Nachie.
Visit the website Women of Faith in the Latter Days to learn more about the project, upcoming volumes, and even how to submit suggestions for women to cover.
Disclaimer: Deseret Book provided a free copy of Women of Faith in the Latter Days Volume Three for me to review. All opinions are my own.