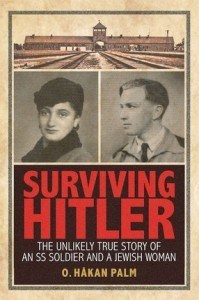 Even though Agnes Erdös was a practicing Catholic, she was an ethnic Jew. After the Nazis invaded her country of Hungary, Agnes and her parents were sent to the concentration camp of Auschwitz-Birkenau. Agnes survived, her parents did not. After the war she would meet Gustav Palm.
Gustav was a young man when Hitler invaded Norway. Tricked into applying for what he thought was a job as a traffic cop, Gustav ended up being a guard at a Nazi camp, a prisoner guarding prisoners. To escape he volunteered for the Waffen-SS to fight at the front.
"I learned that there are good people everywhere and that you can talk to most. Our female guards were not fanatics or cruel people either. They were just people who had found themselves in unfortunate circumstances caused by this evil war. I wondered who exactly was responsible for all of this misery. Was it the selfish, the ambitious, and the sinful souls on each side, who usually get away?
"I though then, and since, that even if a few tops leaders were punished, nothing they had destroyed could be restored by their deaths. The only thing left for us to do was to learn from what happened and think about all the innocent victims: Jews, Poles, Gypsies, Germans, Russians, or whoever they might be. However, we, the victims of these greedy leaders, could not be revived unless we put our hope in Christ to live. We had to start anew, begin all over, forgive, and love as Christ did. And that is a long and difficult road." Agnes Erdös Palm
Agnes and Gustav were both innocent people caught up in opposite sides of World War II. Both experienced much hardship. As the story unfolds you can see the hand of God even in the midst of tragedy.
Surviving Hitler is told as if reading diary entries. We jump back and forth between Agnes and Gustav discovering how one was living while the other was experiencing something entirely differently at the same moment. It is beautiful and heart aching. A story of forgiveness, healing, and survival, as well as a story of turning to God.
I highly recommend this book for anyone who enjoys reading. It is wonderful and I am happy to add it to my personal library!
Disclaimer: I was given a copy of Surviving Hitler: The Unlikely True Story of an SS Soldier and a Jewish Woman by Deseret Book to review. All opinions are mine.