In between crops this summer the men and teenage boys have been building more hay barns. They dug the holes and cemented the metal poles, cut and welded the trusses, and attached purlin after purlin in the hot sun.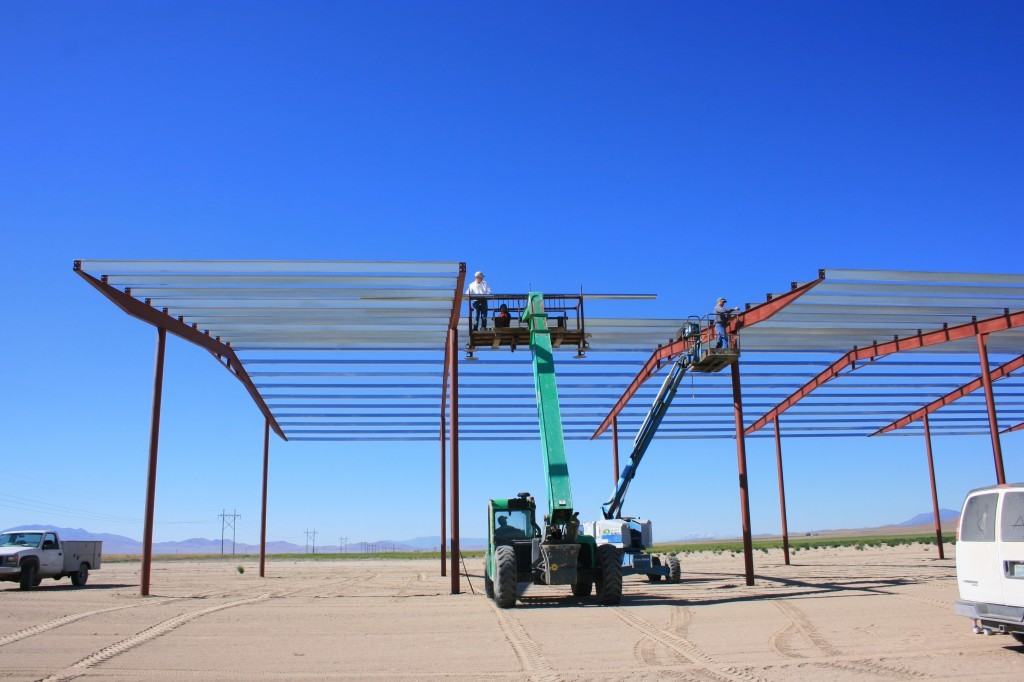 Last week six nephews and a brother-in-law came up from Fallon to help put tin on the roofs of the hay barns. It is a big job, dangerous (yes there was an accident!), and scary especially if you are afraid of heights like I am.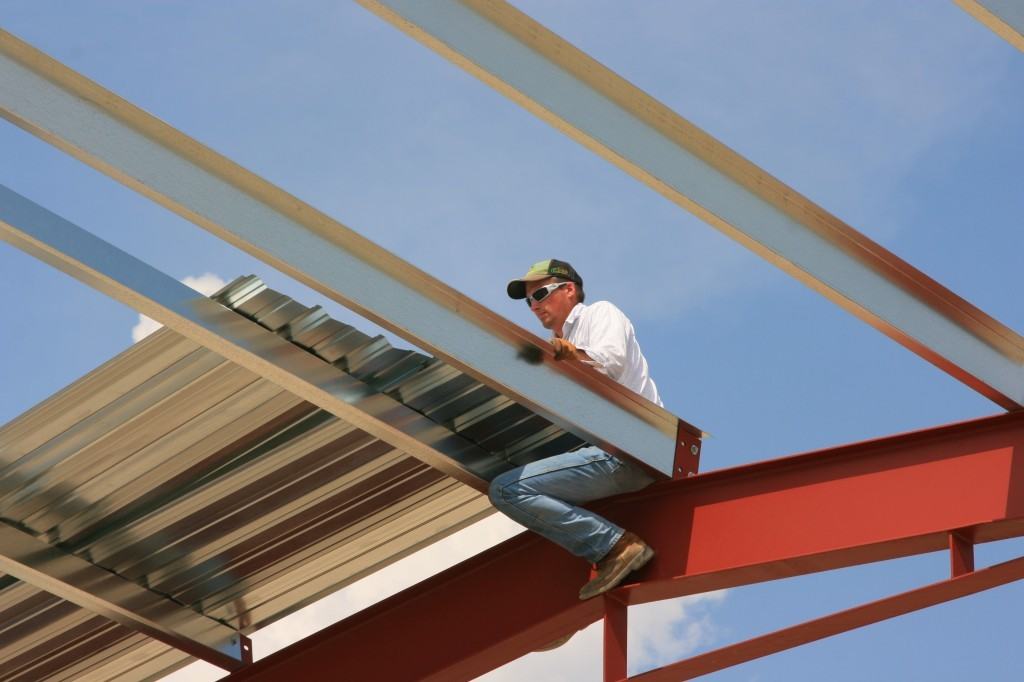 J was put on the top of the hay barn first and helped to pull up the first sheets of tin.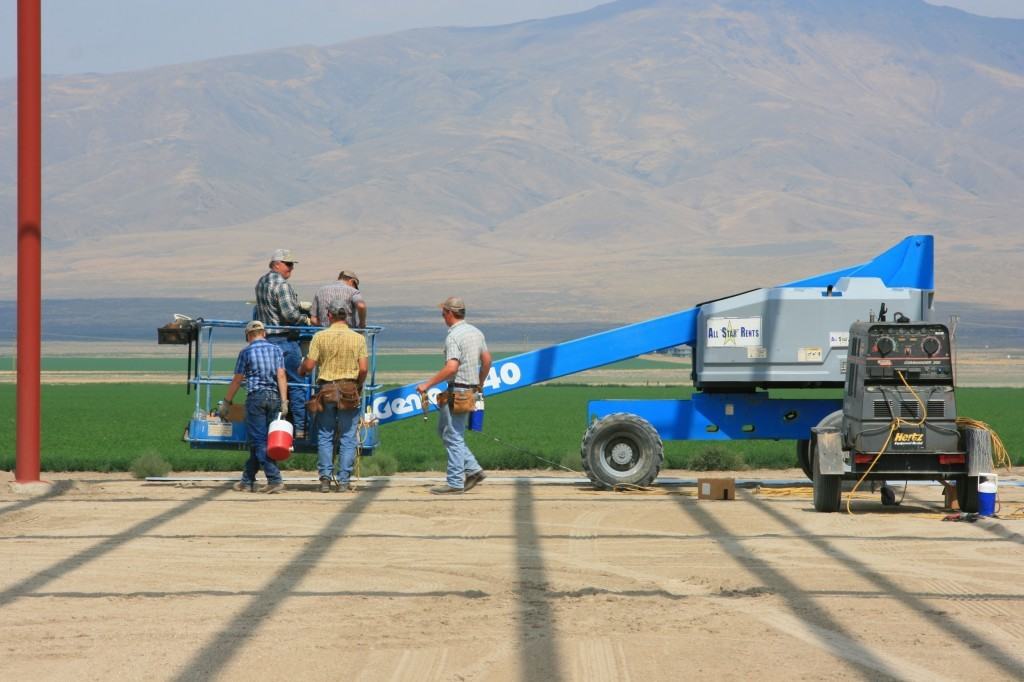 After the first row of tin was completed the rest of the crew went up to help. They had to be sure to take plenty of water jugs and gatorade to keep them from getting dehydrated.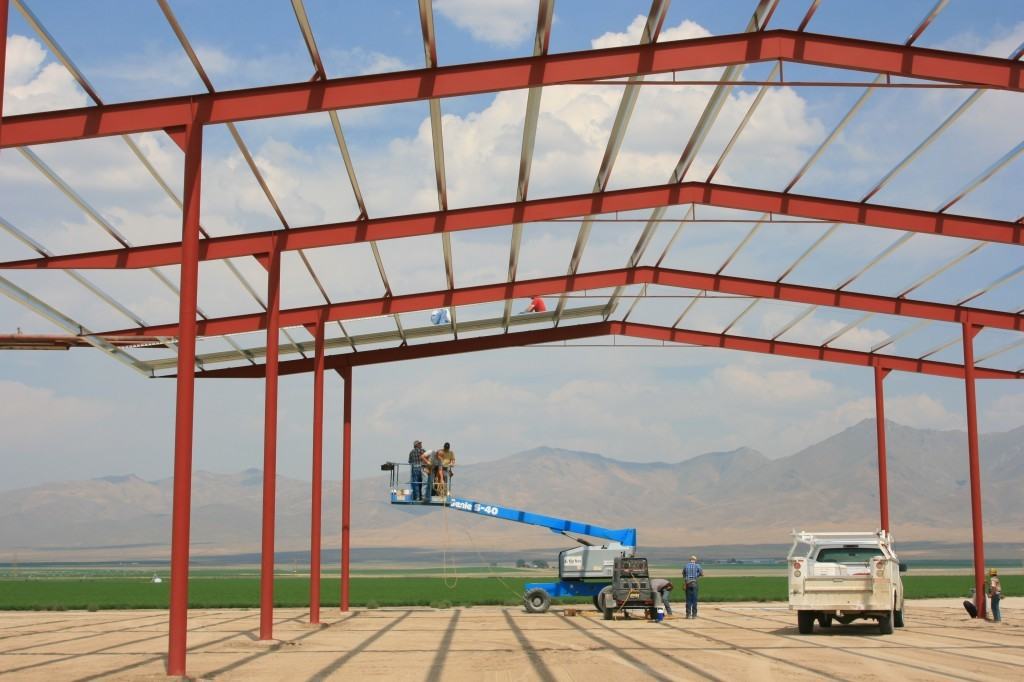 They rode the Genie up to the top, climbed onto the tin, and started screwing it down to the purlins.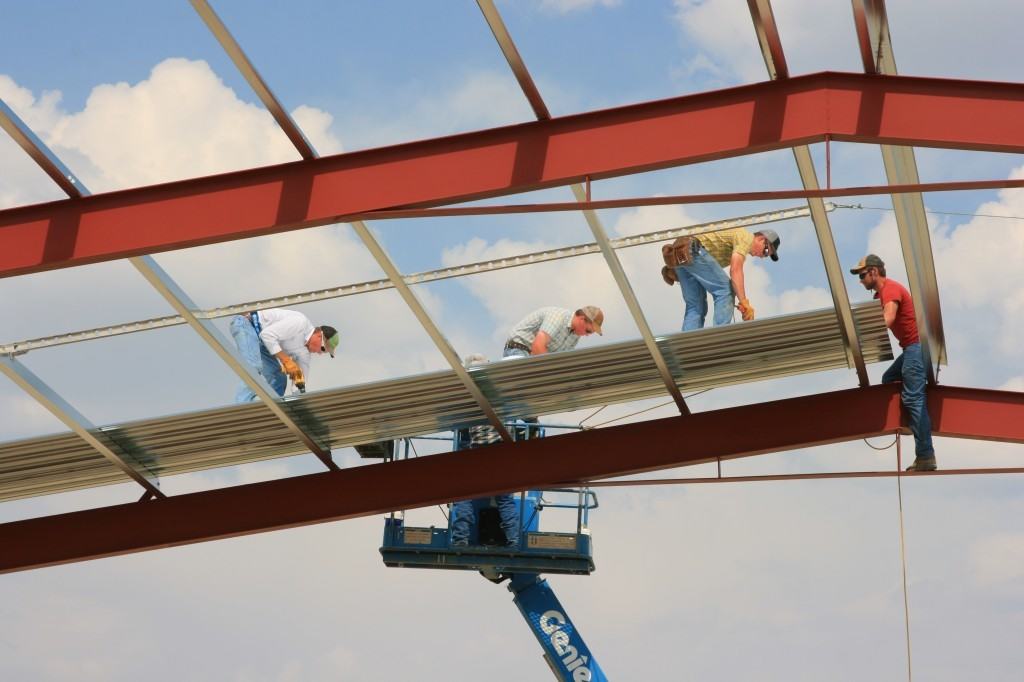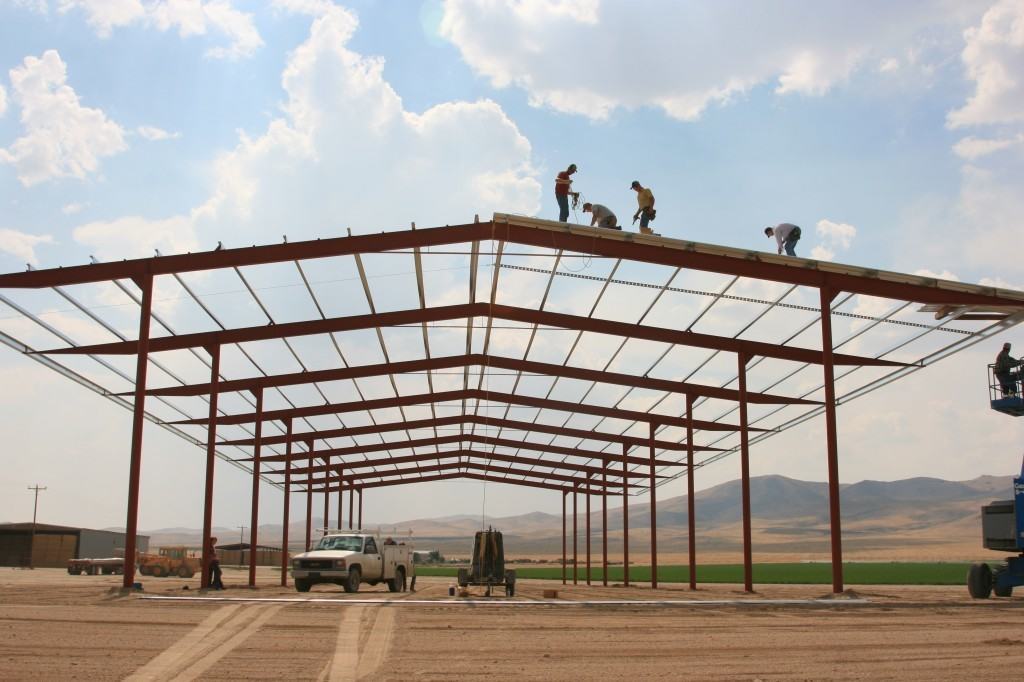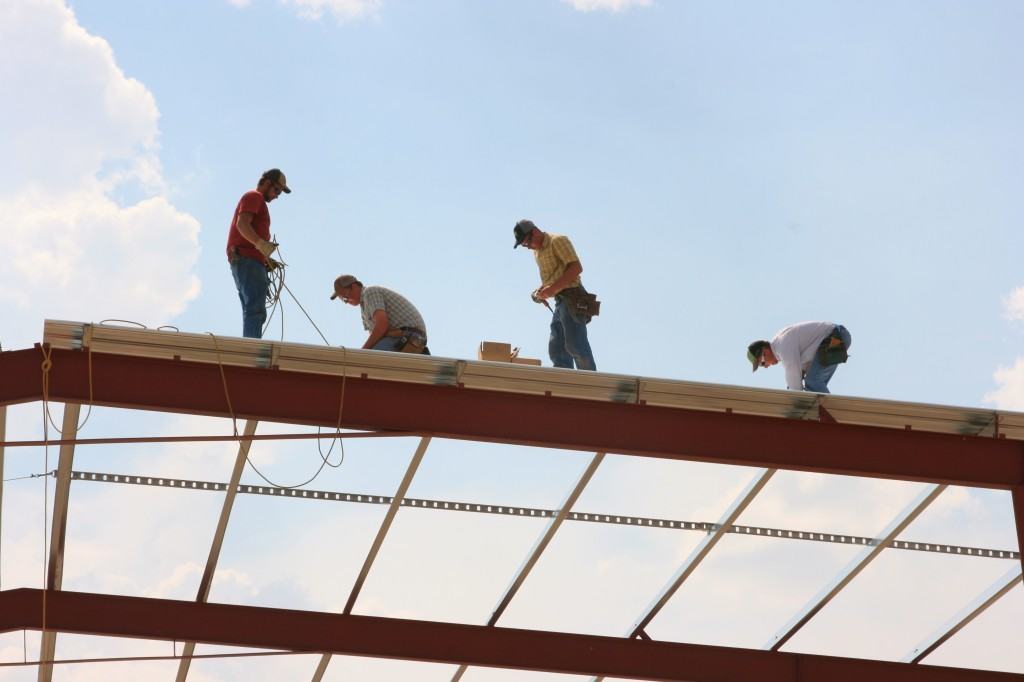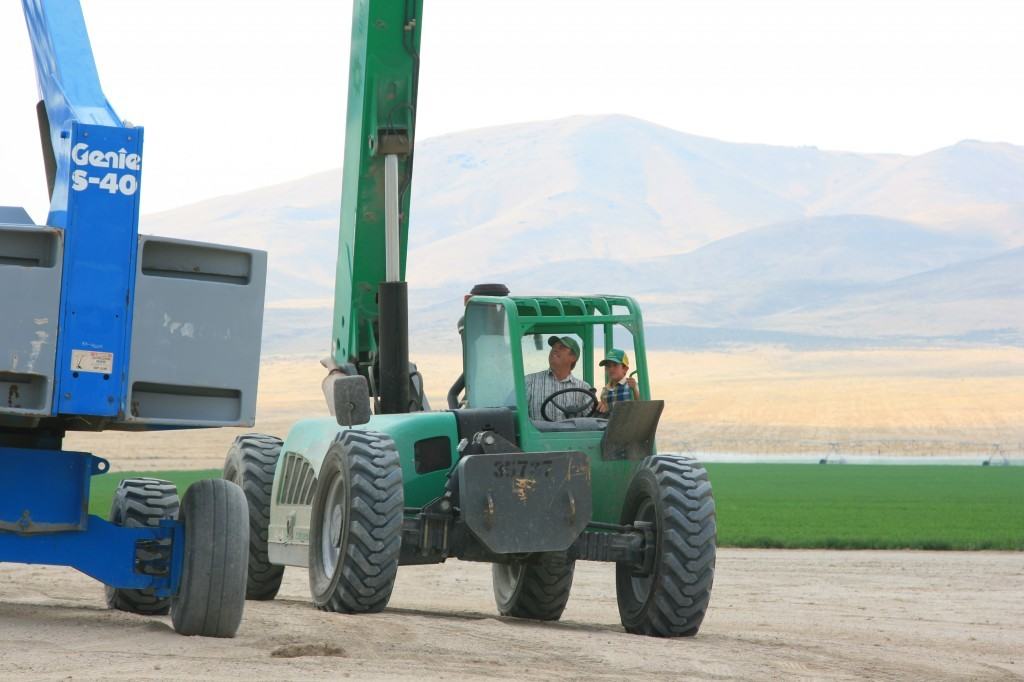 Special Dark enjoyed riding with Mr. Ferrero Rocher who was in charge of lifting the sheets of tin to those on the roof.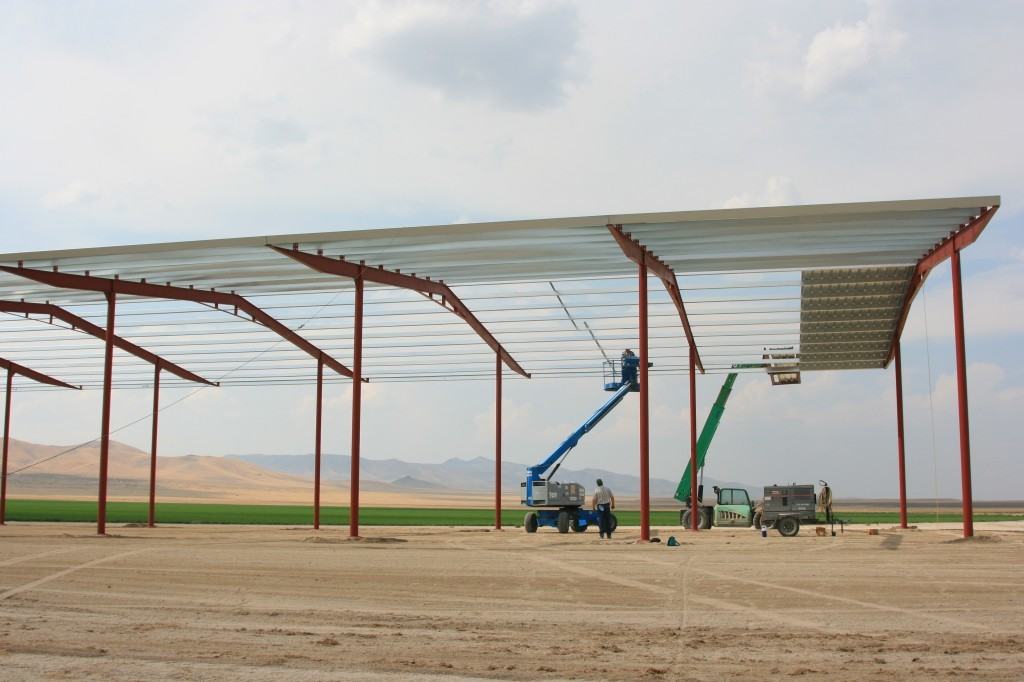 To keep the purlins from flexing so much special bars were placed on them and cinched tight to brace them. I know there's a name for it but I'm too lazy to call Mr. FR and find out what it is! The bars were moved periodically as more tin was placed on the roof.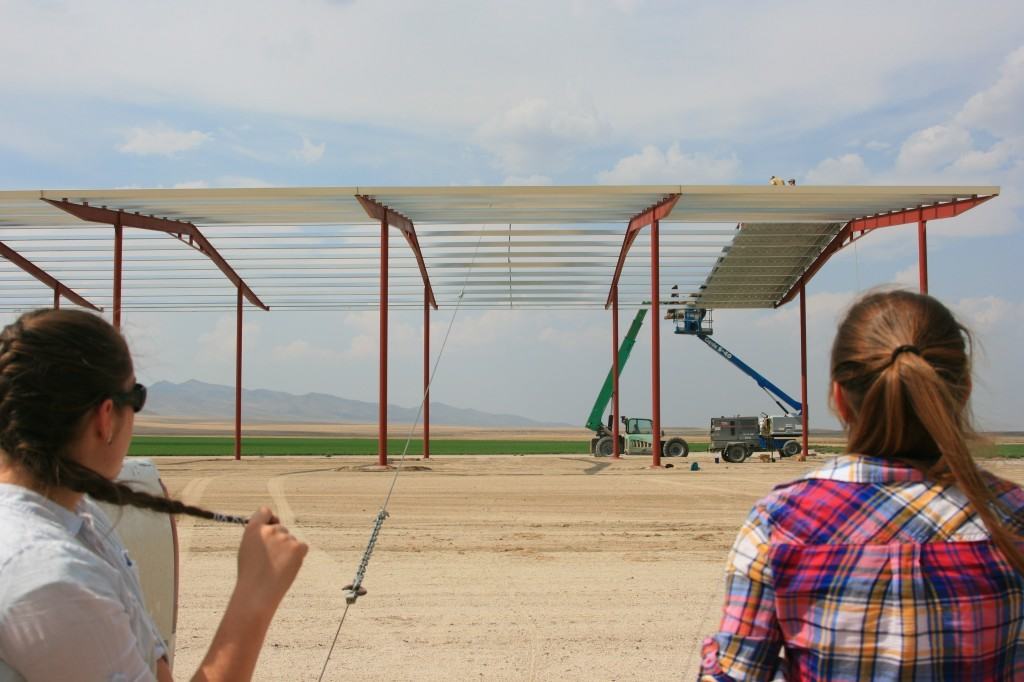 Last Wednesday, my brother-in-law sliced three fingers on his right hand while pulling up the first sheet of tin on the first hay barn. Two were sliced to the bone. As you can imagine it was scary and awful! I'll spare you the gory pictures. Mr. FR drove him in to the emergency room. Accolades to my sister-in-law who remained calm through the entire thing. I'm sure she didn't feel calm inside but outside she was calm and steady.
A few tender mercies have to be acknowledged. My dad, who normally works at the Salt Lake Temple on Wednesday afternoons was home instead because he had a hospital meeting. He was able to connect my brother-in-law with a hand surgeon in Utah right away. The doctor was able to see my brother-in-law and perform surgery the very next day. He not only connected muscle and tendons but nerves that were severed as well. He and his staff were so kind! Upon meeting with the physical therapists in town they told my brother-in-law if he had gone to Reno instead, as the hospital had recommended, the doctor there would not have bothered to stitch the nerves back together. He has a hard bit of recovery to face but we are so grateful  he is and will be okay. It could have been so much worse!
This farming thing is not for wimps. It is a very hazardous occupation and we thank the Lord every day for the safety we have been blessed with.