Last night I hooked up the laptop to our television (Junior Mint decided to break our dvd player) and settled on the couch to watch a new movie. Mr. Ferrero Rocher was talking on the phone, five kids were at the table playing Scrambled States of America, one was face-timing with a sister at college, and the two little boys were making a mess in the other room and I didn't even care.
On screen a young kid with a yellow fùtbol jersey was running through a crowded shopping center holding a soccer ball in one hand and what appeared to be someone's wallet in another. An older gentleman was trying to keep up with him. As the chase ensued a few kids from the kitchen table trickled in to the living room. Then the dialogue started. Heavy English accents sounded in our ears and the rest of the older kids came in to see what we were watching. Mr. Ferrero Rocher hung up the phone and within 10 minutes the whole family was gathered to watch Believe, a soccer movie our whole family quite enjoyed.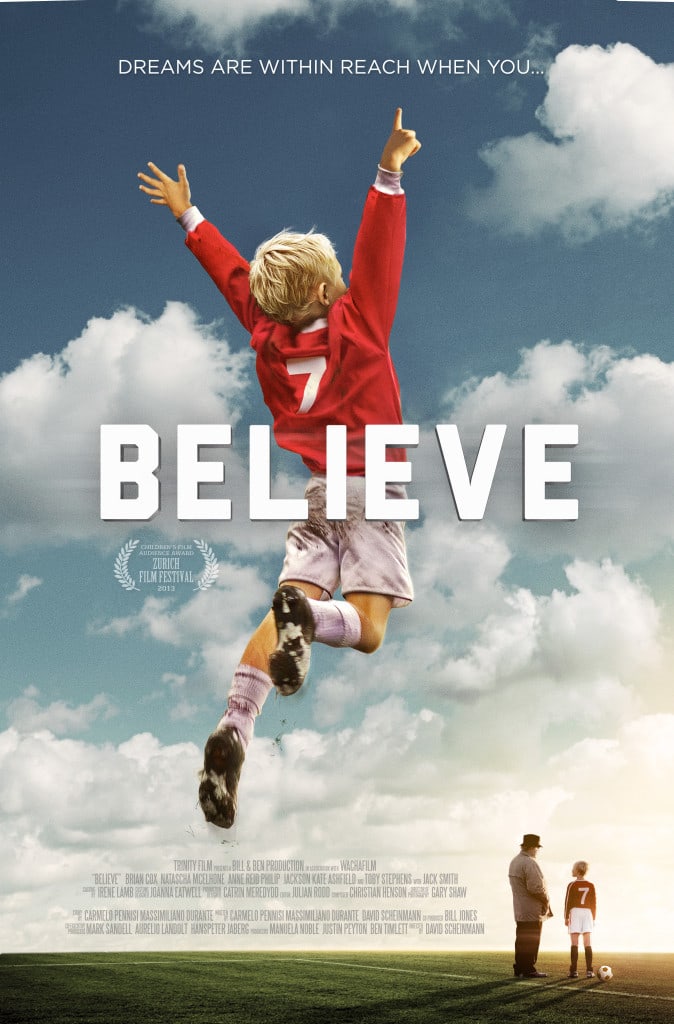 We are not big sports fans at our house. We could care less about fall football, March Madness, or the World Series. There is however one sport that I absolutely love – soccer! It comes from my childhood days when my dad would watch the great Pele. The World Cup was on non-stop during the summer. We loosely follow Real Madrid, Barca, and few other fùtbol teams ( we are partial to the Spainish clubs). Special Dark has been practicing dribbling and when Georgie, the boy with the yellow jersey, starts doing some fancy footwork with his soccer ball Special Dark was enthralled.
Believe is based on actual events in the life of legendary coach Sir Matt Busby. It was his wallet Georgie had stolen at the beginning of the movie. Instead of turning Georgie in to the police Busby decides to try and help him instead by coaching Georgie and his friends who want to win the Manchester Jr. Cup tournament. Throughout the movie Busby reflects on the loss of most of his team in a tragic plane crash back in 1958, while Georgie is also trying to work through his feelings of losing his dad in an automobile accident.
There are some situations that come up that provide a good starting point for conversations with your kids. Why did Georgie steal? Even if he was trying to help others is it ever a good idea to steal? How important is it to show respect for others? How was Sir Busby's reaction to Georgie better than turning him over to the police?
Our whole family enjoyed the movie. We laughed and were amazed at the skills of the kids playing soccer. You can tell they love the sport!
Believe came out in theaters September 12th.
The film won a Zurich Film Festival award for best children's film and stars Brian Cox (
Troy
,
Bourne Identity Series
,
Braveheart
). Its a great movie to go see with the soccer fans in your family!
Follow Believe The Soccer Movie on facebook for updates. Learn more at BelieveSoccerMovie.com.
I was given an advanced DVD copy of Believe by Excel Entertainment to review.