Wreckage and Ruin – those are the newest nicknames for the two youngest boys. Which one is which depends on the day.
Things that survived all previous eight children without nary a scratch are now being systematically destroyed. I like that they are good buddies and all but please, oh, please why do they feed off of the other's naughtiness?
It is not enough to unroll the toilet paper, nor put it all in the toilet. Oh no! It must then be placed, with glee I might add, on one another's heads and then trailed down the hallway in a sticky mass. If one (or three) scoops of Nesquik are enough for a good cup of chocolate milk, than surely half the container will be even better!  Eating multicolored goldfish crackers is much more fun when you let them go swimming in a bowl of water first. And then after you eat a few too many it is even more fun to regurgitate them on the new area rug and use it as finger paint.
Why can't they be like their older brother who makes me delicious chocolate chip cookies?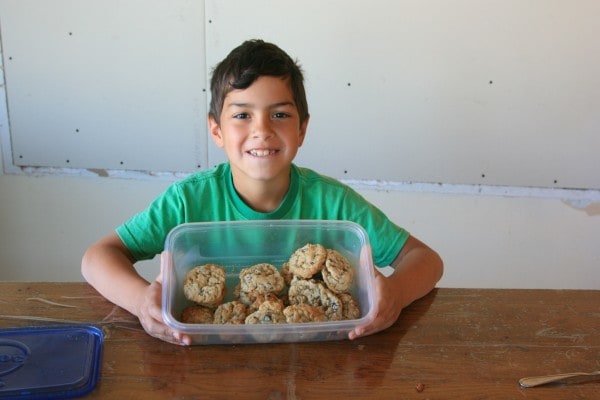 Oh, that's right then it would require they give up the cubes of butter they were caught eating by the handful just because.
After having so many girls I am now having to navigate the waters of having two boys in a row. This is how I know that evolution is wrong. Mothers would have eight arms by now or the ability to be ElastiGirl  to keep up with their kids! And while it is very trying some days to have these two rascals I actually quite enjoy laughing at what they come up with next. They are some pretty smart whippersnappers! The hugs and kisses they give and devotion when they only want Mom also melts my heart. I love my children to pieces! For now I will try to figure out how I can best redirect their, um, creative labors into something worthwhile and productive as they get older.
Any tips from mamas of boys or very rambunctious children?