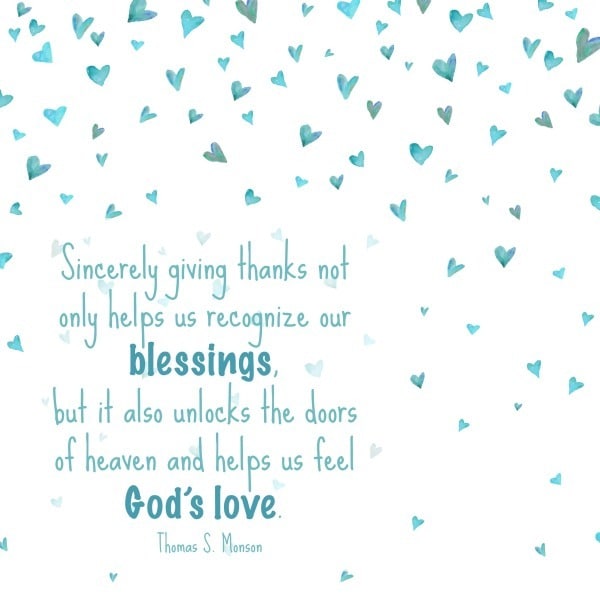 Several years ago as I listened to President Thomas S. Monson in General Conference a new thought came into my mind that for some reason had never occurred to me before. It is in the acknowledgement of blessings that miracles occur. Here's what he said,
My brothers and sisters, do we remember to give thanks for the blessings we receive? Sincerely giving thanks not only helps us recognize our blessings, but it also unlocks the doors of heaven and helps us feel God's love.

My beloved friend President Gordon B. Hinckley said, "When you walk with gratitude, you do not walk with arrogance and conceit and egotism, you walk with a spirit of thanksgiving that is becoming to you and will bless your lives."

In the book of Matthew in the Bible, we have another account of gratitude, this time as an expression from the Savior. As He traveled in the wilderness for three days, more than 4,000 people followed and traveled with Him. He took compassion on them, for they may not have eaten during the entire three days. His disciples, however, questioned, "Whence should we have so much bread in the wilderness, as to fill so great a multitude?" Like many of us, the disciples saw only what was lacking.

"And Jesus saith unto them, How many loaves have ye? And [the disciples] said, Seven, and a few little fishes.

"And [Jesus] commanded the multitude to sit down on the ground.

"And he took the seven loaves and the fishes, and gave thanks, and brake them, and gave to his disciples, and the disciples to the multitude."

Notice that the Savior gave thanks for what they had—and a miracle followed: "And they did all eat, and were filled: and they took up of the broken meat that was left seven baskets full."

We have all experienced times when our focus is on what we lack rather than on our blessings. Said the Greek philosopher Epictetus, "He is a wise man who does not grieve for the things which he has not, but rejoices for those which he has."
Now I realize that some times the miracle will be what we need, an outward action so to speak – a job to break through the unemployment, cash to pay the mortgage, a big bag of hand-me-down clothes perfect for a boy who has grown out of his. Most times, though, I think the miracle occurs inside of us. Our ability to see what we have already been given opens us up to so much more. Pride is rooted out and humility starts to take over. I have seen this in my own life.
My friend Diane has been posting on facebook weekly updates she calls "Miracles in the Mayhem." It is amazing to see her share the many small ways her family has been blessed through her husband's unemployment. She is a great example to me of looking for what she already has and recognizing the small miracles that take place in her life.
One of the greatest examples of miracles occurring after the giving of thanks is again taken from the life of Jesus Christ. At the last supper as He sat with the apostles He knew He would soon have to suffer for our sins and hang on the cross providing that miraculous atonement and yet, He still gave thanks,
And he took bread, and gave thanks, and brake it, and gave unto them, saying, This is my body which is given for you: this do in remembrance of me.

Likewise also the cup after supper, saying, This cup is the new testament in my blood, which is shed for you. (Luke 22:19-20)
What an example He set for us to follow! How often do we give thanks before an experience we know will be hard and difficult for us? How often do we express gratitude while in the midst of a trial?

The Small Seed has a wonderful daily service challenge called Give with Thanks.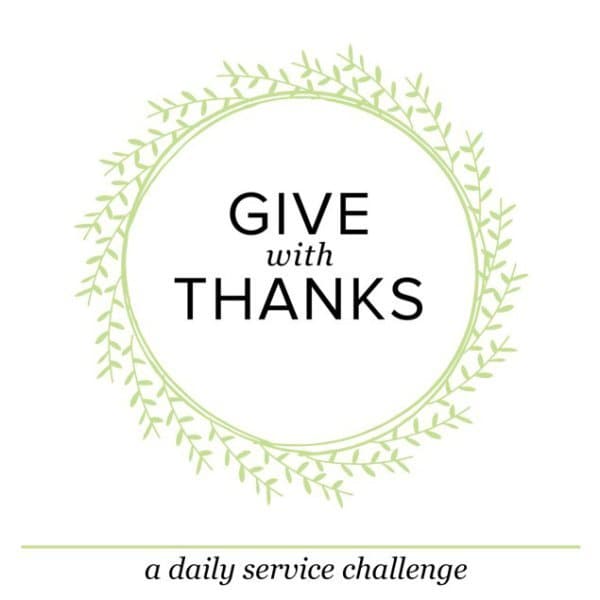 There are mini-lessons, service ideas, recipes, and beautiful prints to help you focus on faith and family throughout the month of November.