A few years ago I attended a meeting for LDS Philanthropies in Provo, UT. While there I had the pleasure of sitting next to Heather Ferrell who blogs at Women in the Scriptures. She is truly an extraordinary lady! Her passion for the scriptures has helped many people especially as she has shared her insights and knowledge on her blog. Her particular emphasis is to share the stories of women found in the scriptures, both named and unnamed. Heather has gone a step further this year and written a book called Walking With the Women of the New Testament. Each woman or group of women gets their own chapter and spread. This is no small feat as there are over 70 of them! Did you realize there are that many women mentioned just in the New Testament alone?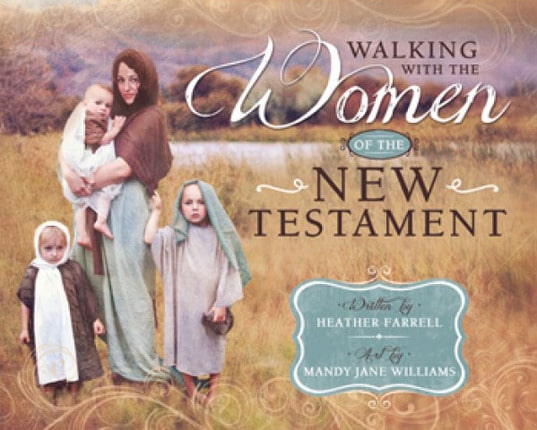 There are several things I love about this book. First, its title Walking With the Women of the New Testament helps you to see them as peers, women you would want to develop friendships with, women whose struggles, triumphs, and failures can be seen in your own life. The scripture references where each woman is mentioned are given and then Heather expounds on those scriptures with historical background, context, and her own insightful thoughts.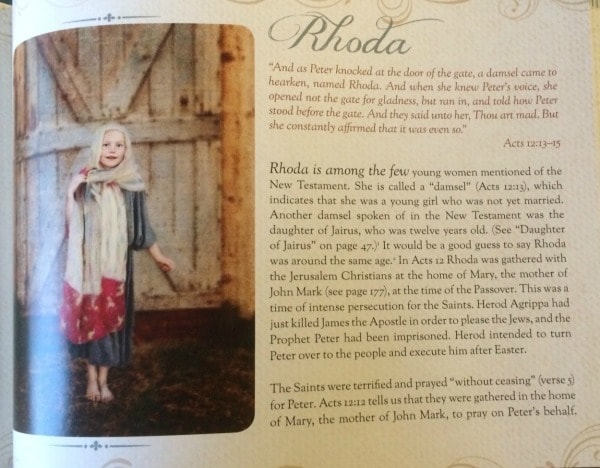 One of my favorite chapters is about Rhoda. She was called a young damsel, the same words used to describe Jairus's daughter who was about twelve years of age. Rhoda heard Peter's knocking at the door of the home where she was at after a miraculous escape from prison. In her excitement to realize it was Peter she did not open the door to the household to let him in but rather ran to tell the others instead. Heather explains,
The parallel here between Rhoda and the women who met Christ at the empty tomb is powerful. Christ rose from the prison of death on Easter morning and the first to know of Hod deliverance were the women who came to His tomb. Peter was delivered from his prison, and saved from death, as Easter morning drew near. The first person to know of his miraculous deliverance was a woman, a young woman, who was the first to hearken to his knocks. Just as the women at the empty tomb were not believed when they bore testimony to the Apostles if Christ's Resurrection, neither was Rhoda believed when she bore testimony that Peter was alive and physically standing outside the gate. It is beautiful to me that in both of these instances, women were the first witnesses.
I love this insight! I hadn't made that connection before. It makes me reflect upon mothers who are often the first to witness to their children that there is a God who loves them and cares for them.
Adding to the text is beautiful artwork created by Mandy Jane Williams. Each woman is represented. She photographed women of all ages and then manipulated the photos to add depth and bring more focus to the women. The cover is one of my favorites! Here's another representing the Four Daughters of Philip.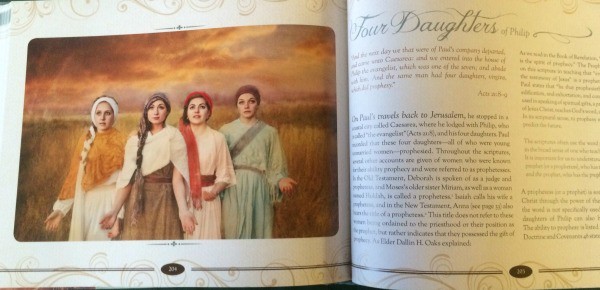 The thing I especially like about Heather writing this book is she is not a "scholar" in the sense that she has obtained degrees in biblical studies or anything of the sort. She is a mother who has delved into the scriptures for herself to find the lessons that are there. She shows that anyone, anywhere can do the same and be blessed for their efforts. I am so thankful to know Heather and to be influenced by her.
Walking With the Women of the New Testament can be found at Deseret Book.
About the Authors
HEATHER FARRELL'S love for the scriptures began young, when at the age of eleven she hid a flashlight under her pillow so she could read the Old Testament late at night. Her love for the women in scriptures began when her oldest son was born around Christmastime and she felt a kinship with Mary, the mother of Jesus. As she began to research Mary, she realized that there were hundreds of women in the scriptures, but very little had been written about them. Excited by all the women she discovered, she began sharing what she learned on her popular blog, Women in the Scriptures (womeninthescriptures.com). Primarily self-taught in the scriptures, Heather is a testament to the truth that becoming a scholar of the gospel is not beyond anyone's reach; it just takes a inquisitive mind and the companionship of the Holy Ghost. Heather grew up in Idaho but currently lives in Boone, Iowa with her husband, four children, two sheep, a goat, and a flock of chickens.
Amanda Jane Williams grew up in the tiny little town of Darlington, Idaho. Known as Mandy Van Etten growing up, she has always had a love for beauty and art that was encouraged by her parents. Mandy met her husband, Bryan Williams in 2005 and they were married in the Idaho Falls temple. Although she had previously taken classes in art and photography, becoming a mother has helped her to find herself as an artist. Beauty, joy, passion, are all intensified when you open your heart to loving others. Little things stand out to you in daily life and you are able to notice and be grateful to them with your artistic eyes. From the way the rising sun catches the eyelashes of a sleeping baby, or the look on a child's face when Daddy comes home, all of these are an inspiration and a blessing. She currently lives in Blackfoot, Idaho with her husband and four children.