Establish a House will be coming back in full force starting next Wednesday, January 21st!!! I began this series after a discussion in a facebook group about whether or not their families used tablecloths. I wrote a post about what we do and the response was overwhelming. It was so interesting to see what other families did and why. I realized it would be helpful to take that same concept and apply it all areas of a home maker's duties.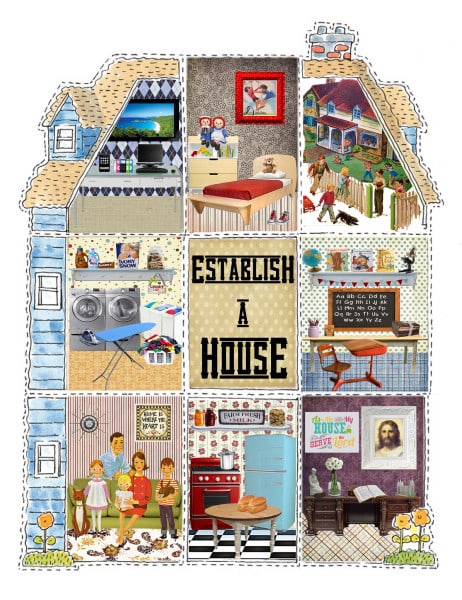 We are responsible for so much in taking care of our families and teaching our children! It's nice to see what others are actively doing in their families, to see what works and what doesn't, and to get new ideas and inspiration for our own families and homes. This is a very basic overview of what will be covered as we try to Establish a House together.
 FAMILY MATTERS
Parenting tips
Marriage
Family Activities
Traditions
Sibling Rivalry
Curfews
Parent/Child Relationships
SPIRITUALITY
Faith
Religion
Moral Values
Reverence in Church
Scripture Study
Meaningful prayers
KITCHEN DUTIES
Cooking with Children
Meal Planning
Grocery Shopping
Canning
Food Storage
Recipes
EDUCATION
Teaching at Home
Helping at School
Being Involved in Your Child's Education
Extra Curricular Activities
Books
CLEANING
Chores
Cleaning Schedules
Home Maintenance
Laundry Tips
Natural Cleaners
MEDIA
Controlling Media Use
Movies
Television
Best iPod apps
Technology in our Homes
Good Uses of Technology
Music
COMMUNITY
Making Friends
Service
Being Involved in the Community
Cultures
Community Organizations
 EVERYTHING ELSE
First Aid
Finances
Organization
Toy Storage
Gardening
Basic Car Maintenance
and oh, so much more. I am very excited! I invite you to come, Establish a House, with us!
If you would like to share what your family does on any of the topics listed please contact me. Guest writers are welcome!! If you have topics you would like to see covered first or can think of things not on this list (there are, oh, so many!) please leave a comment. I want to make this as useful and interactive for you as possible.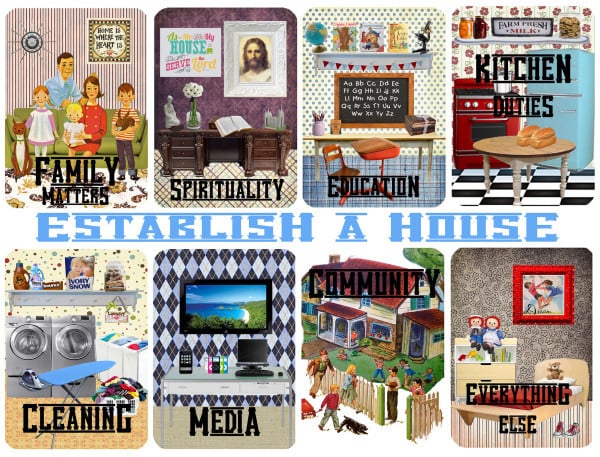 Each post will have a graphic labeling which area it will fall under. I'm hoping to get organized enough that eventually each post will be listed under the appropriate section so it will be easier to find specific posts you may want to re-read later.
Come join me on my journey to Establish a House!