The past couple of weeks my kids and I have been crafting up some fun interactive centerpieces for a HUGE (and I mean HUGE) family reunion that will take place the end of this week. It's for the Wadsworth side of the family. There are over 450 descendants of these two wonderful people, F. Don and Sylvia Wadsworth, my husband's grandparents.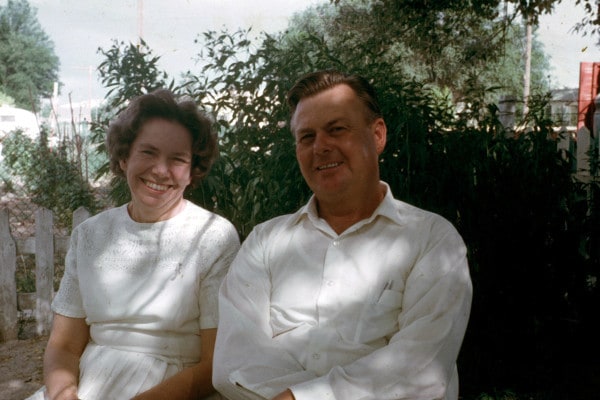 Over 300 will be attending the reunion. That's a lot of tables to cover! I think the only reason I was asked is because I have digital copies of quite a few of the old family photos. I have no decorating skill whatsoever. We do have some creativity though. Here's a sneak peek at what we came up with for family reunion centerpiece ideas. We created 4 different centerpieces all with old family photos.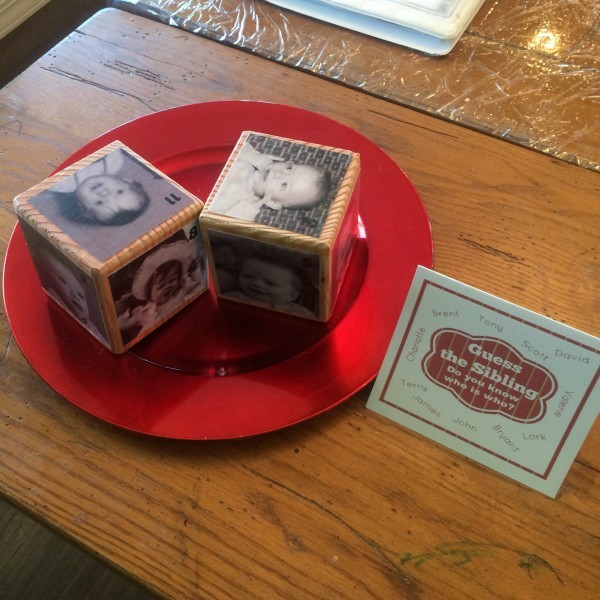 There are eleven siblings so we created photo blocks with their baby pictures. The 12th side has photos of the parents, Don and Sylvia, as babies. We want people to pick them up, turn them over and over, and see if they can guess who is who.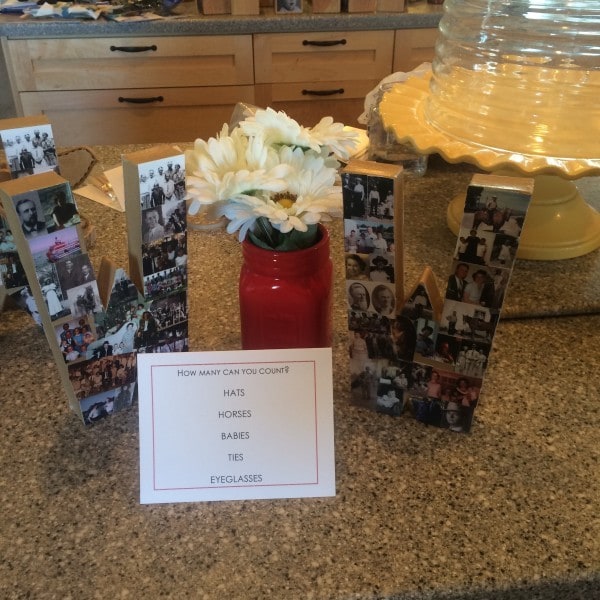 Since this is the Wadsworth side we took paper mâché Ws and découpaged old family photos on both sides. Then we created an "I Spy" game. One side of the card asks people to count how many hats, horses, babies, ties, and eyeglasses they can find. The other side of the card asks them to find random things like books, a toy rifle, someone eating canteloupe, a blue necklace, etc.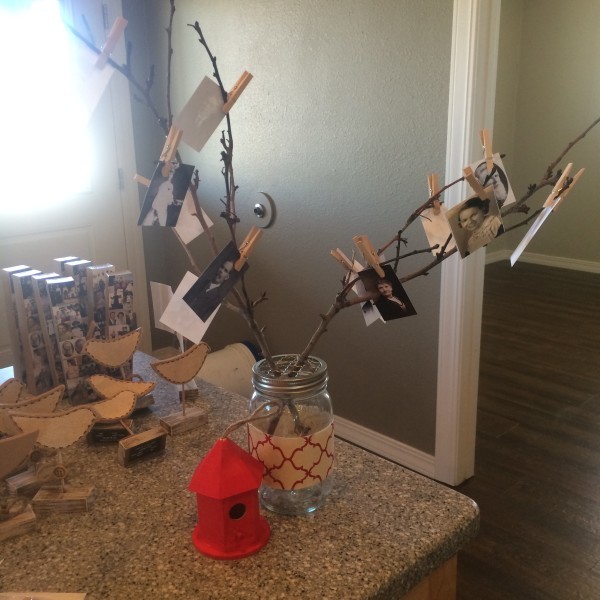 We can't have a family reunion without displaying a family tree somehow. This centerpiece is super simple to put together. I bought wire 'frogs' for the lids of the jars to keep the branches we trimmed from our orchard in the jar. Glue dots were used to stick the wide ribbon around the jar. I printed off photos of ancestors going back 4 and 5 generations and just hung them up with clothespins. Ribbon attached to the pictures would work too but since we are making 12 of these clothespins are much easier! A list of the ancestors will be given and people will see if they can recognize their pictures.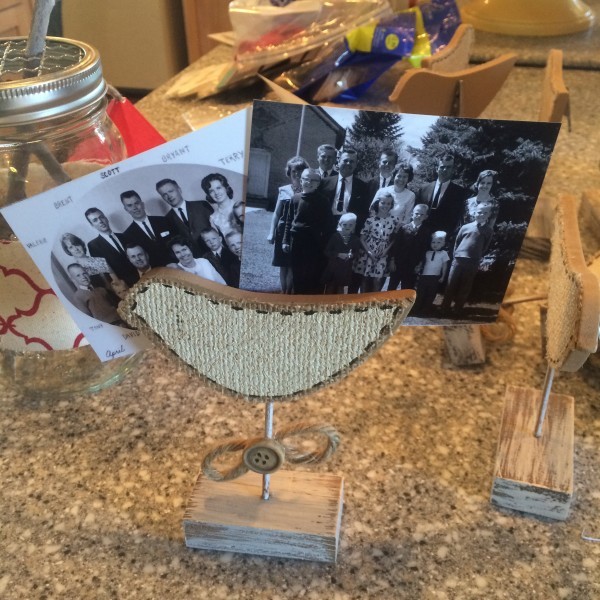 This is part of the last centerpiece. We are making puzzles with these two pictures and putting the pieces in mason jars. This little bird holds the pictures so they know what the puzzles should look like when completed. My sister-in-law is helping me finish the puzzles this afternoon because I don't know how to use the scroll saw. We used 3M Hi-Strength 90 spray adhesive to glue the family pictures to 1/2 inch MDF board. Once it dried (it only takes a few minutes) my sister-in-law freehanded cutting the puzzle pieces out with the scroll saw. Super easy! I'll update with more pictures when we are done.
We made 12 of each centerpiece to intersperse them throughout the tables at the reunion. They will be given away so most families will have a souvenir of the reunion. The theme of the reunion is "Turn My Heart" so we have wooden hearts and touches of red to add to the centerpieces. And you can't go wrong with birds and birdhouses either. So much fun!