Regular family service projects are a wonderful way to engage everyone, young and old. It teaches children to be aware of others needs and also facilitates children's naturally generous natures (once they get past the terrible twos and tough threes that is).
"My brothers and sisters, we are surrounded by those in need of our attention, our encouragement, our support, our comfort, our kindness—be they family members, friends, acquaintances, or strangers. We are the Lord's hands here upon the earth, with the mandate to serve and to lift His children. He is dependent upon each of us." Thomas S. Monson
One of my favorite service memories from childhood was going as a family to sing at the local nursing home. My dad and brothers would bring their guitars and we'd walk up and down the hallways singing hymns, Christmas carols, or even a little Beatles to the residents. It was a yearly Christmas tradition but it was not the only time we did service as a family. Most of the time my parents didn't even point out, "Hey, so-and-so needs this we are going to that." Whatever we did just seemed to be a natural extension of our everyday lives: giving people rides to church, inviting others over for dinner, working in a widow's yard, watching someone' children, etc. I learned from my parents what they learned from their parents. And hopefully my husband and I are passing some of that along to our children.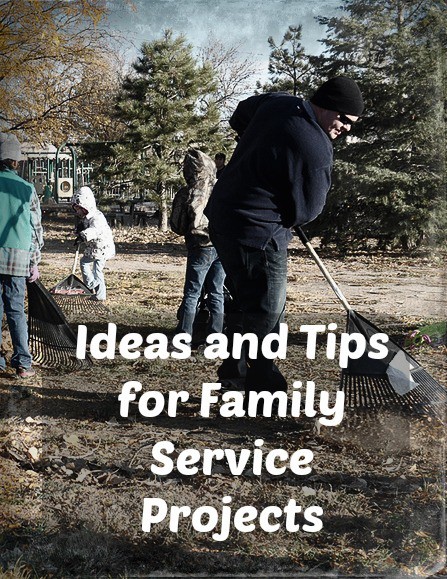 Tips for Serving With Your Family
There are a variety of ways to serve. It can cost a lot of money or nothing at all except time. When choosing how to serve keep in mind the ages of everyone in your family. Some service opportunites just aren't suited for small children. With a bit of creativity though I bet you could make almost anything work for all ages.
Start small with simple ways to serve and then expand as your children gain more experience.
Make it a part of your daily life. Be service minded wherever you go in whatever you do. You'll be teaching by example how little acts of service are just as important as "service projects."
Encourage your children to be involved and look for opportunities. They can be very astute in noticing needs. It may surprise you!
For bigger projects meet as a family and decide how big and how often. Can you do a bigger service project once a month? Or slightly smaller ones once a week?
Acknowledge family members' help and cheerful attitudes. Point out the good feelings they feel while they are serving.
Family Service Ideas
In Your Community:
A great place to find local service opportunities is JustServe. Granted as with anything of this nature the bigger the city you live in the more opportunities listed. There was nothing listed for my small town but quite a few service ideas listed for Reno.
Do yard work for an elderly or needy neighbor.
Have a lemonade stand and donate the money to a foundation or cause.
Give extra produce from your garden to the food bank.
Help prepare and serve dinner at your local food bank.
Take treats to a fire or police department.
Pick up litter along the street. This can easily be done as you walk to a park or other fun activity.
Purchase candy, snacks, small games, books, hygiene items, art supplies and personal items. Assemble bags with each of the items. Donate to Juvenile Justice Services or Foster Care Services.
Babysit someone's children for free.
Invite another family over for dinner or a picnic.
"Heart Attack" people in your neighborhood. Cut out hearts of all sizes and colors. Have family members write kind messages on the hearts. Secretly decorate a neighbor's front door or porch.
Write letters to extended family members or friends who live far away.
Invite someone you don't know very well to come and share Christmas songs, traditions, or a meal with your family.
Make or purchase a pumpkin pie, and deliver a piece of pie to the widows and widowers in your neighborhood making sure you take time to visit.
Take spring flowers or roses to nursing homes, hospital or care centers, or cancer treatment centers. As a family, walk from room to room. Pass out one flower to each patient and visit for a few minutes.
Donate new and gently used clothes and coats to local shelters.
Clean the church building.
Broaden Your Horizons (Global Opportunities)
There are many global organizations you can donate to or volunteer for that help people in other parts of the world. These are just a few suggestions.
If you have mostly older children consider taking service vacations! Visit The Volunteer Family or Global Aware for ideas.
Younger children can donate their artistic skills to Color A Smile who will deliver them to nursing homes and troops serving overseas.
LDS Charities has a number of programs in countries throughout the world: clean water, maternal and newborn care, wheelchairs, vision care, etc.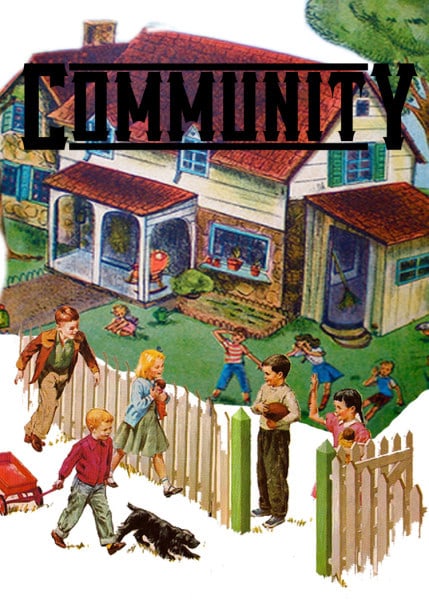 There are infinite ways to serve others around us! The ideas presented here are just the tip of the iceberg. What are the ways you like to serve with your family? What have others done to serve you and your family?
This post is part of Establish a House a series designed to help us be better mothers and wives.