I've received a few e-mails asking me to share about the newlyweds' receptions. To tell you the truth I wasn't going to share because I really didn't get any pictures! We were so busy setting up and standing in the receiving line that the only pictures I actually got of the reception was right before we started to clean up and I snapped a few photos with my phone. Ah, well.
We had a small army of help setting up. Decorating is NOT my forte. Thank goodness for great friends who took over and made it a beautiful setting!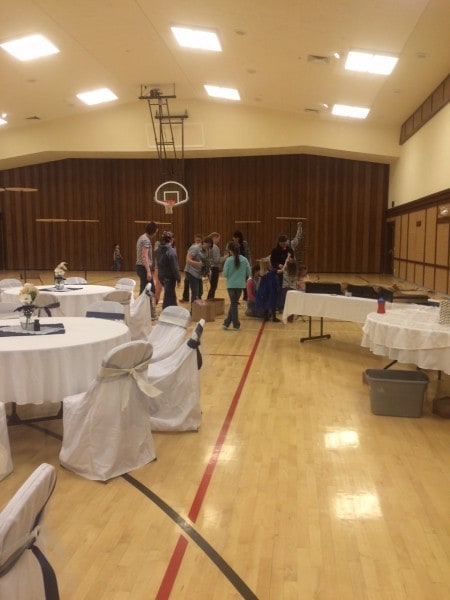 Big pillars of light are being set up in the photo above. The tops and bottoms are round pieces of plywood that screw onto a metal pipe. There are small metal hooks screwed into the underside of the tops and the topside of the bottoms (does that even make sense?). Strands of lights are strung up and down from a hook on the top to a hook on the bottom then back up to a hook on the top, then back down to a hook on the bottom. It took about four strands of light for each column, more for the tallest ones. Sheer fabric tubes cover the wood and light strands.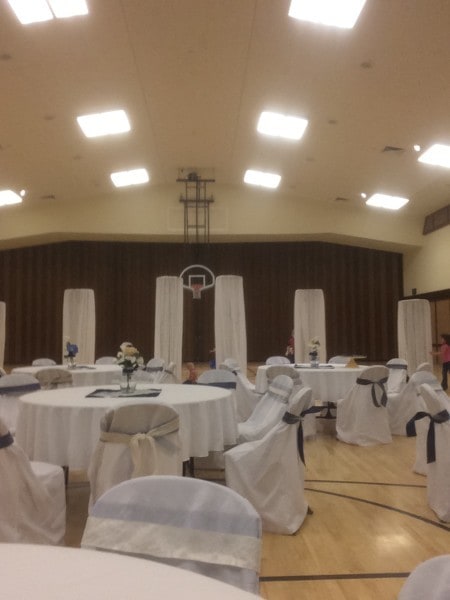 And this is what it looks like all lit up with the lights dimmed. The pillars were used as a dividing wall to make the reception area smaller. The gym at the church is so HUGE. They really helped to cozy it up. The bride and groom and the rest of the wedding party stood in front of the pillars to shake hands and welcome guests.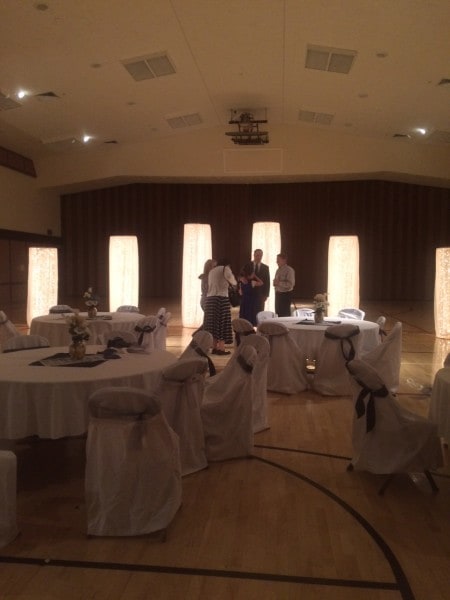 This go around I invested in chair covers. I decided I might as well since this was going to be the first of many, plus friends would be able to borrow them for their own children's receptions or family functions. I bought these chair covers from Linen Tablecloth because they were on sale for only $1.49 each! You can't even get material for that cheap. They are 100% polyester and should last for a long time. We borrowed the tablecloths from my aunt.
The next three photos are ones I took of Eve getting ready for the reception in Idaho. Patrick's cousin did her hair while friends and sisters all gathered to watch.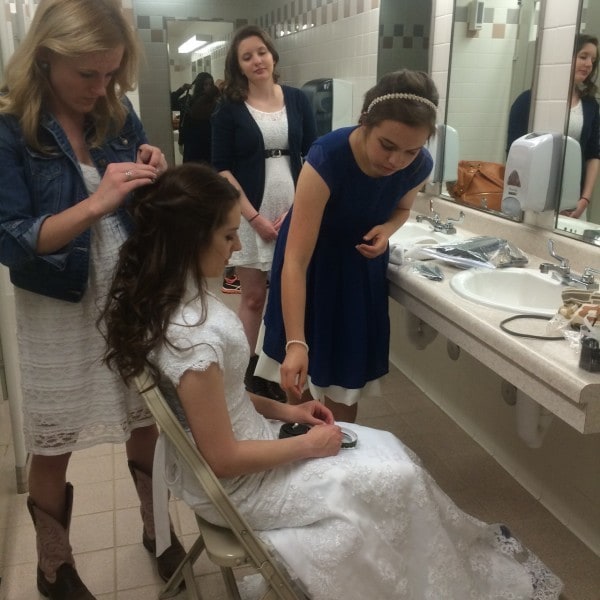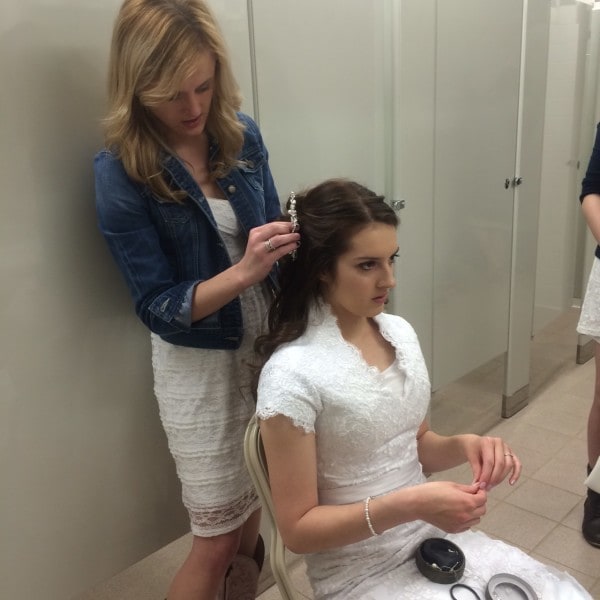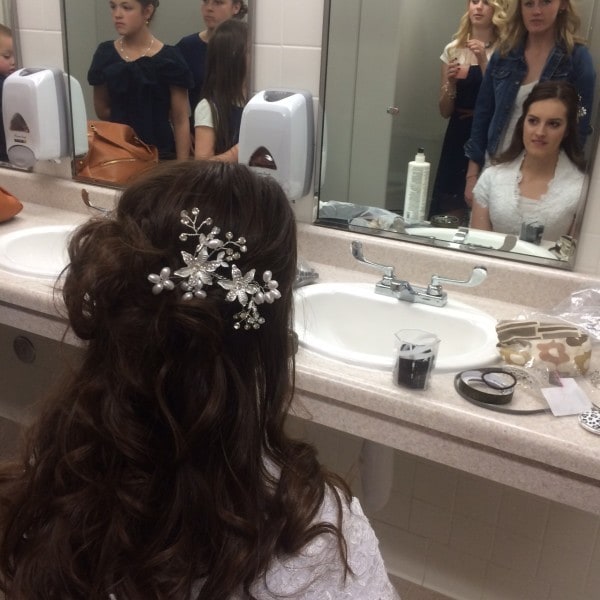 I also had to pay attention as I'd be fixing her hair again in the temple before going out to take pictures.
The reception in Idaho was an ice cream bar and also Italian soda bar – both desserts that Patrick likes. I didn't get any pictures of the set up but the food was delicious! Here in Nevada we had cookies and milk and also served fruit salad and Hawaiian Sandwich sliders. We used homemade rolls instead of the Hawaiian rolls which made them even better.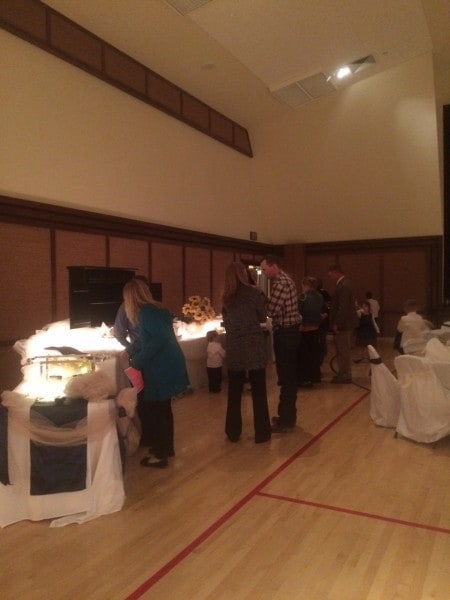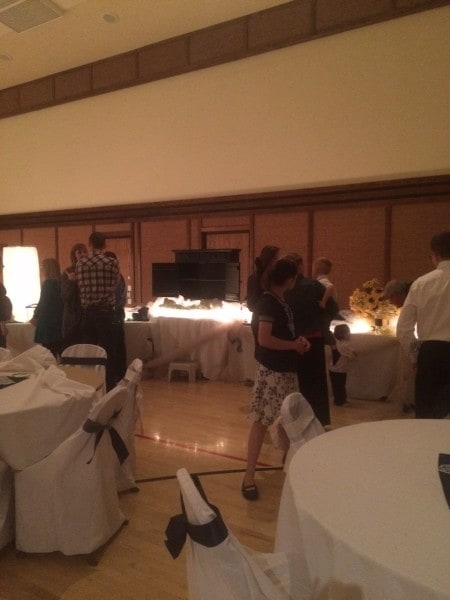 You can't see in these pictures but we had six varieties of cookies displayed in drawers. Along with the Mexican Hot Chocolate Cookies, there were Peanut Butter Cookies, Oatmeal Cranberry Cookies, Chocolate Chip Cookies, Lemon Poppy Seed Cookies, and Oreos that had been dipped in white chocolate and prettied up with clear sprinkles and white pearl balls (whatever those edible things are called). I'll post recipes for the other cookies eventually. 🙂 Again, I am grateful for good cookie making friends who made all the cookies ahead of time for us! The black cupboard in the middle held the milk bottles and straws. Chocolate milk, regular milk, and lemon water was served.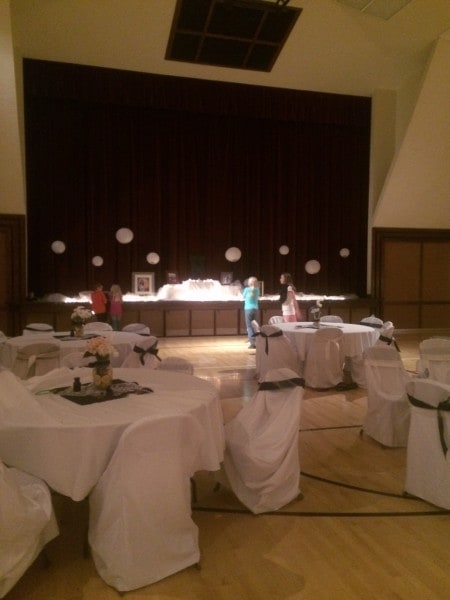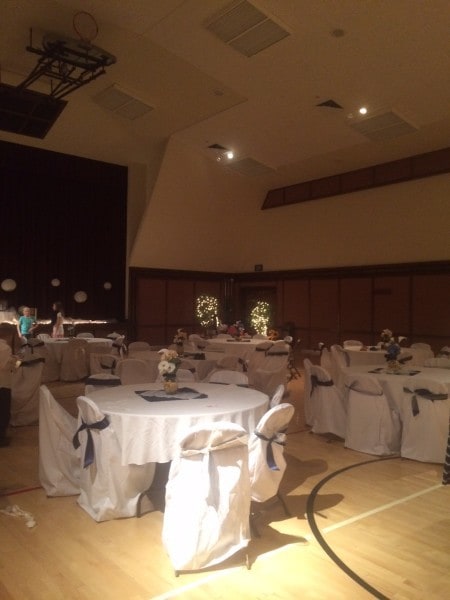 A couple more pictures I was able to snap right before everything was cleaned up. The stage held bridal pictures of photos of the couple from the temple. There was also a laptop playing a short video with pictures of both Eve and Patrick growing up that Marie made. In the bottom photo where the lighted trees are was a bench where wedding gifts were placed.
So that's all there is! I wish I had asked someone to get a few pictures while the receptions were going one but I completely forgot. Next time.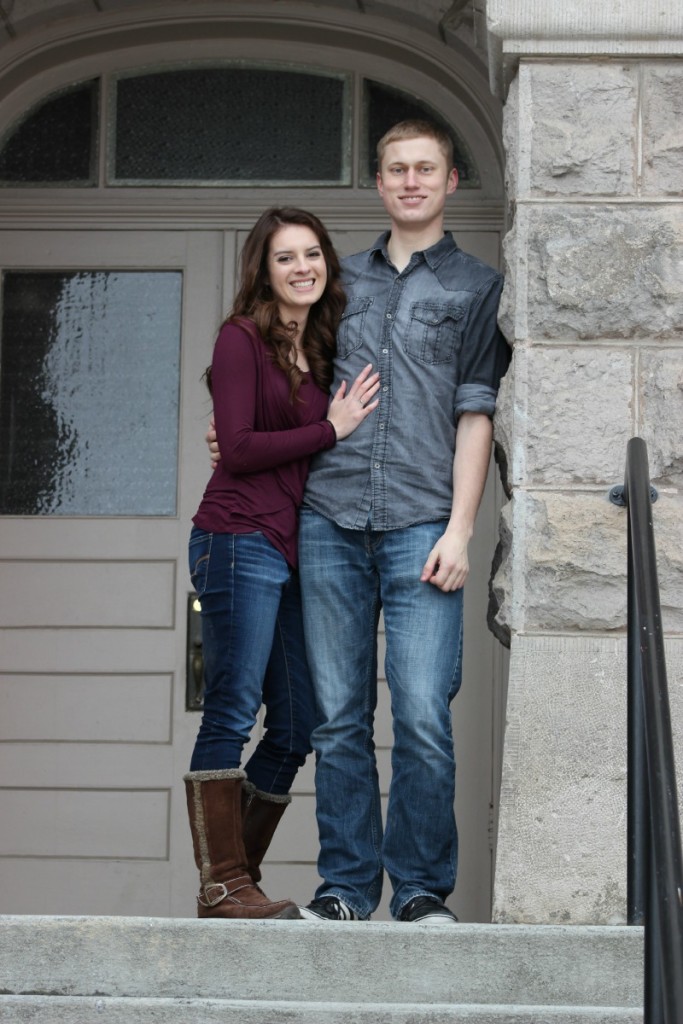 For now these two are attending BYU-Idaho. Patrick is majoring in biotechnology. Eve is majoring in child development and minoring in professional preschool. They make a great couple don't they?