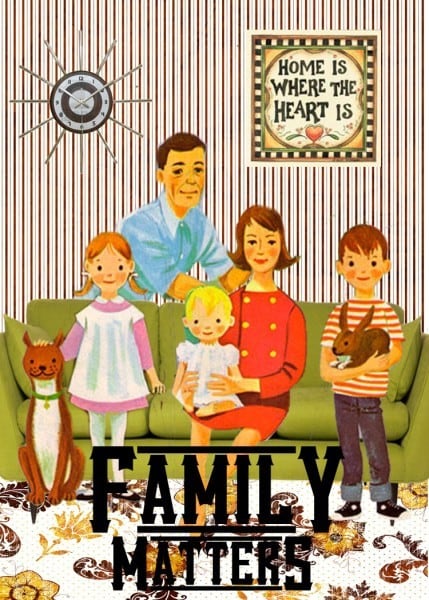 Another great guest post today for the Establish a House series! Please welcome George from Educational Kids Games.


'Fun summer activities for kids' usually translates to 'what moms can do with their kids to keep from going crazy during the summer break'. Most of the time, there isn't place for a second parent in these activities (though, of course, the parent in charge of keeping the kids from getting too dirty/wet/out of control may disagree). So what do you do when the entire family is home and in the mood for fun? There are actually plenty of fun activities you can do with the entire family during the summer break.
Here are 6 inexpensive and fun summer activity ideas for your family:
1.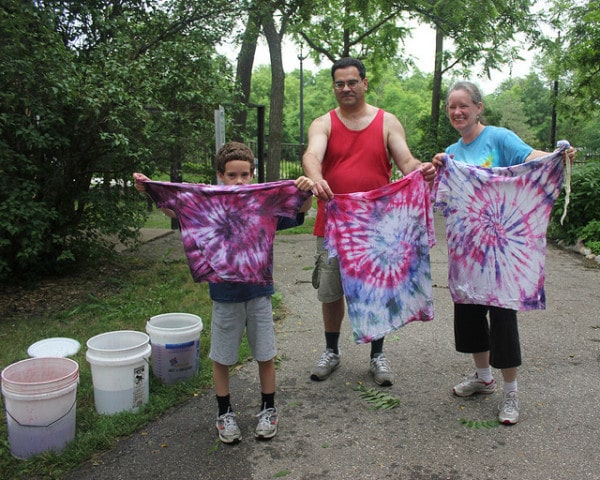 Campers with their tie-dye t-shirts 2 by Leslie Science and Nature Center
Take up a DIY Family Project – You can spend many happy, enjoyable hours with the entire family as you work on a DIY project together. Before your eyes widen in horror, let me explain. The key is choosing the right kind of project. Think about the skill level and interests of each family member and come up with projects where everyone can be a valuable contributing member. It doesn't have to be elaborate or fancy. If your kids are really young, you could do simple activities like mixing up summer snow or sand slime and then playing with it together. (Imagine building a giant snowman in mid-July!) With older kids, you can try a more challenging activity like making tie and dye T-shirts, trying out different techniques based on the kids' ages. Or, you could take it one step further with our next idea.
2. Attend a craft workshop together – There are many cool stores that offer free workshops for the public. Home Depot and Pottery Barn are great examples. Find a free DIY workshop that your entire family is likely to enjoy, attend it together and then create stunning artefacts that you can display around the house.
3. Camp out in your backyard – Camping out with kids is a complicated affair, unless you're having the camp out in your own backyard! Make delicious treats (allow the kids to help if they're old enough), look up fun games you could play in the dark and pack all the necessary supplies – a pop up tent, sleeping bags, blankets, flashlights, and a backpack with books, toys and PJs. Before sun down, take a walk around the neighbourhood exploring new areas or play fun backyard games. As the sun begins to go down, set up your campsite. Then bring out the food – a barbeque or campfire would make dinner even more exciting – and finally, enjoy the after-dark games you looked up before you settle down for the night with a good story.
4. Play family games together – There's a reason games like Scrabble, Monopoly and Clue are called classics – they never lose their popularity! Board games offer hours of fun for the entire family at hardly any cost. If you already play all the classics on a regular basis, head to the stores and see what new games are in the market. You'll be surprised to see how many games you've never even heard of! A new board game is sure to get the entire family excited and add novelty to your regular game night.
5. Play online games together – Today, online games are perhaps more popular than board games ever were. It helps that almost every board game has an online equivalent. It also says a lot about how people are playing these days. Why should your family be an exception? You're probably thinking that having everyone in the family sitting with their tabs and smartphones doesn't count as a 'family activity'. Well, it does if you are interacting and playing with each other online! School of Dragons is a great game to try out as a family. It's an MMO RPG (that stands for massively multi-player online role playing game) that lets players adopt and raise their own dragons. The best thing about the game is that it can be played on multiple platforms – on your PC, laptop, tablet or smartphone – so your entire family really can get online and play it together. You can also try multi player console games that the whole family can enjoy.
6.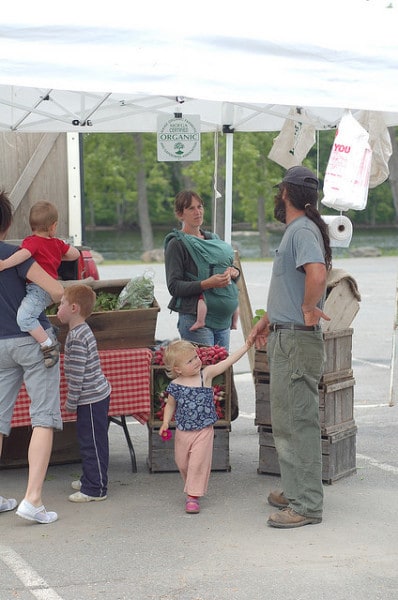 Orono Farmer's Market by Manray3
Visit a farmers' market – Healthy, delicious, fresh food that is also inexpensive? That's what you get when you visit a farmers' market. It is also a great opportunity for teaching your kids about organic produce and showing them where their food comes from. Talk to the farmers to find out more about the fruits and vegetables and how they are grown. You may even get great recipes from community chefs who will teach you how to cook the food you're buying. Try the recipes out together with your family once you return.
We have some great memories from when I had my family try out some of these activities. The laughter, and even the harmless squabbles, that came from engaging in these definitely brought us all closer together.
Author Bio:
George Schalter loves being a dad. He and his wife share the joys and responsibilities of bringing up their two children. As believers of good all round education, they spend a lot of time playing with their children and spending time outdoors. As George is the writer in the family, he blogs at Educational Kids Games. You can also find him on Facebook, Twitter, and Google+.