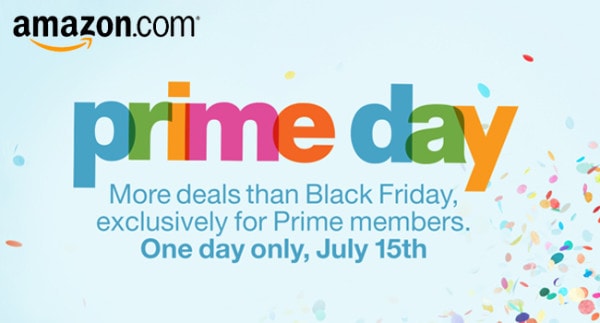 This Wednesday Amazon is having Prime Day. What exactly is it? Prime Day is a one-day shopping event on July 15, 2015, with more deals than Black Friday. Prime members can shop exclusive deals from electronics, toys, video games, movies, clothing, patio, lawn and garden, sports and outdoor items and more.
All Prime members can participate in Prime Day, including free trial members,
WHOA!
did you read that? Even if you don't have a Prime membership you can sign up right now to
start your free 30-Day Trial
 and be able to take advantage of all the deals on Prime Day!!
It's no secret we live on a farm out in the middle of nowhere. The largest store in our town is Walmart. Can I get a sarcastic "Whoopie-do!" Seriously, my husband has taken to calling it Voldemort he hates going there so bad.  The nearest "big" town with plentiful store options is Reno – three hours away from our house. It's not like we can hop in the car when we need something and go shopping. The advent of internet shopping has been a big plus for us.
Amazon Prime is awesome. AWESOME! We have had a Prime membership for nearly five years now.

I rotate through over a dozen items for my Subscribe & Save subscriptions. Some things like tissue only need to be ordered every other month while items like the Burt's Bees Lotion, Acini de Pepe noodles, and Lysol Disinfecting Wipes shown above are a monthly purchase.
With a Prime Membership we get free two day shipping. I LOVE it! Especially when we are purchasing heavy or odd shaped items or when we need something quick. After an unfortunate accident when Julia knocked down our wheat grinder that we'd had for 19 years and it busted to an unrepairable state I was able to purchase the same model wheat grinder and have it delivered two days later. I also bought kitchen stools (two sets) to use at our new island and a new color copier for our school room because I was tired of buying small expensive ink cartridges for our printer. Oh man, is it ever nice!
Here's a peek at just a few of the other things we have purchased through Amazon since April.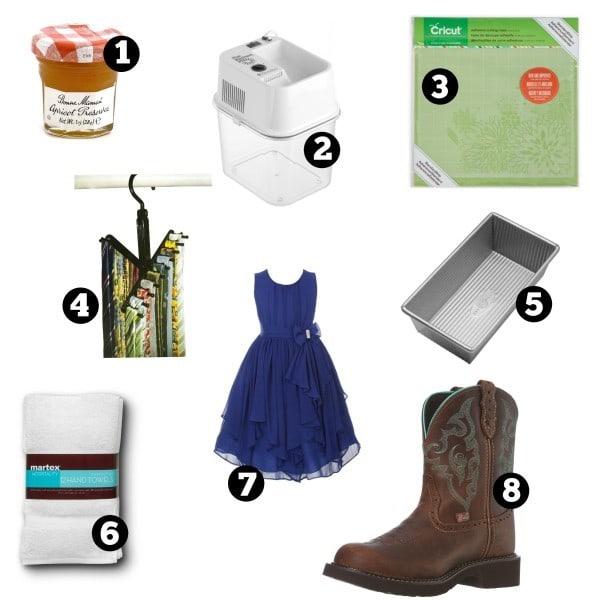 1. Mini Bon Maman Apricot and Strawberry Jam for Mother's Day. We gave them to the mothers at church along with mini loaves of bread.
2. I already talked about ordering a new Blendtec Wheat Grinder.
3. Walmart used to carry everything for our Cricut cutter but now they don't. We order what we need like the cutting mats from Amazon.
4. The little boys broke Joseph's tie rack so I bought this one that holds more ties and displays them better than the one we had.
5. Now that we have two ovens I needed more bread pans to make eight loaves at a time rather than four. These are the BEST bread pans I have ever used!
6. Bath hand towels for the kids bathrooms.
7. We bought this dress for Laura to wear to Eve's wedding.
8. Justin Womens Boots are a staple around here!
I know this post has turned into somewhat of an infomercial. I get asked quite a bit how we do our shopping when we live so far from town and from good stores. Amazon.com is my go to answer. Not only do I get some groceries and baby items but just about everything else can be bought on there too. One of the things I like about our Prime membership is you can add up to four family members to your account so they can benefit from the two day shipping as well. We added our two college aged girls so they've been able to get things quickly when they've needed it like textbooks. Free shipping isn't the only benefit though. Check out what else we get with our Prime membership!
Unlimited instant streaming of thousands of movies and TV episodes.
Unlimited, ad-free access to over a million songs and hundreds of playlists.
Unlimited photo storage in Amazon Cloud Drive.
Choose one featured early release book for FREE every month with Kindle First.
Borrow one Kindle Book per month from over 500,000 titles for free on any Kindle device with no due dates.
20% off diapers subscriptions.
A 15% baby registry completion discount.
Access to Amazon Mom exclusive discounts and deals.
Why did I bother to tell you all about Prime Day and Prime membership? Well, I'm the kind of mom who likes to purchase Christmas gifts early, to have as much Christmas shopping done before November as I possibly can. This keeps the stress of the holidays down. I plan on purchasing as many Christmas gifts on Prime Day as I can. We also have a plethora of birthdays in our family between now and Christmas, eight to be exact. You can bet I'll be getting gifts for those too. I figured if I like to get gifts for my family ahead of time by buying when there are good deals other moms are probably like me and do the same.
Happy shopping and saving!
Disclaimer: This post contains affiliate links. The price doesn't change for you but I do get a small percentage if you purchase using the links.