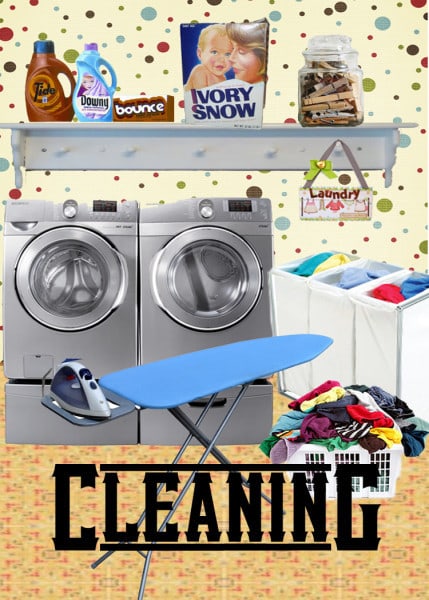 George is back with another great guest post for the Establish a House series. Last time he shared inexpensive summer activities to do with the whole family. Now he gives us tips on establishing cleaning routines with kids.

Dusty rooms and stale air can give your kids, especially the younger ones, a lot of allergies and conditions. But cleaning after kids can be a tough job if you have to do it all by yourself. The solution is to get them to pitch in with household chores and, ideally, establish a cleaning routine they can stick to. Involving your child in cleaning and tidying up makes him responsible, self-reliant and increases his self-worth – something that will stay with him for the rest of his life. If that sounds worth striving for, here are a few great tips to establish the best cleaning routine for kids and families.
Turn it into a game
The only way your kids are ever going to like cleaning chores (or at least do them without complaining) is if you incorporate fun games into what would otherwise be a highly mundane routine. Kids will happily get involved in anything they perceive as fun and entertaining – challenge them to spot unclean areas; pretend you are a scientist and create your own natural cleaning solutions; dance with dusters and mops; turn cleaning into a race; pretend it's a fashion show and choose the prettiest aprons and gloves to impress the judges; the list of fun activities to go with your cleaning routine is endless.
A place for everything and everything in its place
The secret of having a well-established cleaning routine with kids is to have a good system in place before you start. If your kids are struggling with clearing the mess in their rooms or closets, it usually means they have too much stuff or there is a lack of clearly earmarked space for everything. Teach your kids basic organizational skills by getting rid of excess at regular intervals and having a defined space for everything. This will not only help with daily or weekly cleaning, it will also help them understand the importance of keeping only what they need.
Have clear and realistic expectations
If you tell your kids to "clean your rooms," don't be surprised if you return later to find them in the same condition. For a child, "cleaning a room" is a concept that is highly confusing and sometimes even overwhelming. You need to make your expectations (and instructions) manageable and explicit. Instead, asking your child to put his toys away or sort the laundry is much more likely to get the desired results. Eventually, it will also make him more adept in keeping up with a regular cleaning routine.
Institute a rewards system
Once you set up a clear cleaning routine for your family, make sure you reward the kids once they achieve their goals. A chore chart with stickers is a great way to remind the kids and visually track cleaning goals. When they collect a specified number of stickers, give them modest but meaningful rewards for their achievement. This reward could be a new book, membership to their favorite virtual pet game (which is what I did), a higher allowance, a family movie night, extra time to spend playing with their friends or something as simple as a warm hug from mom and dad. You could link the reward directly to the completion of certain chores or sometimes just make the chores part of being a member of the family. But make sure the kids know that the real and most important reward is a clean and tidy home.
Put safety first
When it comes to house cleaning, it's important to remember that there is a limit to what your kids can do. Young kids lack the necessary skills and coordination to do certain tasks; instead, they can help with smaller and simpler ones. When you involve your kids in any cleaning activity, make sure they are supervised by you or another adult family member. Watch out for potential risks and make sure the kids are working in a secure environment. Make sure they are equipped with the right tools and safety gear, including aprons and gloves. Do not use commercial or toxic cleaning solutions under any circumstances – always use natural, family-friendly stuff with lemon juice, baking soda, essential oils and vinegar that you can easily make at home. Teach your children to handle cleaning equipment with care, follow directions and keep all products away from eyes and mouths.
The benefits of establishing a cleaning routine with kids
Involving your kids in your regular cleaning routine will certainly take some weight off your shoulders. But apart from the obvious benefits, it will also benefit them in other ways:
Problem solving skills – When they strive to do their jobs faster , use clever hacks to make their task easier, sharpen their analytical skills and think out of the box to do routine chores more creatively.
Organizational skills – Putting items back in the appropriate places, organizing belongings and creating order out of chaos will help them achieve a sense of detail and instill organizational skills.
Responsibility – Letting your child help with household chores teaches him to be more responsible and take charge of household hygiene and cleanliness.
Do you have any tips to share? Go ahead, tell us about what worked with your family and what failed miserably!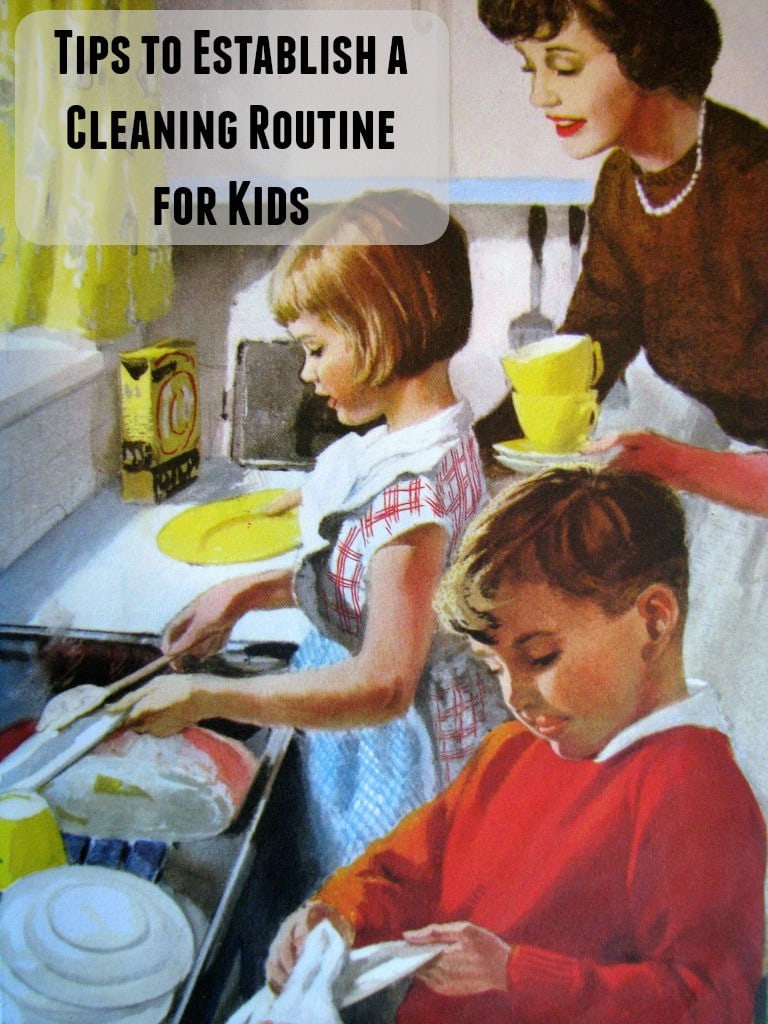 Author Bio:
George Schalter loves being a dad. He and his wife share the joys and responsibilities of bringing up their two children. As believers of good all round education, they spend a lot of time playing with their children and spending time outdoors. As George is the writer in the family, he blogs at Educational Kids Games. You can also find him on Facebook, Twitter, andGoogle+.