When faced with death would you lie about who you are and where you are from to avoid being killed? Would you protect a friend who was being hunted because rebels hate the tribe he is from? What would you do?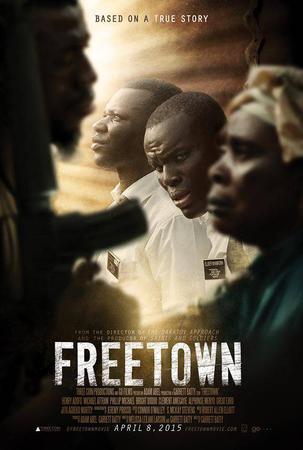 Freetown: Caught in the middle of a brutal civil war, six Liberian missionaries in Monrovia flee the widespread violence in their native country. Their destination: Freetown, Sierra Leone. With the help of local church member Phillip Abubakar (Henry Adofo), the missionaries make the difficult journey, only to have their troubles compounded by a rebel fighter bent on killing one of their own. Based on incredible true events, FREETOWN is a thrilling and inspiring story of faith, hope and survival.
Filmed in West Africa almost every actor and crew member were African. This adds authenticity to the story but also makes the English in the film a bit hard for Americans to understand. Once you get used to it though you forget about the thick English accents and become engrossed in the story.
My family and I enjoyed this movie. It is pretty intense at times but thankfully it is relatively non-violent. While people are shot and killed it is done off screen. You know the gravity of the situations the missionaries faced without having to see the gory details. There are light hearted moments as well as spiritual moments to make the movie a well rounded story.
Freetown provided a great opportunity to discuss several issues with our children as well: racism, hate, genocide, faith in the face of opposition, dealing with violence in a non-violent way, etc. Though Freetown is about Mormon missionaries the story of faith and hope and perseverance appeals to people of all faiths. 
Disclaimer: I was provided a free copy of FREETOWN to review from Deseret Book. All opinions are my own.
GIVEAWAY: Enter to win your own DVD copy of Freetown from Deseret Book! Follow the instructions on the Rafflecopter below to enter. Giveaway will end 11:59 pm PST on Thursday, Aug 20th.