My family and I entered the baptismal font, one by one, in 1994. First my father, then mother, then me and my younger brother. I was an almost 14-year-old, feeling excited and at peace with our new faith; and yet simultaneously self-conscious and vulnerable with our new testimonies.
The next year, the living prophet, Gordon B. Hinckley, gifted the world with "The Family: A Proclamation to the World." This sacred document declares the divine design of families. It outlines the responsibilities and blessings associated with the different genders and roles within a family. It also testifies of the importance of families and gives a prophetic warning against the disintegration of this ordained unit. You can read the entire Proclamation here.
Less than two months after the world received that declaration, our family made another major faith-filled commitment: Within the LDS temple in Portland, Ore., we were sealed as a family unit for time and all eternity.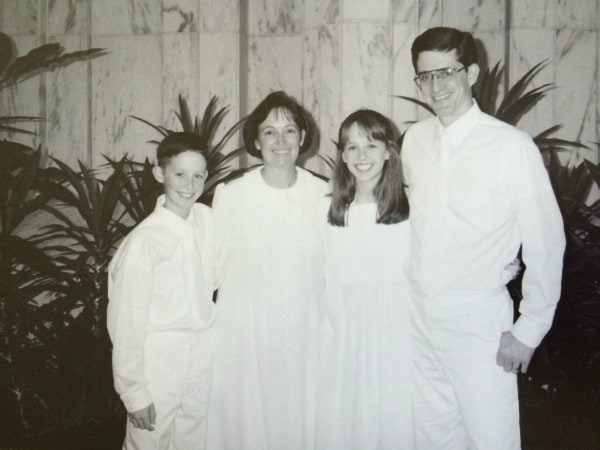 Many church members responded by saying, "Wow! Isn't it awesome that your family was sealed the same year the Proclamation was given!?!" We nodded and smiled in agreement … but we didn't really get it. What was the big deal? The Proclamation seemed to proclaim everything we had already been taught by the missionaries when we were investigating the Church. We didn't see anything new in the Proclamation's words (but, of course, we didn't say anything like that out loud …).
With our new faith, we began a new life. We were, as the scriptures say, born again … individually and as a family. And as we began to "walk in newness of life" (Romans 6:4), we also began living up to the truths in the Proclamation and realizing its priceless, precious value.
For example, the Proclamation says: "By divine design, fathers are to preside over their families in love and righteousness and are responsible to provide the necessities of life and protection for their families. Mothers are primarily responsible for the nurture of their children. In these sacred responsibilities, fathers and mothers are obligated to help one another as equal partners."
Over time and without even realizing it, I watched my mother and father more clearly define their divine roles. Our father welcomed the weight of presiding over our family, taking the head as earthly father and looking to the Head – our Heavenly Father – for guidance. In return, a deeper respect and reverence for him flooded our home. Also, our mother became more hallowed for her angelic responsibilities as nurturer; and her spirit and her love for the Spirit soared. Together they more consciously strived to lead our family to happiness – and because of the Proclamation, they knew how:
"Happiness in family life is most likely to be achieved when founded upon the teachings of the Lord Jesus Christ. Successful marriages and families are established and maintained on principles of faith, prayer, repentance, forgiveness, respect, love, compassion, work, and wholesome recreational activities."
Our family's schedule soon included Family Home Evenings, family prayer and scripture reading, family counsels and intentional family fun. Our home filled with hymns, conference talks, edifying magazines, church videos and constant conversations of Christ.
It's been 20 years since that decisive sealing ordinance, and 20 years since the prophet proclaimed the Proclamation. I'm still self-conscious and still can't claim an advanced testimony … but I can see more clearly now. I can see just how awesome it is that we were sealed in the temple as a family the same year The Family: A Proclamation to the World was delivered … and no, it isn't because it contains new truths. It's because it contains the Truth – Truth that always was and always will be.
Truths in the Proclamation can solve so many swirling questions of the past and of today. These truths tell us who we really are teach us our real responsibilities. As we live up to these truths, as we live the Proclamation, we grow closer to Him and closer as families. And whenever we are growing closer to Him and to each other, we are happy.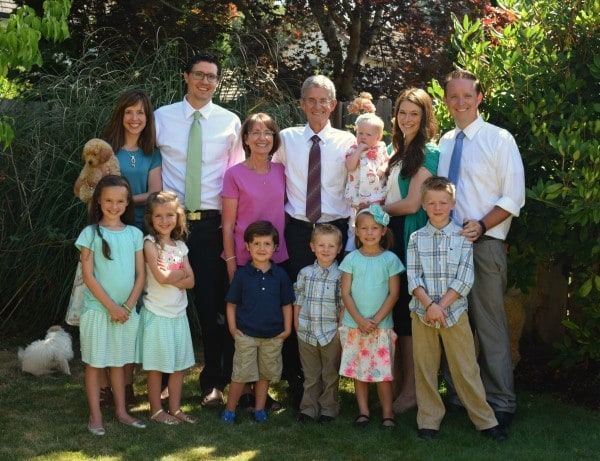 Our original family of four has grown in numbers and wisdom and spirit. We now have a whole new generation of family to teach and love. Such joy comes from knowing that these little ones are being brought up with a foundation of faith and knowledge of family. Yes, even with all the ups and downs of life, we are happy … we are a happy family!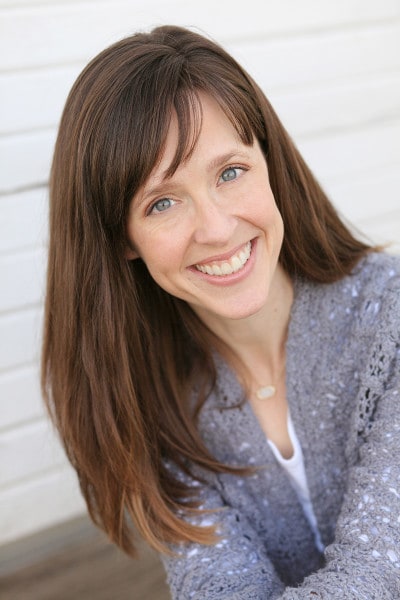 Jessica Poe is a mother of three and a collector of divine details. Her debut book, Everyday MOMents: Discovering Christ in the Details of Motherhood, will release in March 2016. Jessica and her homeschooling family live under the lively green trees of Oregon; where their hearts flutter for bird watching, berry picking and basking in small, natural daily doings. Read more inspirational musings from Jessica at www.jessica-poe.com. Follow Jessica on Facebook and Instagram.


Be sure to visit We Talk of Christ and A Thing Called Love for more articles celebrating the 20th anniversary of The Family Proclamation! Don't forget one easy way to share your testimony of the Proclamation and join the celebration is to share your photos on social media using the hashtag #ILovetheFamilyProclamation and explain why.

We often find The Family: A Proclamation to the World hanging on the wall next to the picture of a temple. Juju Lane has taken it a step further by creating this beautiful gold foil temple using words from the Proclamation!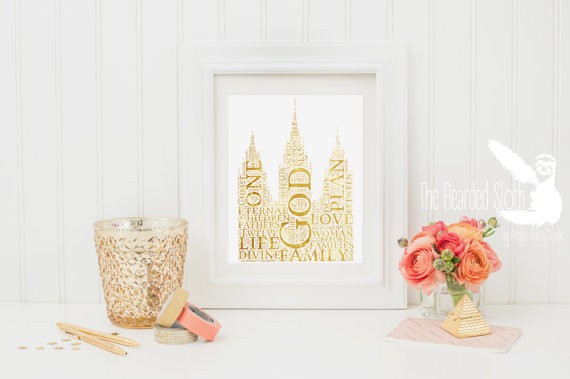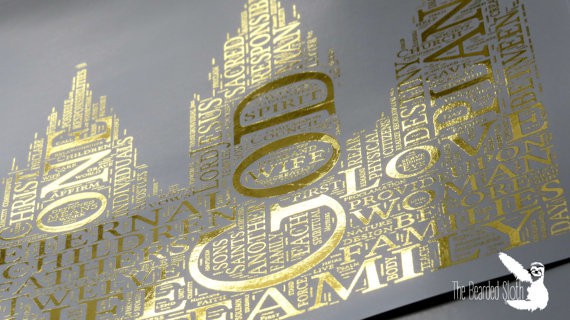 Enter below for your chance to win this lovely print for your home!