Whew! Planning and thinking of new things to do, new ways to write out gratitude lists, new takes on serving or teaching kids to serve isn't hard for me to do. It's the actual creating, gathering graphics, and putting it all together (including taking pictures for blog posts) that takes a HUGE amount of time! I don't mind though as it gives me something to do while I nurse baby Henry.
Can I pick your brains for a bit? I've got an idea in the works that I need some help with. I'm creating worksheets to help you count your blessings. I'm doing it by categories and have collected about 20 so far. My goal though is to get close to 100 (is that possible?) so that by the time you are done filling them out a little at a time you will have written down 1,000 blessings or things you are grateful for in your life. The basic premise is there will be boxes with space to list things in that category. For instance you will write ten things that are red, ten songs/hymns, ten sounds you hear, etc. On each page will also be a box for 'extras' because sometimes you can think of more than ten blessings (more than ten people you are grateful for, more than ten books, etc). Take a look at my rough hand drawn sketch.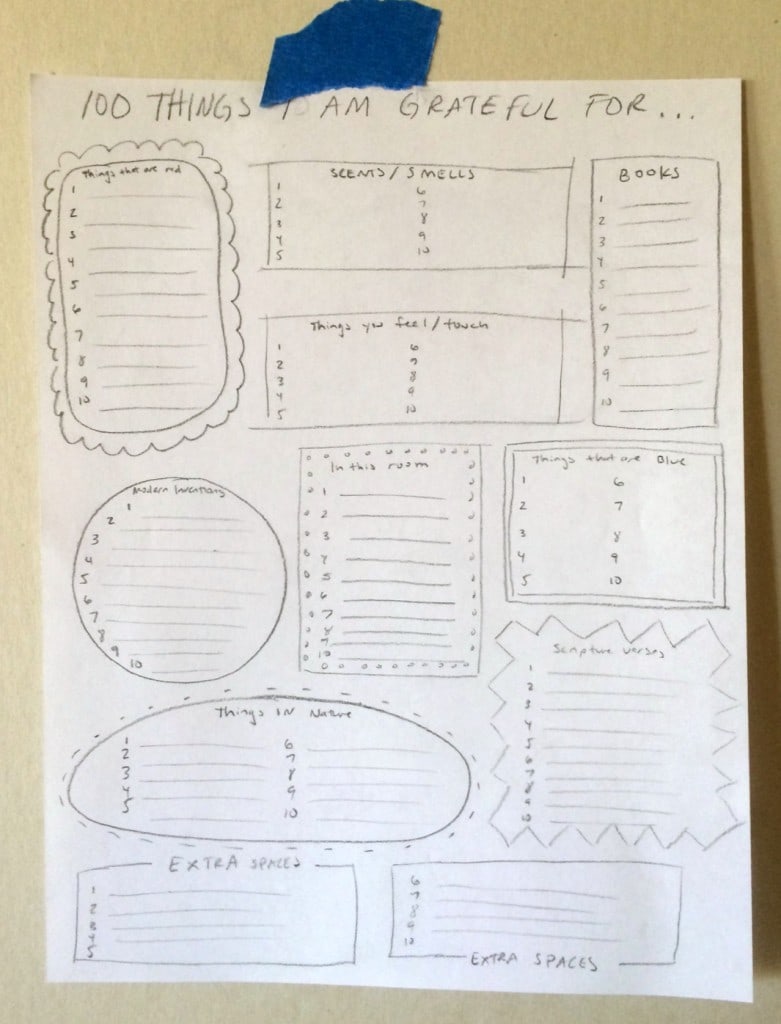 Obviously I will be doing better looking ones with my graphic design program on the computer. This is to get a general idea. Now here's my list of categories so far:
Books
Deceased People who have influenced you
Living People
Scripture Verses
Food
Modern Inventions
Things in Nature
Animals
Items of Clothing
Things that start with the first letter of your name
Things that start with the first letter of your last name
About Today
Red
Yellow
Blue
Purple
Green
Orange
You feel/touch
Sounds you hear
Smells/Scents
Songs/Hymns
Household items
In the room
Physical Abilities You Have
Kindnesses Others Have Shown You
Experiences From Childhood
About the Gospel
Places you have visited
If I counted right that's 29 categories! What else would you add to help others think about and write what they are grateful for? Please leave ideas in the comments.
Now for the winners of the Joy-In-a-Box!


Congrats to Kim and Chelsea! You will each receive TWO Joy-In-a-Box packages, one to keep and one to give away to someone who needs a little lift-me-up in their life. Look for an email from me (cranialhiccups@gmail.com) so I can get your mailing addresses.