We miss something if we don't see Christmas through a child's eyes. (Rosemary M. Wixom)
This was the thought that kept running through my mind as I read Christmas Wonders by Robyn Buttars. It is a beautiful story about love, sadness, loss, kindness, and amazing discoveries.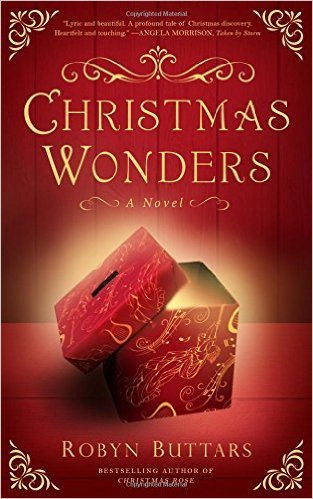 Luke and his father move to town when they lose their ranch after the death of Luke's grandfather. Because Luke's mother died several years ago, Luke is often alone and lonely while his father works. Slowly Luke begins to make friends both at school and around town with different shop keepers. And then the holiday season begins.
Luke's mother loved Christmas! Luke's father doesn't celebrate it. It is just too painful after losing his wife. Luke's celebration will have to be limited to what he sees around him and since his own memories of Christmas are so dim everything is brand new- the lights, the decorated trees, even Santa Claus. Luke notices a box wrapped in special paper with a slit at the top that each store puts by the cash register. They are for Christmas Wonders.
Long ago a young girl named Lina and her mother lived in this town. Although she was sickly she touched the hearts of many. The legacy Lina left was Christmas Wonders. People would write the wonders of the season – really the things they were grateful for like hot chocolate, the tinkling of bells, fresh fallen snow – and place them in a Christmas Wonders box. The town held a holiday celebration where extraordinary Christmas Wonders were read.
Luke finds his own Christmas Wonders to add. They are precious to him and set off a chain of events that brings a special Christmas Wonder to the entire town. The tradition that was started by a child is given even brighter light by another child.
You'll have to read the book to find out everything that occurs. And yes, you might get a little misty eyed. You'll also come to appreciate the Christmas Wonders in your own life.
Christmas Wonders can be found at Deseret Book or Amazon.
About the Author
Robyn Buttars is an award-winning author of books for children and adults. Her first novella, Christmas Rose, won first place in the League of Utah Writer's Contest and was a holiday bestseller. Her home is Lewiston, Utah, and she and her husband, Kent, are the parents of six children. She is a registered nurse and enjoys traveling, composing, and reading.