Wishing you the most merriest of Christmases from all of us here on the farm!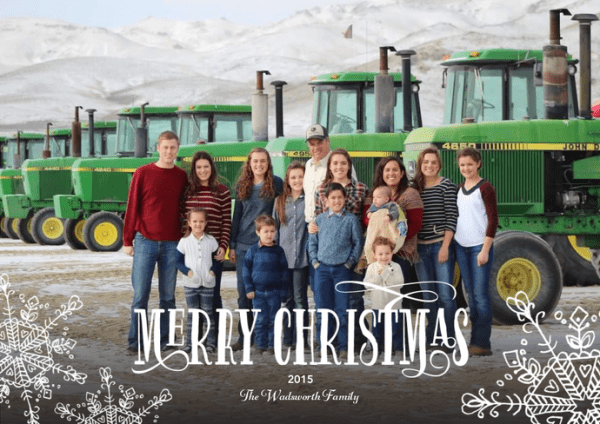 Here's a copy of our ridiculous newsletter summing up 2015.
Our story begins this time last December.
We found we'd be gaining a new family member.
A son-in-law it was going to be,
Patrick became engaged to Eve!
February brought more exciting news.
But first the kids had to solve the clues.
A new little bundle was coming from heaven,
To bring the number of children to eleven!
We became a real life Mormon joke
for all our family and other folks,
"You know you are a Mormon when
You're pregnant at your oldest's wedding reception!"
Haha! So funny! All kidding aside,
Eve (20) made a beautiful bride.
We all traveled to Utah in the spring
For Eve and Patrick's temple sealing.
Marie (18) survived her first year of college.
And hopefully gained a lot of knowledge.
She came to work on the farm this summer
Going back to school in the fall was a bummer.
Sara (17) has developed so many talents
Like drawing & painting & keeping her balance
On her toes as she dances and sways
And leaps and jumps as part of ballet.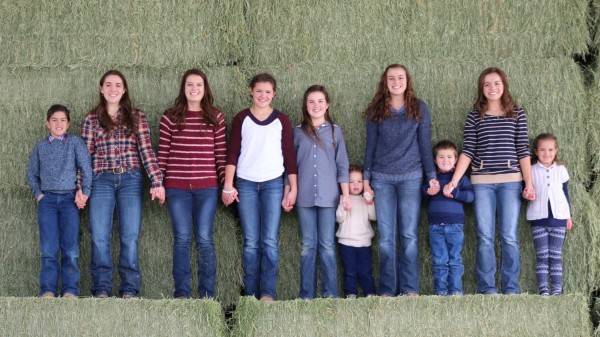 Abby (15) is now the tallest of the girls
Her hair is long and full of curls.
She has really gotten into family history
And she has also excelled in calligraphy.
Debbie (13) enjoys taking long walks
While reading a book or looking for rocks
On the piano she plays many melodies
In her garden she grew lots of strawberries.
Laura (11) is a natural whiz
And seems to be good at anything there is.
Like playing two instruments or reading books
She helps Joseph pay farm bills & is a great cook!
Ira (9) rides his bike and likes to go fast
There's only one problem. It causes him to crash.
He thinks his scars are pretty cool
It's hard to get him inside to do his school.
Julie (6) has mastered the delicate art
Of bossing the boys but she's still a sweetheart.
She likes to play the piano and sing
Having tea parties with dolls is a favorite thing.
Gideon (4) pretends he's a cowboy all day
Using toy guns to chase bad guys away.
Jason (2) is a really big tease
Joking around with everyone he sees.
Little Henry came at the end of July.
He is the apple of everyone's eyes.
He is constantly held and given many a kiss
His life as a baby is perfectly bliss.
Joseph and Montse are doing well,
That's our crew in a nut shell.
We're at the end. You made it through.
Yay! Hip, hip, hooray! Whew!
Christmas begins with Christ.
We celebrate all He has done for us and wonder at the miracle of His life. Between church, our family, and the farm we have been truly blessed this year. Our life is joy filled!