I had an experience almost two months ago that I've felt I needed to share but haven't because, well, there's always the question "Why didn't that happen to so-and-so but it did to you?"
And I don't know the answer.
The best explanation I've found is at the end of the movie "The Cokeville Miracle". If you remember a whole elementary school was taken hostage back in 1986 in Cokeville, WY. A bomb went off injuring many of the children but not one child or teacher was killed. The only ones who died that day were the two hostage takers. As time went on many of the children told about seeing angels or feeling their presence protecting them. Why were they saved but those innocent lives at Sandy Hook Elementary were taken?
I can't find our copy of the movie right now to get the exact quote but it went something like, "We don't know why some children are saved and others are not. Not all who lived in Christ's time were healed. We do know that we should acknowledge the miracles that occur in our lives and give praise to the Lord for them."
So with that introduction I share my story. It is not grand but to me it is a miracle for which I am profoundly grateful.
It had been a very long day. I was physically and mentally exhausted. That is very rare for me. Even more rare is that I went to sleep that night immediately. My usual routine is to lie awake for almost an hour while my brain thinks about everything I did that day, what didn't get done, and what needs to be done tomorrow. Right before I laid down I checked on baby Henry in his crib. He was lying on his back sleeping soundly. Yay! I knew he would probably sleep all night again. He is a really good sleeper!
As I slept (I really had only been asleep for about 10 minutes) I felt a nudge, someone pushing my shoulder and heard clearly a voice say, "Check on Henry." I was so tired I could barely open my eyes. So I listened. I could hear his little breathing and thought, "He's breathing. He's fine." And immediately fell back asleep. Some minutes later there was a much more forceful nudge push on my shoulder again followed by a voice saying, "Check on Henry now!" I opened my eyes, slowly got up and walked to Henry's crib. He had somehow pulled the flannel blanket up over his face and he was lying perfectly still. I quickly yanked the blanket off and Henry gave three quick gasps. He hadn't been breathing at all! I snatched him up and he began to cry. I did too.
That night I held my baby close as I offered up many prayers of gratitude for the heavenly help that had come to save little Henry.
I testify of angels, both the heavenly and the mortal kind. In doing so I am testifying that God never leaves us alone, never leaves us unaided in the challenges that we face. . . . Always there are those angels who come and go all around us, seen and unseen, known and unknown, mortal and immortal. (Jeffrey R. Holland, The Ministry of Angels)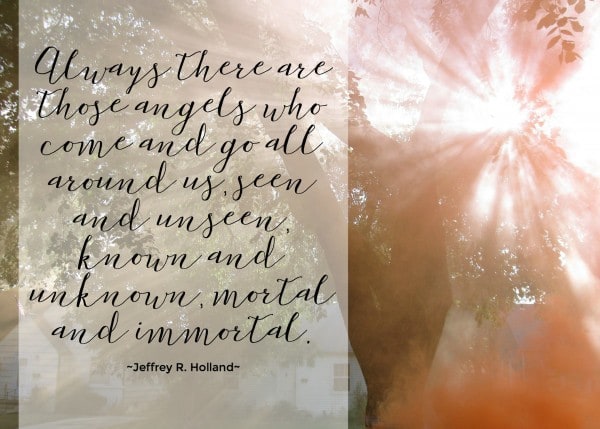 The children of Cokeville, WY had seen angels and identified them as family members, ancestors who had gone on before. I have no doubt that our ancestors are just as concerned and interested in us as we are or should be about them. While I do not know who it was that was sent to be Henry's guardian angel that night I know because of how I feel that it was an ancestor or family member.**
In seminary a couple of weeks ago we studied the story of Elisha and his servant when they found they were surrounded by the Syrian army.
"And when the servant of the man of God was risen early, and gone forth, behold, an host compassed the city both with horses and chariots. And his servant said unto him, Alas, my master! how shall we do?
"And he answered, Fear not: for they that be with us are more than they that be with them.
"And Elisha prayed, and said, Lord, I pray thee, open his eyes, that he may see. And the Lord opened the eyes of the young man; and he saw: and, behold, the mountainwas full of horses and chariots of fire round about Elisha." (2 Kings 6:17)
Sister Wendy Watson Neslon, Pres. Nelson's wife, spoke at the 2015 BYU Women's Conference. As part of her talk she mentioned angels.
"It was during Elder Jeffrey R. Holland's April 2010 general conference talk that I first learned this truth. He said, "Ask for angels to help you." He said it with such clarity, and yet in a manner that implied this was something we all knew. But for me it was an entirely new principle. I wanted to call out, "Wait! Wait! What? You mean I could have been asking for angels to help me all this time?"

"Without intending to sound too dramatic, I can say with all candor that Elder Holland's six words changed my life. "Ask for angels to help you." That counsel changed my prayers, changed my understanding of the very real help from heaven that is always available to us as we keep our covenants. I started to ask for assistance from those on the other side of the veil from that moment on. Now I'm not talking about praying for fantasy angels with wings to magically fairy-dust our problems away. I'm not talking about praying to angels. I'm talking about praying to your Heavenly Father, in the name of Jesus Christ, for those on the other side to be "dispatched" (Elder Holland's word) to assist you. Perhaps a loved one or two could be sent to help you with whatever you need.

"Can you imagine the effort it took those angels who pushed from the rear of handcarts as they helped the pioneers over the steep, snowy, windy, freezing, jagged terrain of Rocky Ridge? If angels can manage that, they can certainly help you and me over our present Rocky Ridges. We know the Lord gets His work done with the help of His angels. So could you use a little more help in your life? If so, keep your covenants with more exactness than ever before. And then ask for angels to help you with whatever you need. Or ask for them to be dispatched to help those you love.

"Does your child need help? Is your husband in trouble? Does your aunt need comfort? Does your best friend need direction? Ask for angels to be assigned to help them. As a covenant-keeping woman, you can do just that!"
In his phenomenal talk The Ministry of Angels referenced by Sister Nelson Elder Jeffrey R. Holland said, "May we all believe more readily in, and have more gratitude for, the Lord's promise as contained in one of President Monson's favorite scriptures: "I will go before your face. I will be on your right hand and on your left, … my Spirit shall be in your [heart], and mine angels round about you, to bear you up." (D&C 84:88) In the process of praying for those angels to attend us, may we all try to be a little more angelic ourselves—with a kind word, a strong arm, a declaration of faith and "the covenant wherewith [we] have covenanted." (D&C 90:24) Perhaps then we can be emissaries sent from God when someone, perhaps a Primary child, is crying, "Darkness … afraid … river … alone."
We read Elder Holland's tallk as part of our seminary lesson and one of the youth pointed out he really liked this part where we can be those angels sent by God to help someone else IF we prepare ourselves to listen and obey. We are surrounded by angels! Both earthly and heavenly who want to help us, who are sent by God to help us in our time of need. I truly believe that. With the experiences I have had I can never deny it.
** I have since had an experience to sacred to share here in this public space but we now know who that heavenly help was.