"So much in life depends on our attitude. The way we choose to see things and respond to others makes all the difference. To do the best we can and then to choose to be happy about our circumstances, whatever they may be, can bring peace and contentment. . . .We can't direct the wind, but we can adjust the sails. For maximum happiness, peace, and contentment, may we choose a positive attitude." (Thomas S. Monson, Living the Abundant Life)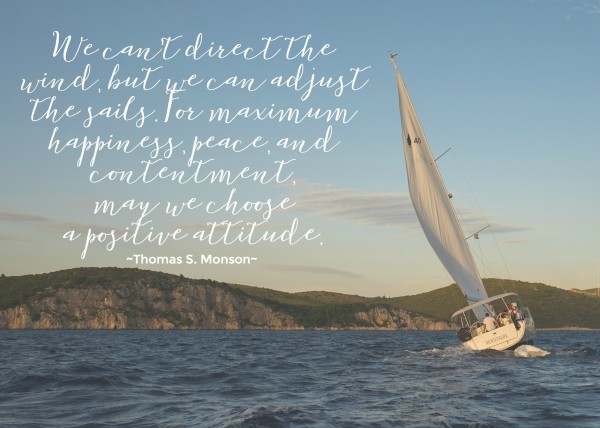 Life is full of trials. One of those trials, I think, is how we respond to them. Sadness, heartache, death, loss – all are things we each experience in this life. The test is to not allow ourselves to become bitter because of those bitter experiences. Our attitude plays a huge role in how we face life.
A friend of mine shared an excerpt she found in a pioneer woman's journal. Martha Cragen Cox recorded:
"I did not know how sad I was nor what effect my gloomy feelings were having upon me, until one day I happened to open my hymn book. I sat down with my baby on my lap and began to sing her to sleep. At the first notes she raised her head and gave me a frightened look. At this I laughed which frightened her the more. I then knew I was not used to singing or laughing."
Isn't that sad? Our attitudes, and conversely our countenances, have a great affect on those around us. Do our husbands and children see us being cheerful as we go about our work? Or do they more often than not see us grumbling, complaining, and wearing a scowl? I know my outlook on even hard days can be changed to one of joy when my husband offers words of appreciation and love for my efforts.
I am naturally a cheerful person much to the dismay of my pessimistic friends. It's not that I don't acknowledge the hardships of life. I do. I have. But I have learned that facing trials with hope and a positive outlook makes me feel so much better and helps me to cope so much better. I love this snippet found in an old Relief Society newspaper.
"There is nothing which makes the human face so attractive as a bright smile. It breaks over the countenance like the sunlight through the rain clouds after a shower, and it enlivens all upon whom it rests. A countenance, ever so stolid and "impassable and hard, often becomes softened, vivacious and charming under the influence of a smile. There is something indescribable about a smile, and a great deal of character is often exhibited in it. No man or woman with a really bad heart ever possessed an open smiling face, which brought peace and gladness with it. Beware of the man who never smiles, for "the motions of his spirit are, as dull as night, and his affections are as dark as Erebus."
"The smile of tenderness and affection from the mother's face greets us upon our entry on the journey of life, and the recollections of it lingers sweetly in the heart while reason lasts.. The smile of encouragement in distress or sickness, is often worth more than money or medicines. In the domestic circle it lightens the burden of life, and makes the hardest lot cheerful and endurable. It is the offspring of Hope, and the pledge of amity between friends. A broad smile was never inspired by a bitter thought or an uncharitable desire. In the face where smiles prevail, happiness reigns and a gentle human charity dwells in the bosom of such. A smile is the language of kindness and forbearance, and it emanates only from the soul in harmony with nature, and at peace with all the world." (April 15, 1873 Women's Exponent)
Never underestimate the power of a genuine smile to help and cheer and gladden. Choose a positive attitude.