The rest of General Conference is tomorrow! If last week's Women's session is any indication we are in for a amazing treat! How do you do General Conference weekend with kids?
I know some people who print off packets (like here and here) so their kids have things to keep them busy. Not us. We're not against them or anything.There are just too many kids and that's a ton of paper! The one thing that has consistently worked over the years for keeping everyone engaged in General Conference is our General Conference wall. It is simple, easy, and a great visual reminder of what we just learned.
Here are a couple of photos from past years of our General Conference Wall.
Posters of each member of The First Presidency and Quorum of the Twelve Apostles and extra pages for other speakers are hung up by the television. Everyone has their own color of post-it notes and a pen. During each talk each person takes notes in their notebooks. At the end of the talk they each write one or two important things they learned on their post-it note, the younger kids draw a picture, then stick the note on the right poster with the picture of the speaker. Use it to review General Conference for Family Home Evening.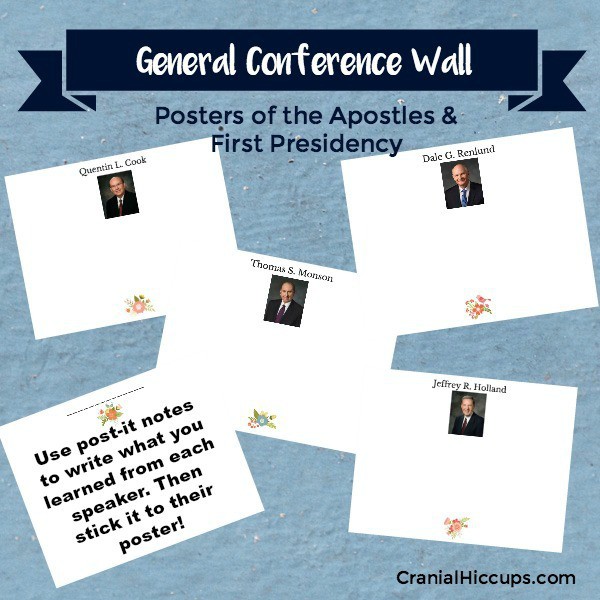 Since three new apostles were called last General Conference our posters needed to be updated. And because I created new ones for our family I might as well share them with everyone else! Enjoy!